[Opinion column written by Larry Burchall]
Hidden inside the nerd words in the 2015 National Economic Report of Bermuda, is a major point, one that may be missed in a cursory read.
Inside those 28 pages, a solitary paragraph reveals this: "Jobs occupied by Bermudians were the only status category to exhibit a decline in employment in 2015. Bermudian jobs declined by 320 posts or 1.3%. The figure fell from 23,833 in 2014 to 23,513 in 2015 Non-Bermudian positions grew by a total of 18 posts or 0.3%."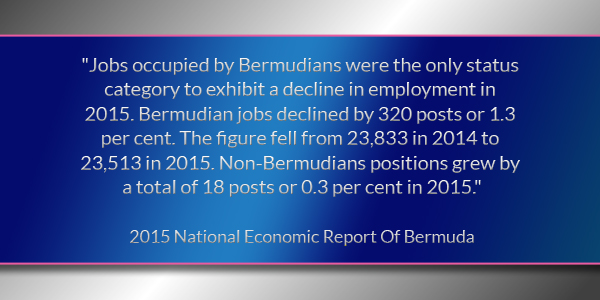 In 1980, Government commenced consistently collecting and reporting data on employment in Bermuda. In 1980, Government counted 24,191 Bermudians filling jobs in Bermuda. This means that in 2015, the 23,513 Bermudians filling jobs in Bermuda was LOWER [678 fewer] than the 24,191 Bermudians who were filling jobs in 1980.
This 23,513 is Bermuda's all-time Guinness Book of Records low for Bermudians filling jobs in Bermuda.
The first red-hot fragment shows that in 1980 there were 24,191 Bermudians and 5,478 non-Bermudians filling 29,669 jobs in Bermuda.
Thirty-five years later – a whole generation later – there were 23,513 Bermudians and 9,664 non-Bermudians filling the 33,177 jobs in Bermuda. So after thirty-five years, total jobs were up by 3,508 [33,177 – 29,669 = 3,508] but ALL of that 3,508 jobs increase went to non-Bermudians.
The two point measurement in the chart below, with its 'I cannot tell a lie' numbers, illustrates the numbers that blast out the fact that between 1980 and 2015, Bermudians have lost jobs, while non-Bermudians gained jobs.

A second hot fragment coming from the 2013 Employment Brief shows 25,132 Bermudians filling jobs in 2012. Then, in 2015, only 23,513. After three years, there were 1,619 fewer Bermudians filling jobs in Bermuda.
A third hot fragment? Government reports that in 2015, there were over 3,000 Bermudians who were unemployed.
The fourth hot fragment is that at 33,177 in 2015, the overall level of employment in Bermuda is lower than the 33,445 level of 1993. In that sense, Bermuda's whole economy has seemed to regress to where it was 22 years ago.
From the perspective of any Bermudian living, working, raising a family, and planning a future in Bermuda, the idea that Bermuda's post-1994 'Business Park' economy seems not to benefit Bermudians in the same way that it benefits non-Bermudians, has a great deal of solid and supportable evidence. That is what those uncaring numbers in the chart blast out.
None of that is good news. From a Bermudian perspective, it is all bad news.
But it illustrates, clearly and perfectly, the uniqueness and complexity of Bermuda's little understood twenty-one year-old 'Business Park' economy.
I've been writing and talking about Bermuda's unique economy since 2009. I expected this newly reported fact to finally emerge and explode into public awareness.
Knowing what I know of Bermuda's 'Business Park' economy, and, since 2009, watching the trends carved out by the data flow, I expected this kind of quirky outcome to arrive, initially, in 2015 or 2016.
Quirky, because Bermuda's 'Business Park' economy is unique. Quirky, because Bermuda's unique economy does not follow all of the rules so neatly set out in textbooks written by ivory tower academics.
Bermuda has had a unique non-textbook 'Business Park' economy since 1994. Since 1994, Bermuda has been out of the textbook friendlier 'Tourist Playground' economy.
For seventy-one years – from 1922 to 1993 – three generations of Bermudians lived and worked in a world renowned and highly successful 'Tourist Playground' economy. Three generations of Bermudians understood that economy, knew how and why it worked, what part they did and could play in it, and how it all fitted and knitted together.
From Cabinet level policy-maker down to M1 student newly introduced to the concept of an economy – Bermudians must learn how to function and work in Bermuda's existing and unique Business Park economy.
Either we Bermudians figure out how this now twenty-one year-old Business Park really works and then we set our collective minds to making it work better; or, like soldiers new to combat, we tinker, unknowingly, with the trip-wires of standard but non-applicable economic and political theories, and destroy ourselves because of self-generated, self-sustained, widespread national ignorance.
IB and its direct supporting services – Business Park Bermuda – bring in $0.85 out of every dollar that floats past North Rock. Tourist Playground Bermuda struggles to bring in the remaining nickel and dime; and Tourism, with multi-millions in subsidies, is currently on national life support.
Our national choice is starkly simple. Either make Business Park Bermuda work and earn dollars; or struggle with a broken and too-small subsidized Tourist Playground Bermuda and try to survive on nickels and dimes.
Collectively, either "us lot" understand and make Business Park Bermuda work and work better; or – like untrained recruits fresh to combat – "us lot" destroy ourselves by tinkering with the trip-wires attached to our self-made $513,000 a day issue.
Bermuda's choice is that stark. That simple. Either. Or.
- Larry Burchall

20 Most Recent Opinion Columns

Opinion columns reflect the views of the writer, and not those of Bernews Ltd. To submit an Opinion Column/Letter to the Editor, please email info@bernews.com. Bernews welcomes submissions, and while there are no length restrictions, all columns must be signed by the writer's real name.
-
Read More About