Bermudian sailor Chase Cooper and his team representing the Tabor Academy "Seawolves" [Marion, Mass] won the New England School Sailing Association [NESSA] Fleet Racing Championships this past weekend in Cranston, Rhode Island.
The "Seawolves" were one of 16 teams out of a field of 52 to qualify for the Championship. Each qualifying school fielded a pair of sailors which would race in two separate divisions in two man Z420 dinghies. The team with the lowest combined score from each division would be the eventual champions.
Cooper is back row center in team photo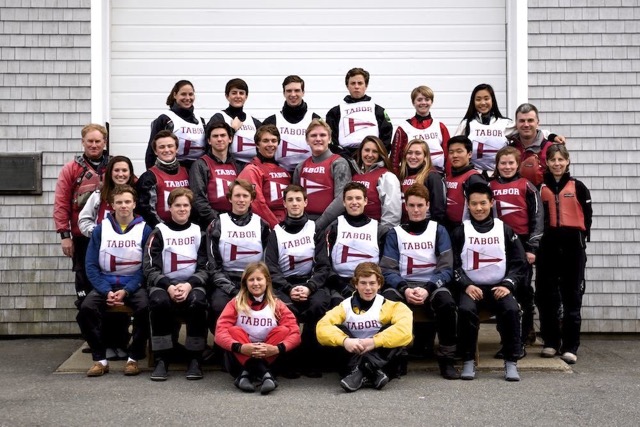 Chilly temperatures and steady 10 knot north easterlies met the teams at the beginning of the day. Sailing the "A" Division boat for Tabor were seniors Parker Loftus and Nathalie Cavallo while Chase Cooper helmed the "B" Division boat with Tucker Hersam as crew. The Seawolves were in the hunt from the onset with strong finishes in both divisions.
Cooper and Hersam put Tabor slightly ahead of closest rival St. Georges School with decisive wins in the fifth and sixth races in the "B" Division.
Further strong performances from Loftus and Cavallo in the "A" Division increased the Seawolves' lead over St. Georges, completing their races before light winds forced a short delay before the final "B" Division set could commence.
Cooper and Hersam remained cool during the break and once back on the water only had to stay close to the St. Georges boat to claim victory which they accomplished comfortably.
Loftus, Cavallo and T.K. Kelly combined for 35 points in 7 races, finishing 3rd in "A" Division. Cooper and Hersam won "B" Division with 30 points. Gianni Cavallo '16 and Peter Thibodeau '16 rounded out the squad and did a great job in the "pit crew."
The victory earns Tabor the New England Fleet Racing Championship [George O'Day Trophy] – the first time Tabor has won this trophy since 2006. The win also qualifies the Seawolves for the National Fleet Racing Championship for the Mallory trophy to be sailed out of the College of Charleston May 13-15, 2016.
"Couldn't be prouder of this team," stated Coach Rob Hurd in his post regatta press conference. "They faced a lot of adversity in the past two days and handled it well. This is not an easy trophy to win. Today we enjoy it; tomorrow it's On to Charleston."

Read More About