What is it like to be a gay Bermudian whose marriage isn't recognised in your home country? Carla John is a Bermudian who is married to her Canadian wife and has a 14 year old son.
She lives in Sudbury, Canada and although she often returns to Bermuda to visit with family, she chooses not to return to live as her marriage would not be recognized.
Ms John recently sat down with Bernews to discuss the debate over marriage equality and the impending referendum.
In describing her time on the island, Ms. John said, "I was born in Bermuda, went to Dellwood, Berkeley, and Bermuda College for Hotel and Restaurant Management, and then I left to take physical education in Nova Scotia, and then I came back. I taught at CedarBridge, Warwick Academy, and Port Royal."
When asked if she would like to return to the island to live and work, Ms. John said, "We have considered it, and we have been looking at properties because the prices seem to be going down, but the way the same sex marriage or civil unions, the way that it's being approached, it doesn't seem to fit.
"We already have the freedom that we want; in order to come back to Bermuda, it would have to be equal to, or better, than what we already have."
Ms John pictured at her sister's Salt Spray Soap store on Water Street, St. Georges: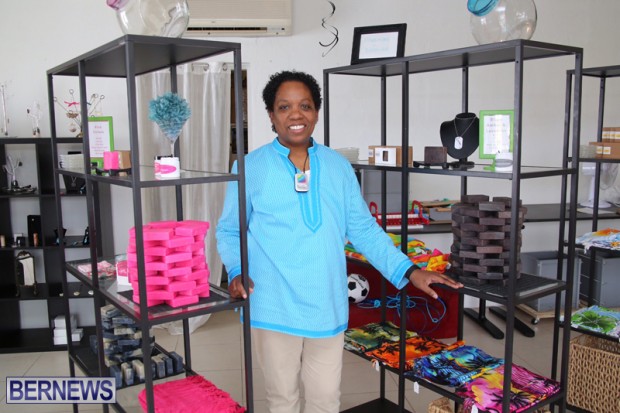 When asked about the difference between perceptions of same sex marriage in Canada and in Bermuda, Ms. John said, "Since same sex marriage has been around for over a decade, that stuff doesn't really come up; not to say that everyone in Canada accepts it and loves it and embraces it, but the laws protect us.
"They can have whatever thoughts they want to, you can go to whatever church you want to, I attend church, my church is an affirming church. To say that gay people can't be Christian or things like that, I don't hear stuff like that in Canada, not publicly.
"In Bermuda, it seems to be said openly and it's not right; it's just not right."
When asked about Bermuda's upcoming referendum on the topic, Ms. John said, "I'm not sure what the point of the referendum is: to spend all that money, which Bermuda clearly does not have, to have other people vote on my relationship, when I didn't get an opportunity to vote on theirs. It seems a little bit unfair to me.
"I'm guessing that it's just slowly making it's way here, and people are pushing back against it because they don't want to see it in Bermuda. I'm guessing that most of it is religion-based, but I'm not completely sure. Some people say that they're atheists and against same sex marriage, but I think that's a really small minority."
Video interview with Ms John, with guest interviewer Lisa Pickering:
When asked about the Preserve Marriage group, Ms. John said, "From my understanding, it's a group of Christians from different denominations that have gotten together. They say that they're not a Christian group, and now they have charity status, so I'm not really sure what's going to happen after the referendum.
"I thought that that's what they wanted, I thought that's what the whole purpose of this group was, to force a referendum. Now that we have the referendum, I don't understand what their purpose is; I'm a little confused too.
In explaining what she would like to see happen, Ms John said, "In the next year or so, I would like for same sex marriage to be made legal. I would like for Bermuda to have maybe a small pride celebration to celebrate the same sex marriage ruling, whenever it does happen. I think it will happen – it's just a matter of when."
When asked for her closing thoughts, Ms. John said, "I would like the young people to know that it does get better; being gay is not this thing that's going to ruin your life. There are many, many couples with children who are doing excellent, they're doing great, and that can be you, too.
"When I was young, I didn't really have that many people I could look up to, and say that's what I want to be. I started believing a lot of the negative stereotypes about gay men and gay women being promiscuous, and not being able to settle down, but that's not true.
"We were raised by these heterosexual people, most of us, so we learned what they taught us. How could we all of a sudden be this different, this alien thing, that can't form relationships, and can't raise children, it makes no sense. I want the young people in particular to know that it does get better.
"Travel, see the world; there are lots of gay people out there. Have fun."
Read More About