"The Bermuda National Trust celebrated the work of a number of individuals and organisations at the Annual Awards ceremony held in the Bermuda Room at Elbow Beach under the sponsorship of Butterfield & Vallis and Jim and Debbie Butterfield.
A spokesperson said, "The packed hall saw prestigious certificates and trophies presented by His Excellency, the Governor, Mr. George Fergusson, Minister of Environment, Cole Simons, and Leah Scott representing the Minister of Education.
"The Trust has been presenting these awards annually for four decades to individuals, organisations, groups and schools who have worked for the benefit of Bermuda and its people, to preserve places of beauty or historical interest, buildings, artefacts, lands and animal and plant life, and to promote their appreciation."
Bermuda National Trust winners of 2016: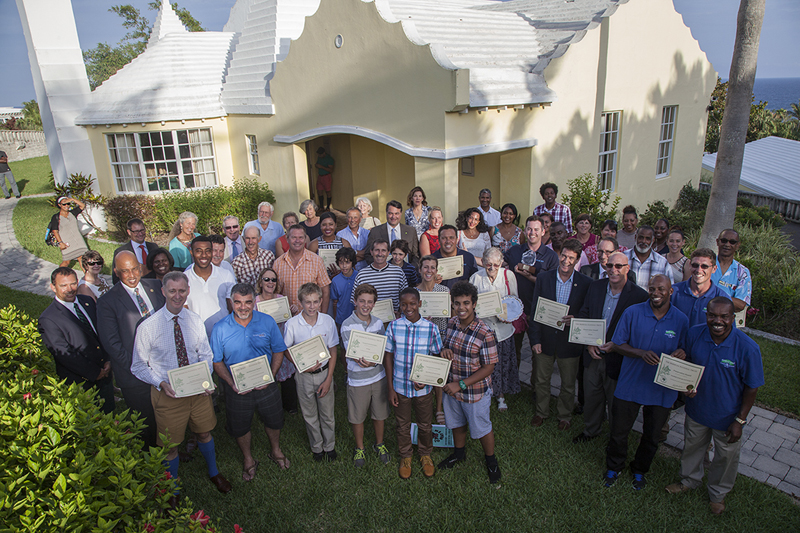 "Education And Young Environmentalist Awards Presented by Leah Scott
"Education Awards recognize programmes in educational institutions [preschool through college] for projects, programmes or initiatives that demonstrate care for the environment or preservation of Bermuda's heritage, both natural and man-made.
"The Education School Programmes Certificates: Lyceum Preschool for transforming an uninspiring concrete deck into an exciting outdoor classroom
"Wee Environmentalist Award: Southampton Preschool for the survey 'T.A.G. – you're it!' on recycling habits at the west-end primary schools
"The Education School Programmes Certificates: Somersfield Academy for their water bottle and drinking fountain initiative
"The Michael Darling Shield: Saltus Grammar School for The Saltus Island project which has been running since 2002. Each year some 68 students and 8 faculty from year 9 head out to the Bermuda National Trust owned Saltus Island to execute a conservation management plan.
"Students learn how to identify and remove invasive plant species, plant young native and endemic trees and care for their equipment. Using technology they map the island and its vegetation and record weather observations. Students are progressively working on building an on-line data base of the plant diversity covering the entire island.
"Young Environmentalist Awards are presented to young persons in recognition of their outstanding contribution to Bermuda's natural environment for a considerable length of time and whom have been consistent in this regard.  They must be less than 26 years by December 31 of the year preceding the nomination:
"JP Didyk is awarded for his passion for a healthy environment and for creating 'Clean Habitats'
"Kairo Morton and Yassine Chentouf for creating an APP to identify and record ghost nets in the ocean
"Magnus Henneberger for his work as a youth Ambassador for Plastic Tides

"Awareness Awards are given for projects, programmes or initiatives that serve to inspire appreciation and stewardship of Bermuda's unique natural, built and cultural heritage.
"Awareness Award:
"Ag Show Ltd for organising the return of the Bermuda Agricultural Exhibition, encompassing the many aspects of Bermuda's diverse agricultural heritage
"Hidden Gems of Bermuda Ltd. For the popular and successful eco-tourism company
"Bacardi International for the sustainable initiative that provides employees bicycles to travel around Hamilton
Top Awareness Award The deForest Trimingham Award, President of the Trust, William White, Andrew Kirkpatrick and Choy Aming for gassproductions and Minister of Environment Cole Simons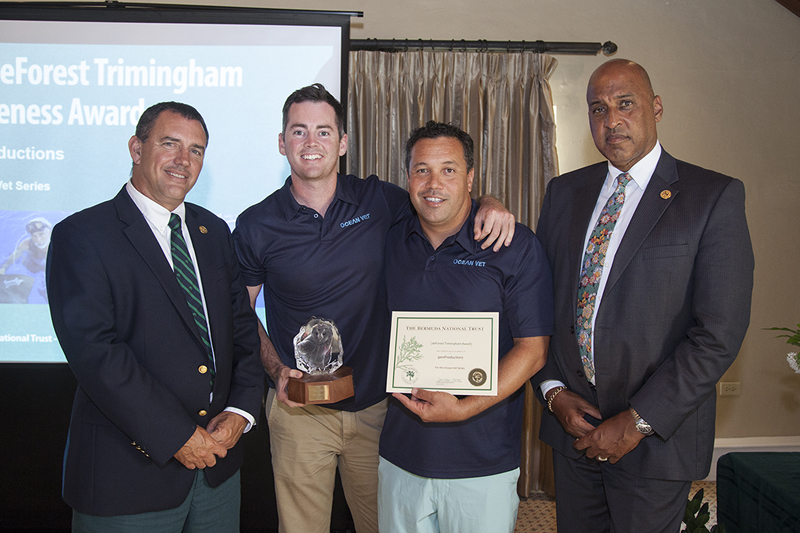 "The Deforest Trimingham Award: gassProductions for the Ocean Vet Series Ocean Vet is a natural history series like no other.  Narrated by Academy award winning actor and producer Michael Douglas, this incredible series follows the exploits of veterinarian Dr Neil Burnie and his Ocean Vet team.  Together they set out to save, protect and learn more about Bermuda's incredible marine life.
"Swimming with and satellite tagging huge tiger sharks, saving precious green sea turtles, protecting mighty humpback whales, exploring the anatomy of a giant blue Marlin and saving the life of a prehistoric shark is just another day in the office for the Ocean Vet team.
"It took 6 months of planning and nearly 3 years for gassproductions to create 11 episodes that capture the beauty, excitement and special wildlife of Bermuda. They have sold the series to networks in 15 countries with another 25 countries pending and several hundred million people are expected to view it over the next few years. Now that is incredible awareness outreach!

"Awareness And Environment Awards Presented By The Minister Of Environment Cole Simons
Environment Award , President of the Trust, William White, Natasha Butterfield, and Minister of Environment Cole Simons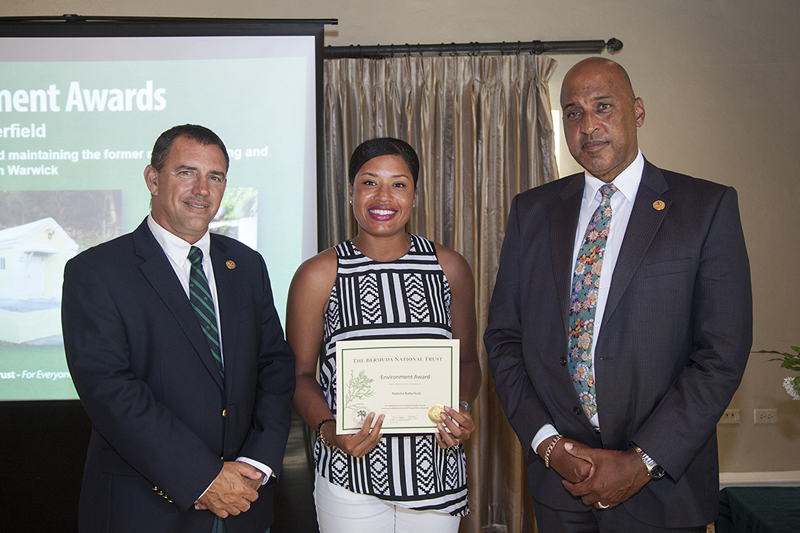 "Environmental Awards are for projects, programmes or initiatives which enhance and protect the islands' natural environment, land or sea, or which improve the physical environment in our neighbourhood communities:
"Groundswell for the popular annual Lionfish Tournament
"Bermuda Audubon Society and Deloitte for the Seymour's Pond Nature Trail
"Bermuda Zoological Society for the Trunk Island restoration project
"Natasha Butterfield for cleaning up and maintaining the former Railway building and trail off Camp Hill in Warwick
"The Patsy Phillips Bermudiana Award: Gertrude Gierlinger for 30 years of Bluebird rehabilitation
"Now 86, Gertrude has for 30 years rehabilitated Bluebirds, and a host of other bird species. She works part-time at Ettrick Animal Hospital and started nursing bluebirds shortly before Hurricane Emily [1987]. Having no formal training, she has dedicated countless hours to bird rehabilitation and has been "Amazingly successful" according to Dr David Wingate and in some respects she has been a pioneer in bird rehabilitation in Bermuda.
Top Environment Award The Patsy Phillips Award, President of the Trust, William White, Mrs. Gertrude Gierlinger, and Minister of Environment Cole Simons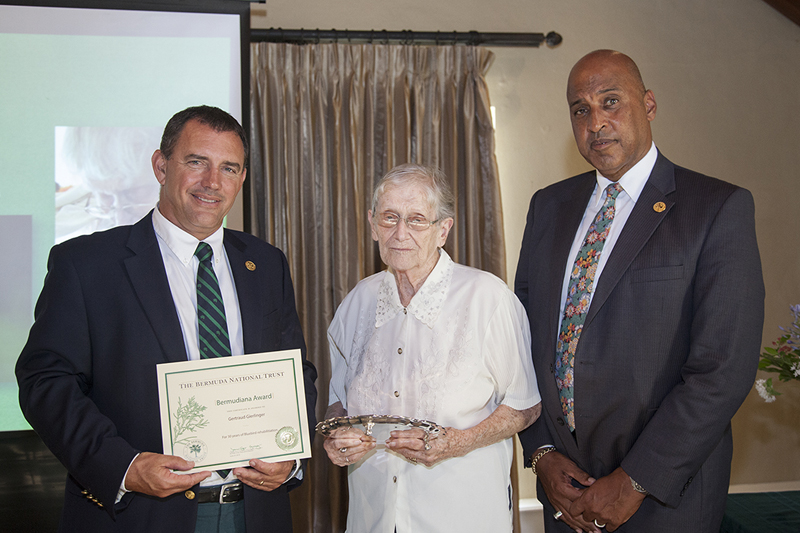 "For instance, should an injured bird or abandoned eggs be taken to the vet, Mrs Gierlinger will be called. She will incubate the eggs, stay up all night feeding chicks or sick birds and even return them to their home so that they can fledge.
"Ms Gierlinger says she has done this work purely for the love of birds and to help ensure their survival in Bermuda despite the many challenges they face. Bluebird populations are at risk of disappearing due to loss of habitat, competition and predators.
"With Mrs Gierlinger's all-encompassing and continued dedication to the survival bluebirds, she is lovingly referred to as the 'Bluebird Lady' and has our respect and gratitude.

"Preservation And Architecture Awards Presented By His Excellency The Governor, George Fergusson
"Preservation and Architecture Awards are given to individuals or groups whose new buildings show particular sensitivity to Bermuda's traditional architecture, and projects, programmes or initiatives contribute preservation of Bermuda's unique man-made heritage.
"Architecture Award: Germano Botelho – BotelhoWood Architects for the sensitive renovation of Elm Lodge Cottage, Harbour Road, Warwick
Preservation Award Keith Masser, Works and Engineering,Willim White, President of the Trust, Paul Cole, Ciaran Keaveny, Kyjuan Saltus of Horsfield Landscaping and His Excellency The Governor, George Fergusson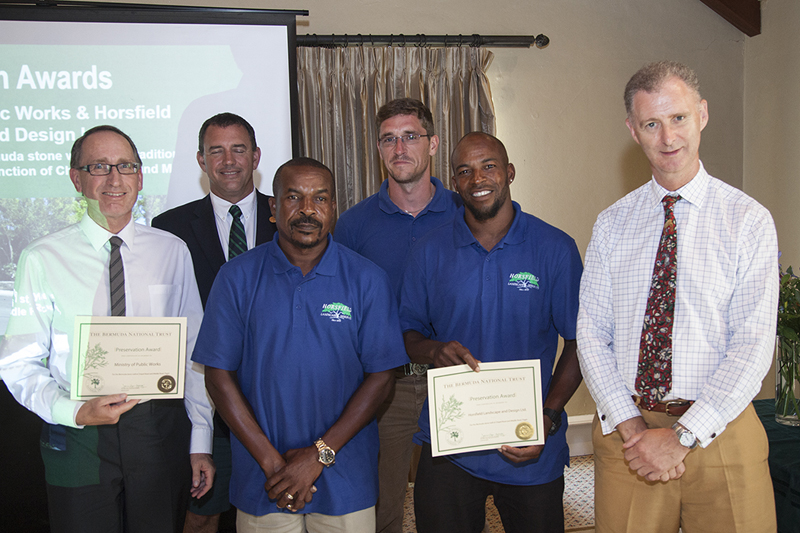 "Preservation Award:
"Joy Rothwell and David Fox for the attractive restoration of the exterior of 13 Water Street in the Town of St. George's
"Ministry of Public Works, Horsfield Landscape and Design Ltd. For building the Bermuda stone wall in the traditional style at the bus stop at the junction of Chapel Road and Middle Road, Paget
"BCM McAlpine – carpenters Hans Bruun, Kenneth Burch and Emanuel DeMelo for outstanding carpentry work on Springfield's Verandah
"WEDCO for restoring the windows of Building No. 9 Dockyard
"The Clipper Award: Richard Lowry for commitment to the island's built heritage and contributions to the Bermuda National Trust
Top Preservation And Architecture Award Clipper Award President of the Trust, William White, Veronica Lowry accepting for Richard Lowry, His Excellency the Governor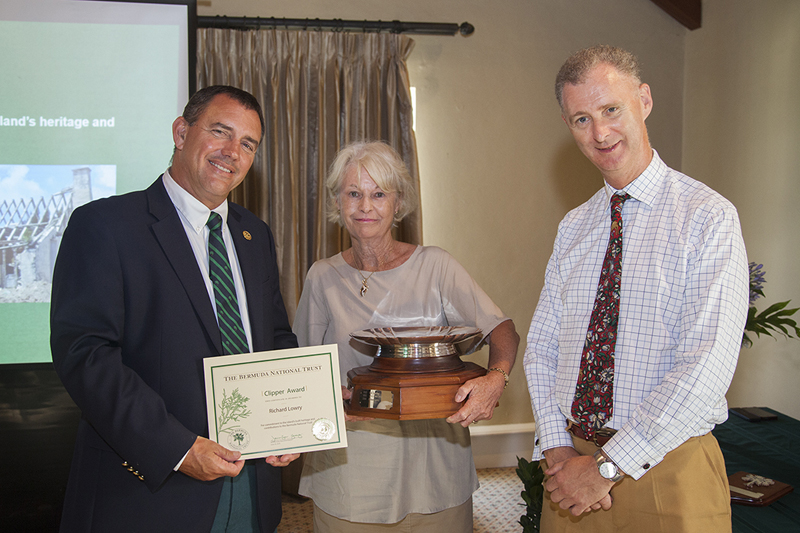 "Since the early 2000s Richard, as the Chair of our Archaeology Committee, has carried out and facilitated archaeological digs at our historic properties but also in bank car parks, the Unfinished Church and under St Peter's Church just to mention a few. He has uncovered a plethora of artefacts that tell us about our past and how we lived.
"From clay pipes and pottery, to the remains of domestic animals and even the bodies of past Governors, the records from work under his leadership are quite remarkable. Richard has worked for the Department of Planning for many years and since 2009 served as the Government's Heritage Officer. During his time at Planning we have seen the Government make policy changes to include:
"Preliminary Archaeological Assessments in order to conserve sites of archaeological significance and to ensure that archaeological excavation work is conducted prior to development within a Historic Protection Area or development affecting a Listed Building;
"a substantial increase in the number and size of Historic Protection Areas across the island's heritage sites, the listing of eight buildings of historical and architectural significance within the City of Hamilton, when before there was only one
"and, most recently, the introduction of the Listed Building Grant Scheme that provides the opportunity for financial contributions to be made by developers in the City of Hamilton, in exchange for development bonuses, that will then provide funds for the maintenance and preservation of privately owned listed buildings in the city.
"All of these initiatives and improvements were the brainchild, spearheaded or driven by Richard.

"Trust Honours Presented By His Excellency The Governor, George Fergusson
"Staff Long Service Awards are awarded to acknowledge outstanding commitment to the Bermuda National Trust
"5 yrs + Vincent Chaves, Donella Perinchief, Duane Symonds, Jackie Robinson
"10 yrs + Randy Denbrook
"25 yrs + Saleem Madyun
"Service Awards are awarded to acknowledge outstanding voluntary service and support to the Bermuda National Trust:
"Connie Dey for her outstanding voluntary commitment to the Trust
"Steve Woodward for managing the Bermuda National Trust audit for 10 years
"President's Award is awarded by the President of the Bermuda National Trust for a service, gift or contribution supporting the mission of the Trust:
"The Estate of Jean Cox Spence for donating the historic house Devondale and its 10 acres of woodland and farmland to the Bermuda National Trust
"Palmetto Award is the National Trust's highest annual honour and is awarded for outstanding service to the community in areas of concern to the Trust or service to the Trust itself. This would include preservation of Bermuda's natural or man-made heritage – or significant donation of time, effort or funds to this end:
"Diana Chudleigh for enduring commitment and service to the Trust over many years and most recently, the Tucker House guide book and garden redesign
The Trust Highest Honour The Palmetto Award President of the Trust, William White, Diana Chudleigh, His Excellency the Governor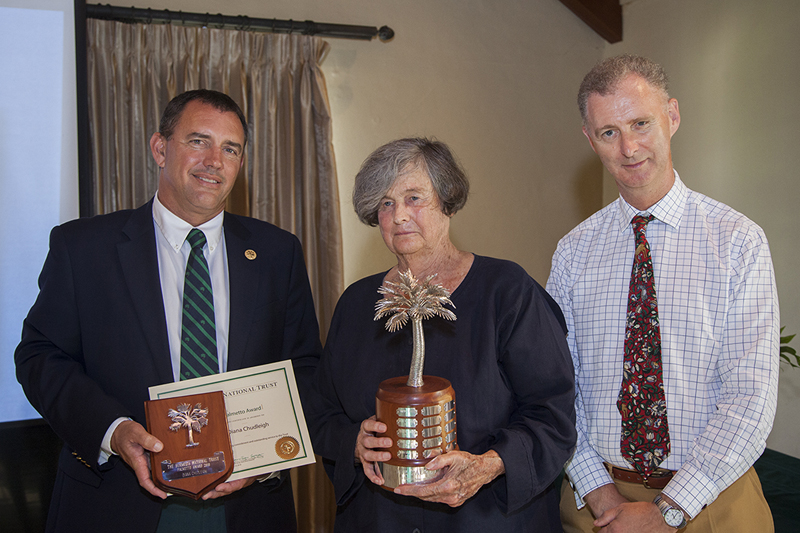 "Diana made an outstanding contribution as a volunteer for our Historic Buildings Survey of the 1980s and 90s. Further, as a researcher for our Architectural Heritage Series, she was author of the Hamilton and Smith's parish volumes, maintaining the very high standard of this series.
"A council member for many years, Diana also embraced and led numerous horticultural projects for the Trust, from property enhancement to her deep involvement in our annual plant sale. Just last year Diana undertook a complete restoration of the Tucker House Gardens in St. Georges donating not only her time but gifts of unique plants carefully nurtured at her home and interpretive labels for the garden which has now been beautifully transformed.
"Diana is a stalwart supporter of the Trust in so many ways and her dedication and commitment does not seem to waive with time.  With a passion for our history Diana undertook to research and write two beautiful guide books for the Trust… Verdmont: The Story of a House, Its People & Its Contents was published in 2011 and was followed by Tucker House in 2015.
"These exceptional publications are a wonderful addition to our collection and provide a great compilation of all that make Verdmont and Tucker House Museums such a special part of the Bermudian Heritage.  The guides are well-written and filled with a superb selection of photos showcasing the building's rich architecture along with its fascinating contents and stories of the people who made, owned and enjoyed them.

"Farewell's and Thank Yous Presented By William White, President
"Pauline Powell who is leaving the Trust after 14 and a half years of incredible service.
"While Pauline's title is Executive Assistant she probably has the most varied job description of anyone that works for the Trust. Over the years she has been responsible for keeping Council and Executive in line, writing minutes, acting as the Director's right hand, overseeing volunteers, staffing the front desk, assisting our finance department, office administration, shaking down people for unpaid bills and  making sure our mooring and punt tenants pay their rent and register their boats.
"Pauline is the longest serving office employee, a consummate multitasker that has been integral to our operations but also to our events. We wish her all the best in her well-earned retirement.
"Jennifer Gray, Executive Director of the last 8 1/2 years.
"Notably, Jennifer has been one of the most passionate advocates for educating the island's school children about Bermuda's natural and built heritage. During her time at the Trust, experiential learning at our properties has increased from 1500 children in 2008 to 5,000 in 2015.
"Her first job with us was overseeing the launch of the Bermuda National Trust Axis Education Programme – a 9-year partnership – that included creating tailor-made educational resources and a classroom to allow the Trust to better reach and engage educators and school children by delivering curriculum linked programmes.
"Outstanding improvements to our education programming and outreach also included, in 2009 a new exhibit at Verdmont titled, Verdmont: A House and Its People, that tells the story of all who lived and toiled at the property, contributing to the Jamestown Exhibit that explored the shared history and links between England's first two permanent colonies in the New World, the introduction of our Annual Earth Day celebration/video competition for children and, last but not least, six publications hitting the shelves, including our Climate Change Reports, guide books for both Verdmont and Tucker House museums and two more architectural heritage series publications, Paget and Hamilton Town and City.
"Jen is also a famous advocate for the natural environment and some truly big issues have been tackled during her tenure including development threats to the Southlands Estate and the Tucker's Point SDO. We are proud of our first Community Garden created at Tivoli in 2011 and of the rehabilitation of a 3-acre industrial site in Devonshire Marsh which was transformed back into open space.
"The last eight years have of course been characterised by the severe economic global downturn that saw the Trust lose most of its Government support and grants as well as negatively impacting our donor base.  Mitigating the impact of this, by increasing sponsorship support and reducing expenditure, has been no small task but we weathered this storm thanks to Jennifer and her team.
"All the while raising 2.5 million for the purchase of 2 properties, the 7.6-acre Vesey Nature Reserve and 3.36 acre Eve's Pond in Hamilton Parish as well and other acquisitions like the 5.7-acre Lighthouse Nature Reserve in Southampton.
"There is so much more to list but there is not enough time here tonight. On behalf of the Council, the staff, I would like to thank her very much.
"His Excellency the Governor, George Fergusson and his lovely wife Margaret.  The Governor and his wife are obviously prominent figures in our society but many may not be aware of their special relationship with the Trust.  During their four-year tenure in Bermuda the Governor has served as the formal Patron of the Trust and he and his wife don't just talk the talk…they walk the walk joining the Trust through marshes, over cliffs and under woodland thickets on our Palm Sunday Walks and interact with our youth on the Children's nature walk annually.
"Their diplomacy, kindness and truly wonderful demeanors have graced so many Trust events and they have reached out to us on numerous occasions to offer wisdom, support and partnership opportunities.  The doors of Government House have been opened often to host Trust events and along with their support staff and services we have been made to feel most welcome. Our Government House furnishings arm works closely with them to care for and enhance the formal rooms at Government House unanimously agree that they have been the most delightful to work with.
"It is hard to believe that their term has been only a little more than five years as we feel they have been part of the Trust family forever. The Trust thanks them for all they have done for our island home and particularly for their support of the Trust. In honour of their friendship the Trust will be planting a tree on the Grounds of Government House with a plaque to acknowledge their incredible contribution."

Read More About
Category: All, Environment, News