The public is invited to attend a panel discussion on 'Complementary and Alternative Medicine [CAM] in Bermuda' at the Bermuda National Library on Wednesday, June 29 from 6.00pm to 7.30pm.
The event's panel of CAM practitioners will include Dr. Reid Robinson [Chiropractic], Dr. Karen Simons [Acupuncture & Energy Medicine], Frances Marshall [Yoga], Marshall Decouto [Traditional Chinese Medicine & Acupuncture], and Kuni Frith ND [Herbal Medicine].
A spokesperson said, "On May 25, 2016, Bernews posted an article on how to reduce health care costs in Bermuda. References were made to the recent move by the Swiss Government to cover five complementary alternative modalities under the countries current health insurance plan to help reduce health care costs. The comments made in response to that article led to this follow up article and a panel discussion on CAM therapies in Bermuda.
"After reading the comments put forward in response to how Bermuda can perhaps make adjustments to reducing health care costs by implementing complementary and alternative medicine, it was felt that more information was needed to share with the public on the topic of CAM.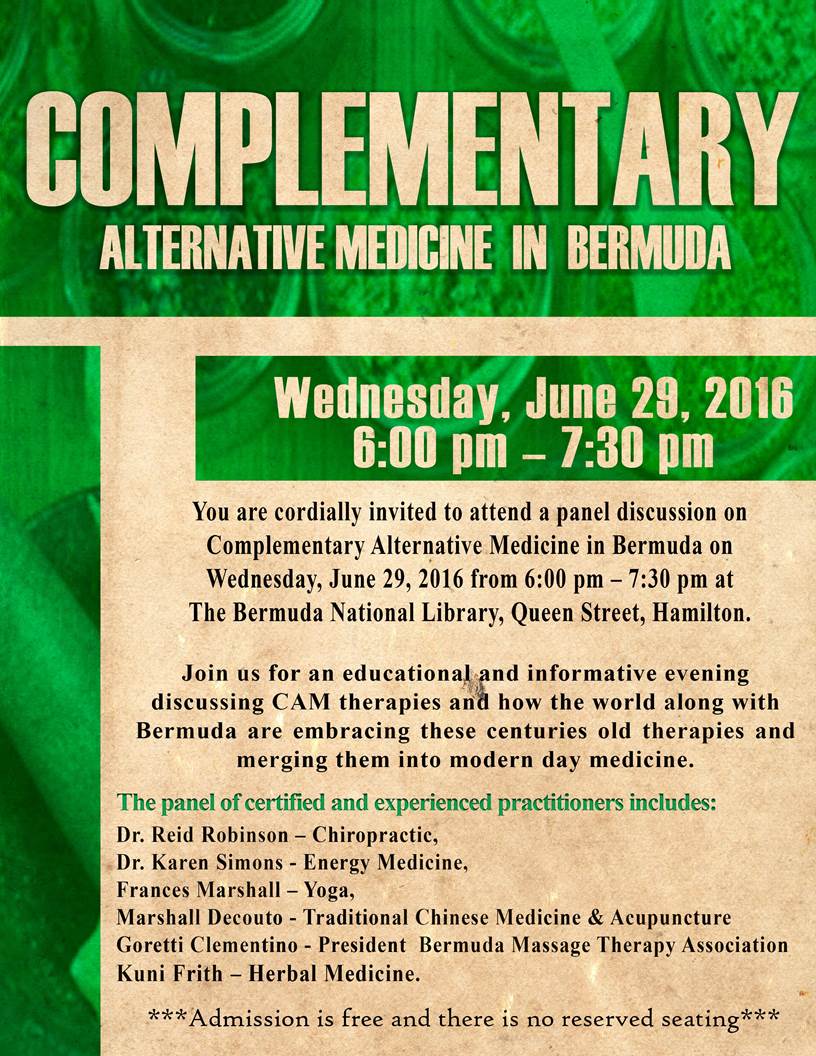 "It is amazing that in the 21st century many [not all] local physicians are unaware of just how much CAM has made inroads into mainstream medicine in the Western World. To read that alternative medicine is still viewed in Bermuda by some as witch craft, voodoo practice and fortune telling was somewhat alarming.
"There are several well respected CAM practitioners in Bermuda that have been working in the local health care field for several years, some of them have been at it for decades. Also, there are some local physicians that actually refer patients to these practitioners when modern medicine does not work for the patient afflicted by long term chronic health imbalances.
"These practitioners either have degrees or certifications in their respective fields of healing. This level of education has set the platform for many local practitioners who are more than qualified to meet the standards set for integrity and good judgment as an adjunct therapist while a patient is under the care of a physician. In other words that patient is sharing information with their physician regarding the alternative therapy of choice and the practitioner.
"Many patients don't share information with their physician because they are benefiting in some way from an adjunct therapy. They are being told that this is a dangerous practice due to lack of scientific evidence. There has been a steady increase in Western hospitals incorporating actual wings into their facility to accommodate patients who have chosen CAM as their treatment protocol under the supervision of a physician.
"Due to a lack of inclusion on CAM therapies along with other treatment options locally, many are of the opinion that Bermuda's practice of medicine is some twenty years behind in new advancements made in traditional medicine. Let's look at two top hospitals utilizing alternative, along with restorative and functional medicine into mainstream treatment protocols.
"Cleveland Clinic ranks in the top ten lists of best hospitals in America. The Center for Functional Medicine – Cleveland Clinic is headed by Dr. Mark Hyman. Dr. Hyman completed his degree in family medicine from the University of California, San Francisco. A number of alternative therapies, along with nutritional guidance, herbs and supplements are used in conjunction with allopathic medicine under his supervision.
"If you ask the average local physician about Functional Medicine most respond with "I never heard of it" or "I don't know much about that system of medicine." Functional Medicine has been in existence for almost three decades, maybe more.
"The Mayo Clinic also incorporates unorthodox medicine at their facility. Trained physicians at the Mayo Clinic have this to say about alternative therapies – "And thanks to increasing research on CAM treatments, doctors are now better able to understand the role these alternative therapies can play in helping treat and prevent disease."
"The public is invited to attend a panel discussion on Complementary and Alternative Medicine in Bermuda at the Bermuda National Library on Wednesday, June 29, 2016 from 6:00 pm – 7:30 pm. The panel of CAM practitioners includes: Dr. Reid Robinson – Chiropractic, Dr. Karen Simons – Acupuncture & Energy Medicine, Frances Marshall – Yoga, Marshall Decouto – Traditional Chinese Medicine & Acupuncture and Kuni Frith ND – Herbal Medicine.
"The purpose of this panel discussion is to hopefully lift the veil on the Dark Ages mentality that CAM is steeped in quackery and untrained practitioners in Bermuda. CAM has been practiced in Bermuda for decades with more people developing an open mind toward these types of therapies that may for some or may not for others, deliver positive results in helping to restore health and wellness within our local community.
"The panel wishes to thank the Director of The Bermuda National Library, Miss Joanne Brangman and her assistant Mrs. Kenisha Shakir for their help in the promotion and support of this presentation."

Read More About
Category: All