The Bermuda Tourism Authority [BTA] is embracing Summer Fridays with a campaign they said "breaks through the seasonal clutter and reaches key target markets."
"Integrating efforts across multiple platforms, from pop-up events to public relations, influencer engagement and advertising, the campaign provides a 360-degree approach that will bring to life why Summer Fridays should be synonymous with Bermuda," the BTA said.
"Throughout the summer, the #BermudaSummerFridays campaign will deliver a series of curated experiences and unique content to ensure major recall and customer engagement. Collaborations with like-minded brand partners will further enhance the campaign's visibility and reach."
"This campaign builds on the momentum of Bermuda's growing destination appeal." [Note: Vacation air arrivals to Bermuda were up 13.7 percent in the first quarter of 2016 when compared to the same period last year, marking the best arrivals since 2008. More than 80 percent of the growth was attributed to travellers younger than 45 years-old.]
"Summer Fridays are a way of life for many in major American cities because their employers give time off as an added benefit – either half the day at the end of the week or the full day. Many use the opportunity to take short trips.
"The campaign kicked off with a groundbreaking partnership between the BTA and Uber, whisking a group of surprised Uber riders to Bermuda with less than 24 hours' notice."
"The Bermuda Tourism Authority is showing savvy travelers in major markets just how easy it is to disappear to the island for Bermuda Summer Fridays," says Victoria Isley, Chief Sales & Marketing Officer. "
"Through innovative partnerships, we're bringing Bermuda into the conversation to reach the adventurous and young-at-heart, while showcasing the mystique of island life that awaits in Bermuda.
"A first of its kind, the promotion was announced on Wednesday, June 1. On Thursday morning, Bermuda Brand Ambassadors delivered the good news to winners. By early Friday morning, June 3, they were in the air, headed for a perfect Summer Friday weekend in Bermuda with a two-night stay at the Hamilton Princess."
Ms Isley said: "Uber has an undeniable connection with savvy travellers and we were excited to tap into that network. Now those riders – and even the ones who didn't win our contest – understand how easy it is to transport themselves from city life to island life on a short 90-minute flight from New York.
"We heard more than once from the winners that their trip to Bermuda was faster and more enjoyable than a weekend trip to the Hamptons."
Other aspects of the #BermudaSummerFridays campaign will similarly leverage brands partnerships while also incorporating pop-up events, influencer engagement, public relations and advertising – including ads atop New York City taxicabs which began this week.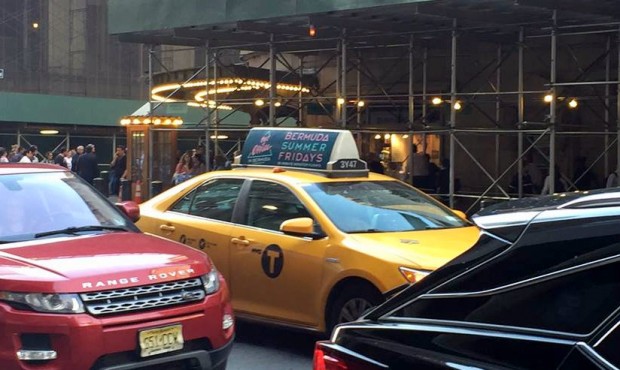 The BTA said, "There's much more #BermudaSummerFridays promotion to come.
"A partnership with Daybreaker in New York City, Boston and Washington DC aims to introduce the island to an active, energetic audience at early morning dance parties. Island-inspired décor, music, entertainers, giveaways and other exciting elements will weave into these happy events that attract hundreds of influencers in the tech and creative space. The first kicked off with a Bermuda Beach Party on Friday, June 10 in NYC with surprise appearances by Gombey Evolution.
"The BTA will deck out a series of Summer Rooftop events in New York City, Boston and Washington, DC with island life and vibes. The message for these events is that "Out of Office" takes on a new meaning in Bermuda, specifically for Summer Fridays, ensuring a consistent brand experience.
"Bermuda's pink beaches was paired with rosé wine during La Nuit en Rose, a series of weekend rosé wine festivals where style, food, wine and entertainment come together. The sold out VIP dinner June 9 showcased the food culture of Bermuda, featuring a menu created Chef Leo Marino from Marcus Bermuda. Weekend sails also included performances by Bermudian DJ Damon DeGraff and Gombey Evolution.
A"dditional partnerships include a wide-reaching branded editorial and social media influencer campaign with the leading lifestyle digital media company, Refinery 29, which will present a narrative about Summer Fridays as part of a lifestyle.
"Throughout the summer, the campaign will deliver a series of curated experiences and unique content to ensure major recall and customer engagement.
The Summer Friday campaign also has a heads-in-beds element to serve BTA's partners: Seven of Bermuda's finest hotels are offering a "4th Night Free" deal for travellers who book their summer travels through August 31, 2016 – the perfect way to stretch a long weekend without stretching a budget."

Read More About