Four young Bermudian students sponsored by l'Alliance Française des Bermudes left for France for three weeks of French immersion on Saturday [July 2].
The students were selected via the Concours Annuel of the L'Alliance Française, a charity established more than 30 years ago, to promote the French language and culture.
Marc Morabito, President of the Association, said, "This student exchange program, generously sponsored by the Christian Humann Foundation since its inception, is our most important charitable endeavor.
"This year has been a particularly challenging task for the judges, with so many talented students applying for the sponsorship."
A spokesperson said, "The happy winners left the island on July 2nd to study French for three weeks in Cannes, on the French Riviera. They are very excited about the trip and to meet their host families."
Winners Giovanni Hollis & Corrie Cross of Warwick Academy, Shane Krueger of Saltus & Yusef Bushara of Somersfield: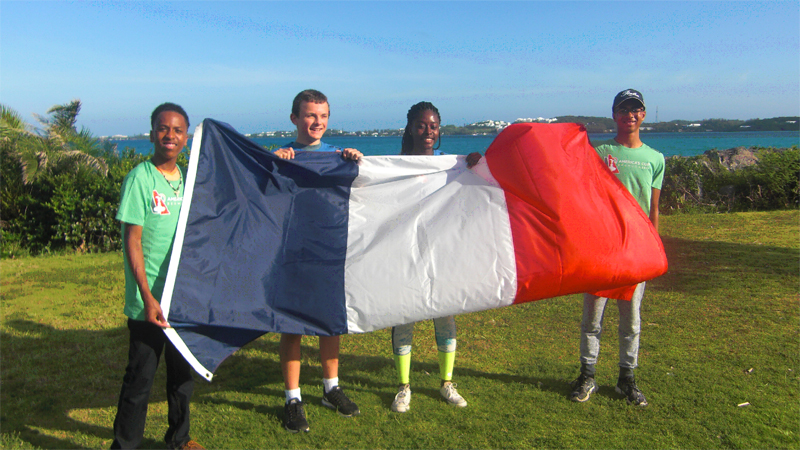 "At the international language school in Cannes, the students will be assessed on the first day and grouped in different classes so that they have the opportunity to learn at their own level. They will take formal language classes several hours each day but learning takes place throughout the day.
"The French host families take in two or three students, usually from different countries, and friendships rapidly develop with French being the "common language".
"Bermudian students enjoy the warm hospitality of the French families, sharing evening meals and excursions during the week-end, and after Cannes, the trip concludes with a four day, fun-packed adventure in the French capital."
"For the last four years, we have expanded the program to offer a long weekend in Paris, after the students have completed their studies in Cannes. It is a great cultural experience for them; they get the chance to try out and hone their newly acquired language skills outside the classroom," said Dr. Alexandra Amat, the coordinator of the program, herself a Parisian.
"It is a fun-filled three to four days of discovering one of the most beautiful cities in the world. The students explore les Champs Elysées, climb the Eiffel Tower, visit Versailles, go to the Louvre and the Musée d'Orsay, stroll in Montmartre and the Quartier Latin, shop for bric-a-brac and pique-nique treats in the street markets, enjoy a show, go to the cinema, and even had the chance, in 2013, to join the crowd in welcoming the cyclists on the Champs Elysées, for the grand finale of the Tour de France."
"The Paris trip gives the students the opportunity to hone their language skills outside the classroom, thanks to volunteer committee members who escort the student group every year. The students will travel by train from Cannes to Paris, and the group will stay together in an apartment in the heart of the city."

Read More About