The Department of E-Commerce will be holding a TechTalk panel discussion covering cyber insurance on July 14.
The panel will consist of Sarah Spurling, Vice President, Professional Lines – Endurance Specialty Holdings Ltd; Noel Pearman, Vice President, Professional Lines – XL Catlin; Giles Harlow, Vice President, Professional Risk Solutions – Aon [Bermuda] Ltd; and David Friston, Senior Vice President, Financial Lines Manager – AIG.
The discussion will be moderated by Sheridan Smith, Director, Management Services/Information Technology, Bermuda Monetary Authority.
The event will get underway with a reception at 5.30pm at the Royal Hamilton Amateur Dinghy Club, with attendance free, food provided, a cash bar available, and one CPE credit available.
The event poster says, "The roots of cyber coverage go back about 20 years. Back then, technology companies bought errors and omissions [E&O] insurance, which over time, was extended to include things like a software product bringing down another company's network, unauthorized access to a client system, destruction of data, or a virus impacting a customer.
"The companies that bought this early cyber insurance were generally in the technology space and already buying E&O insurance. The technology coverage, often called "network security" or "Internet liability" was an add-on.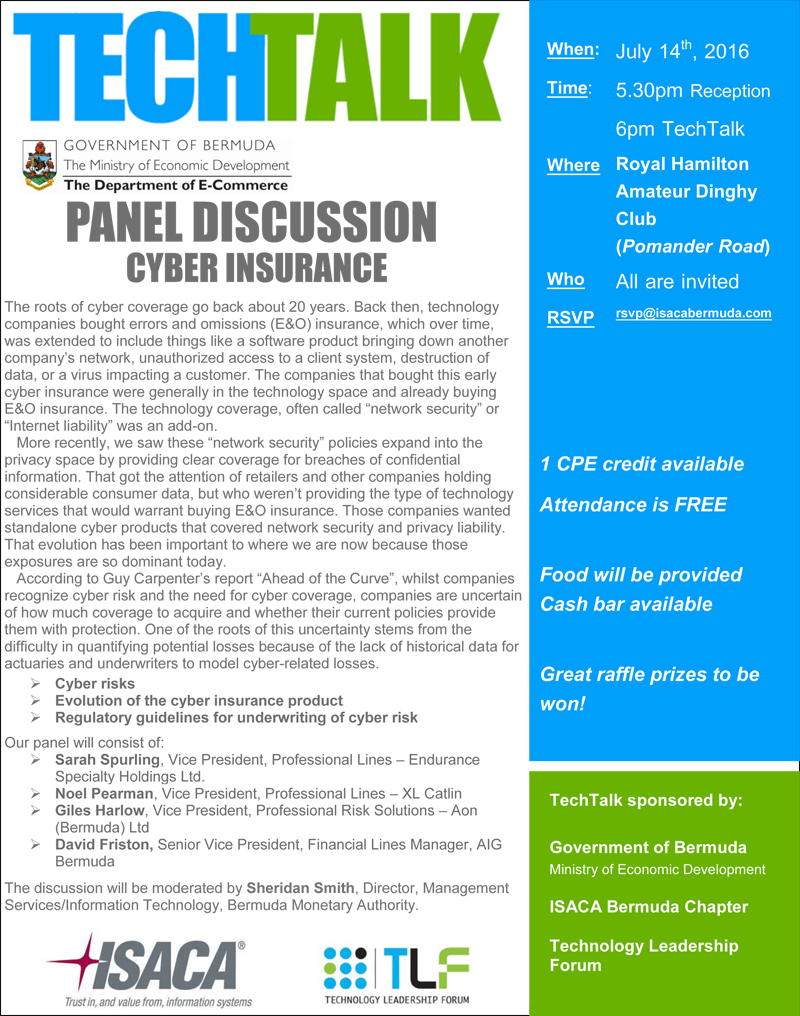 "More recently, we saw these "network security" policies expand into the privacy space by providing clear coverage for breaches of confidential information. That got the attention of retailers and other companies holding considerable consumer data, but who weren't providing the type of technology services that would warrant buying E&O insurance.
"Those companies wanted standalone cyber products that covered network security and privacy liability. That evolution has been important to where we are now because those exposures are so dominant today.
"According to Guy Carpenter's report "Ahead of the Curve", whilst companies recognize cyber risk and the need for cyber coverage, companies are uncertain of how much coverage to acquire and whether their current policies provide them with protection.
"One of the roots of this uncertainty stems from the difficulty in quantifying potential losses because of the lack of historical data for actuaries and underwriters to model cyber-related losses.
"TechTalk sponsored by: Government of Bermuda Ministry of Economic Development ISACA Bermuda Chapter Technology Leadership Forum."
To RSVP, email rsvp@isacabermuda.com.

Read More About
Category: All, technology