Theresa May was formally named Britain's Prime Minister today, with the new Prime Minister speaking outside No 10 Downing Street, promising to "fight 'burning injustice' in British society, govern for the poor and marginalised, and create a union 'between all of our citizens'."
The speech was given after Ms. May paid a visit to the Queen in order to officially become the 54th holder of the title; that visit followed a similar one by outgoing Prime Minister David Cameron, who tendered his resignation to the Queen.
A story in the Guardian says, "Standing outside No 10 Downing Street after visiting the Queen in Buckingham Palace to "kiss hands" and be formally anointed as Britain's second female prime minister, May made a bold grab for the political centre ground."
Premier Michael Dunkley says Bermuda "looks forward to working" with Ms. May: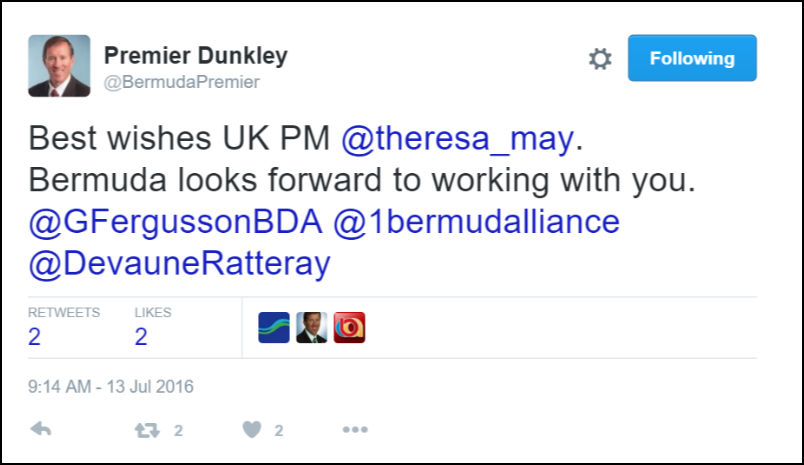 "The former home secretary looked directly into the waiting television cameras, and said she would make decisions based on the interests of struggling families, not the rich."
"If you're one of those families, if you're just managing, I want to address you directly. I know you're working around the clock. I know you're doing your best. I know that sometimes life can be a struggle."
"The government I lead will be driven not by the interests of the privileged few, but by yours. We will do everything we can to give you more control over your lives," she said.
Theresa May's first speech as Britain's Prime Minister:
"May said she would follow in David Cameron's footsteps as a "one nation" prime minister, but her emphasis on social injustice suggested a shift of tone.
"She also stressed that the full name of the Conservative party was the Conservative and Unionist party, and she would safeguard the union between England, Scotland, Wales and Northern Ireland — as Scotland threatens to break away after the vote to leave the EU.
"May swept to her party's leadership, when her final opponent, the pro-Brexit Andrea Leadsom, dropped out this week after making controversial comments about motherhood. May had served Cameron as home secretary throughout his six years in government.
"The new prime minister was expected to make the first senior appointments to her government on Wednesday evening, including a minister for Brexit."
Read More About
Category: All