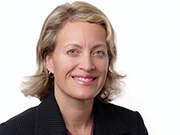 Vanessa Schrum, Partner and Group Head of Appleby's Private Client and Trusts practice in Bermuda has been shortlisted for Citywealth's prestigious Powerwomen Award 2017.
Ms. Schrum is nominated for the Woman of the Year Award in the Leadership Professional Services category and is the only lawyer in Bermuda nominated in any category.
The Citywealth Powerwomen awards spotlight individuals and companies who maximise the potential of women in wealth. This is the fourth year of the programme highlighting female leaders of today and tomorrow with vision, drive and a commitment to achieve that vision.
Ms. Schrum has extensive experience on a wide range of trust and estate planning matters. She regularly advises on the use of Bermuda private and commercial trust structures [including purpose trusts and unit trusts], pension trusts, trust restructuring often with a multi-jurisdictional element, the administration of complex and large estates and all areas of probate and equity matters in Bermuda, including applications to the Supreme Court of Bermuda.
"I am honoured to be nominated again for the Powerwomen award and be among such highly regarded trust professionals," commented Ms. Schrum. "These awards are a testament to the success that women are achieving in leadership roles globally."
Citywealth connects global private wealth management professionals and private client experts dealing with +£20million UHNW clients and above. Global clients are: family offices; private banks, investment managers, accountants, lawyers and trustees.
There are 14, UK based events a year which include networking clubs and award ceremonies and have a selection of editorial products including Citywealth magazine, the essential private wealth management publication.
Read More About