After 31 years of teaching at Saltus Grammar School, Alan Boardman has finally decided to call it a day and retire. Throughout his time at Saltus he has taught maths, and also coached the school football and cricket teams.
Alan Boardman receiving a long service award from Saltus Head of School Ted Staunton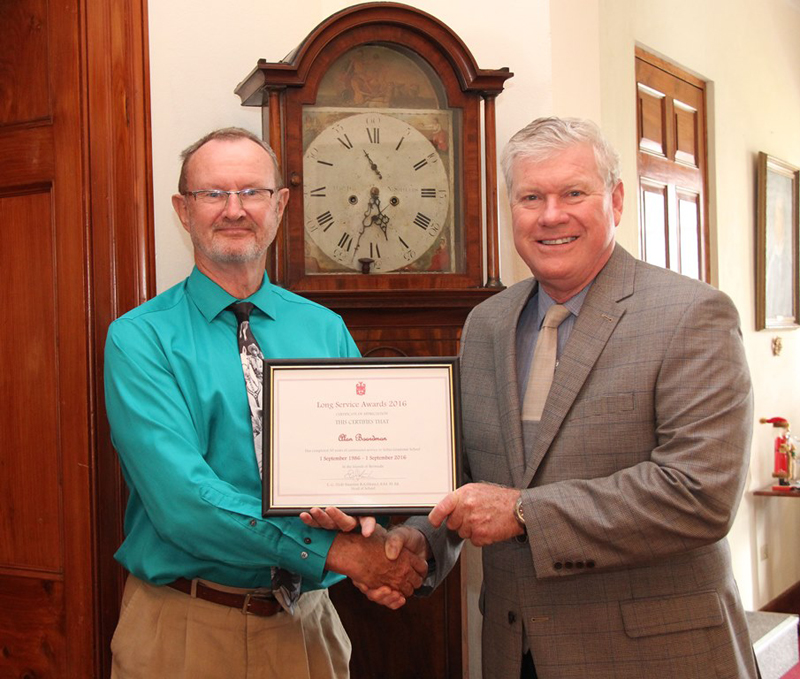 He has also had his fair share of experiences on school trips, including 'lions' and 12ft crocodiles, and is now ready to fulfil his travel ambitions using his retirement home in the Pyrenees as his base.
An avid Manchester United fan, Mr Boardman also hopes to be able to take in a few of their games when he is in Europe.
"I really enjoyed teaching," he said. "When you are with the children it is very fulfilling." He said he bumps into alumni he taught as children 30 years ago and "they still call me Mr Boardman".
Mr Boardman was going to retire after 30 years' service but was asked to stay on for one more year. He will call it day and leave for France in June.
Head of School, Ted Staunton said: "Alan has been a Saltus stalwart. He has done his profession proud and the school will not be the same without him. He has done a magnificent job and will be sadly missed."

Read More About