David Nicholas selected Bermuda to host his final scrutiny meeting as Manager of the North Atlantic Central Monitoring Agency [NAT CMA], a group that reviews Operational Safety Occurrences and reports them to the regulation body International Civil Aviation Organisation [ICAO].
The group consists of experts in flight operations, engineering, dispatch, human factors and air traffic control.
The bi-annual scrutiny meeting is taking place from March 6th-10th at the Bermuda Civil Aviation Authority [BCAA] offices in St George's.
The purpose of the meeting is to review 'reportable occurrences' in the North Atlantic region in order to formulate risk assessments. Examples of such reportable occurrences are: time/speed errors, communication failures, diversions and turnbacks.
NAT CMA group outside of the Bermuda Civil Aviation Authority for their bi-annual scrutiny meeting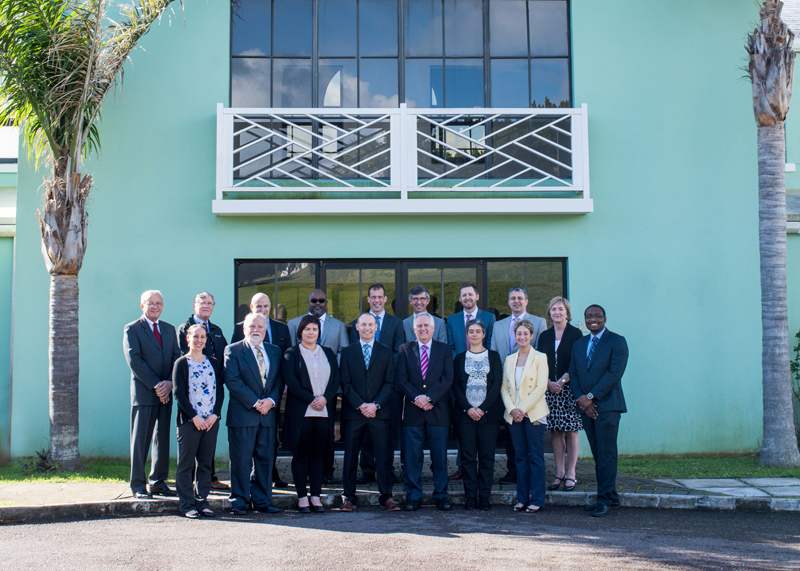 David Nicholas says, "I selected Bermuda as the destination to hold my last scrutiny meeting before retirement and introduce my successor as rapporteur. This is the first time a NAT CMA meeting has been held on the island and we thank BCAA for hosting us while we discuss and review aviation safety.
"We have over 20 participants for the 2017 meeting, including: two very well decorated pilots, former operations officers, oceanic air traffic control representatives from across the North Atlantic region and two mathematical analysts."
The NAT CMA was established in 1985 and was the first of 13 Regional Monitoring Agencies [RMA]. NAT CMA is based in Prestwick, Scotland and is responsible for maintaining Aircraft Registration and Operational Approval of five states: Norway, Iceland, Ireland, Portugal and Bermuda.
Director of BCAA, Thomas Dunstan, said, "We are honored that David selected Bermuda to hold this important meeting and we are extremely pleased to host them at our offices.
"The island is a fitting host to a safety event of this magnitude because for over 85 years Bermuda has earned a solid reputation internationally for outstanding safety.
"Since our transition from Bermuda Department of Civil Aviation [BDCA] to BCAA, we have been ramping up our exposure at a number of international events to put Bermuda on the map.
"With the help of regulation bodies such as the ICAO we are able to ensure that Bermuda maintains the highest safety standards to remain competitive in the industry."
Last March the Bermuda Business Development Agency [BDA] praised the aviation sector for its significant contribution to Bermuda's economy and strong potential for growth. BCAA generates income through registering both commercially operated and privately owned aircraft.
Read More About