Ironshore is the lead sponsor for the Relay for Life of Bermuda, which will be held on May 12 and 13th, with the company saying they are "pleased to be part of such an incredible community event."
"This annual event has been an enormous success and in the first 3 years has raised over half a million dollars and counting towards the new radiation facility at Bermuda Cancer & Health," the company said.
"The facility is on schedule to open at the end of May 2017 meaning that Bermudians and residents will no longer have to travel abroad and away from their family/jobs/daily lives for treatment and in addition services will be provided free of charge for those who are not in a position to pay.
"Ironshore has committed to a second three year sponsorship of this event which is very exciting and we are pleased to be part of such an incredible community event.
Left to Right: Ceri Riihiluoma – Ironshore Marketing Coordinator, Tara Soares – Executive Director Bermuda Cancer & Health, Mitch Blaser – Ironshore CEO, Lisa Fontanetta – Ironshore SVP Head of Strategic Operations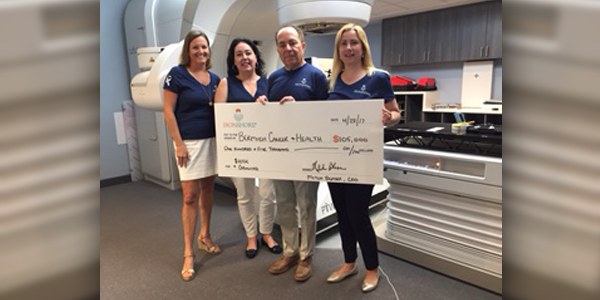 "This year Ironshore has already donated $105,000 to the event, this is a combination of our annual sponsorship as well as employee initiatives in the office including a Giant Ironshore bakeoff pitting departments baking skills against one another, The Biggest Loser competition, a weight loss competition with the entrance fee donated by the winner to Relay for Life as well as a corporate quiz night with our brokers. All teams continue to fundraise throughout the 24hr event so our donation of $105,000 will increase.
"This year is bittersweet for us as last summer, we very suddenly lost our colleague and great friend Fredericka [Freddie] Jabbar to cancer. Freddie was the face of Ironshore and a true champion of the Relay for Life event, our sponsorship this year is dedicated in her name."

Read More About