Hamilton Princess & Beach Club has unveiled a plaque to commemorate a key milestone in Bermuda's insurance history.
The founding chairman and first employee of ACE Limited, John R. Cox, wrote the company's first insurance policy in Room 348 at the hotel on November 1, 1985. ACE, which adopted the Chubb name in 2016 following its acquisition of The Chubb Corporation, has since grown to become the largest publicly traded property and casualty insurance company in the world.
Senior executives from Hamilton Princess & Beach Club and Chubb attended a ceremony to unveil the plaque outside the room on April 19.
Pictured at the plaque unveiling are: Joseph Clabby, Division President, Bermuda & Global Accounts, Chubb; Allan Trew, Director of Community Involvement at Hamilton Princess & Beach Club; and Eric Dobkin, Director, Insurance & Risk Management, Merck & Co., Inc.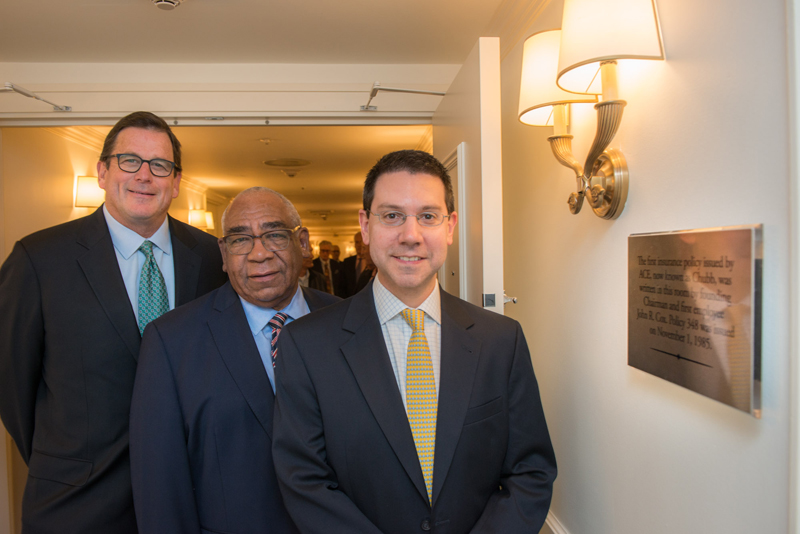 Guests included Eric Dobkin, Director, Insurance & Risk Management, from Merck & Co., Inc. a U.S.-headquartered biopharmaceutical company, which held ACE's first insurance policy, numbered 348 after the room. Chubb employees, past and present, who worked alongside Mr. Cox reminisced about the early years and the family-style work environment.
Mr. Cox, who died at age 84 in February, was regarded as a giant in the property and casualty insurance industry. Not only did he shape ACE in its formative years, he also helped to establish Bermuda's leading role in the international insurance and reinsurance industry.
ACE was founded in 1985 with Mr. Cox playing a critical role in developing the company's excess liability and directors and officers coverage in response to an availability crisis in the U.S. insurance marketplace.
The new plaque outside Room 348 at Hamilton Princess & Beach Club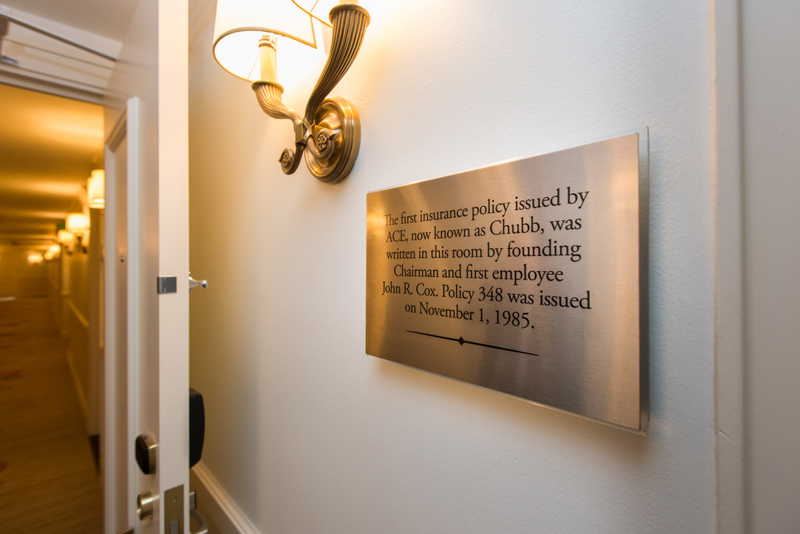 The insurer later went public and, through a series of acquisitions, became a major global P&C insurer and reinsurer.
"We are pleased to commemorate the room where ACE wrote its first policy, a legacy that will always be an important part of Bermuda's history," says Allan Federer, General Manager of the Hamilton Princess & Beach Club. "International insurance and reinsurance are such a large part of Bermuda's growth and development and we are honoured to mark this occasion today."
Joseph Clabby, Division President, Chubb Bermuda said, "Room 348 of the Hamilton Princess has always held a special place in our company's history as our first, albeit temporary, headquarters. We are honoured to be joined here again by our first policyholder, many of our earliest employees and colleagues from the broking community to commemorate John Cox, his vision and achievements."
Read More About