Keep Bermuda Beautiful is aiming to see the island cleaner than ever leading up to the America's Cup, initiating a mass mailing campaign that will see 28,000 cards and trash bags mailed to the island's residents.
A spokesperson said, "Preparing for KBB's mass mailing has been a mammoth task and we couldn't have done it without the help of nearly 200 volunteers. Folding each trash bag to fit inside the special mailing cards is tedious work, but we managed to meet the deadline to get the bulk mail to the Bermuda Postal Sorting Station, and each card has begun its journey to reach you by mail.
"More than 28,000 cards to be exact. Each one with a "Clean Up for the Cup" branded bag inside to be used for our campaign on May 13 & 14.
"It all started when Lynanne Sharpe Bolton was walking toward Dockyard on the Railway Trail a few weeks ago."
She recalls, "I thought about the forthcoming America's Cup and how it will benefit Bermuda. I wondered how we as Bermudians and guest workers might contribute to the success of the event, even in a small way.
"As I walked I noticed the usual mix of bottles, cans and paper trash 'hidden' in the bushes ….out of sight of TV cameras for sure but glaringly obvious to the many visitors who will be arriving to our beautiful Bermuda for the America's Cup."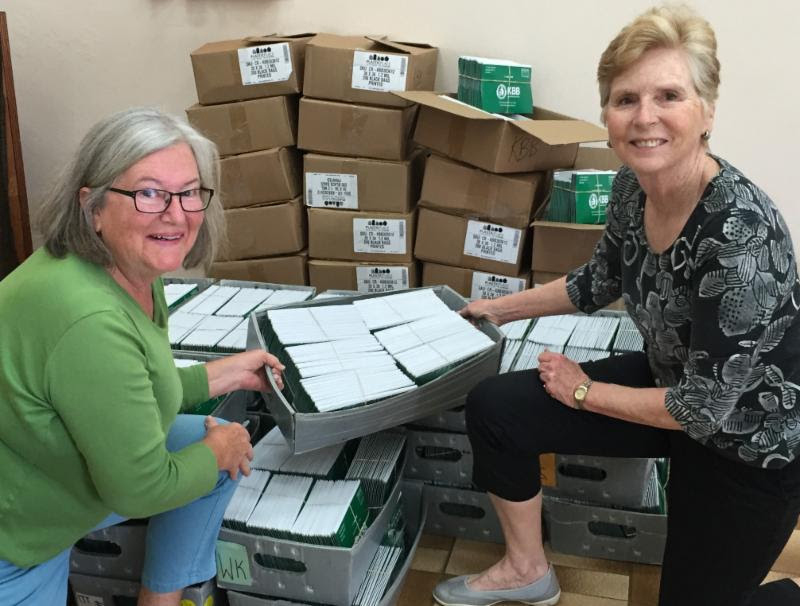 "My idea was to have trash bags specially printed and distributed one to each household in Bermuda and to challenge everyone to fill their bag [only one, not difficult] with trash from neighbourhood parks, beaches, playgrounds, or the Railway Trail.
"I found a willing partner in Anne Hyde, the Executive Director of KBB [pictured left], and together we have coordinated teams of volunteers to fold the bags and place them in special sleeves for island-wide delivery early in May.
"I really hope that residents will embrace this idea. Let's all get together and #CleanUp4theCup."
"Lynanne and Anne had never undertaken such an ambitious project before to hand-fold and prepare a mass mailing of this size and complexity. It wouldn't have been completed without the generous donation of time from scores of volunteers from various of sources.
"Participants came from the Bermuda Bridge Club, KBB, the Garden Club, members of the congregation at St. Mary's Church in Warwick, inmates from the Farm Facility, Co-Ed and Westgate, clients at MAWI, high school students working for community service hours and volunteers who took boxes away to prepare at home.
"It took more than a week and four 2-hour shifts per day to complete 28,550 cards to go into the mail. To all the people who helped with the preparation project; we think you are some kind of wonderful."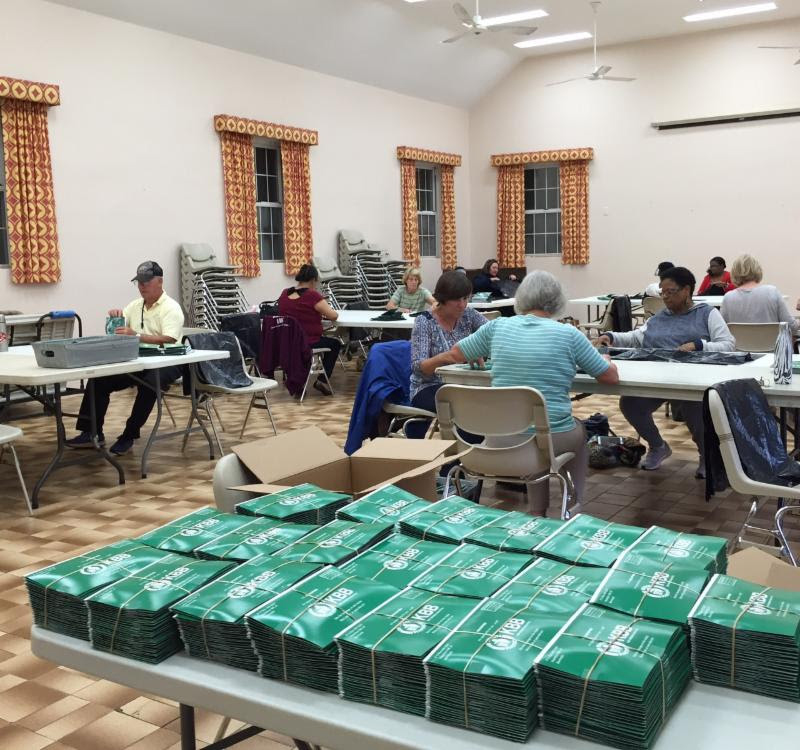 "The bags and cards are to be delivered to every residential street address across the Island, and as you read this, Bermuda's mail carriers will be delivering batch after batch.
"We hope that you will appreciate receiving your bag and card in the mail, and will join us on May 13 & 14 in the campaign to get the whole of Bermuda to individually and collectively do something to make Bermuda look her best. Let's all "Clean Up for the Cup."
"There will be two ways to participate; individual action by those who receive a special bag in the mail, or those who want to register a team with KBB to tackle a larger area."
For more information, visit kbb.bm.

Read More About
Category: All, Environment