Bermuda College has announced the "success of partnership with Validus Re that has been softly celebrated for approximately two years."
Andy Newton, Vice President, Head of Information Technology at Validus said, "Validus endorses a holistic approach to student development based on practical experience.
"With that in mind, our Learning and Talent Development team reached out to Dr. Wilson at Bermuda College in May 2015 to discuss an area of mutual interest, service desk internships for CIS students."
"Within only a few months, this program was live. Our first intern, Brandon Franke, joined the team in January 2016 for the spring semester, Jameko Gomes followed in the 2016 fall semester and most recently Diogo Moto, here with us today. They have all represented the College well and were a pleasure to have on our team. "
"For the 2017 spring semester, we identified a second student from Bermuda College, Victoria Santos, who had a keen interest in programming. She has also joined our Validus team as an intern."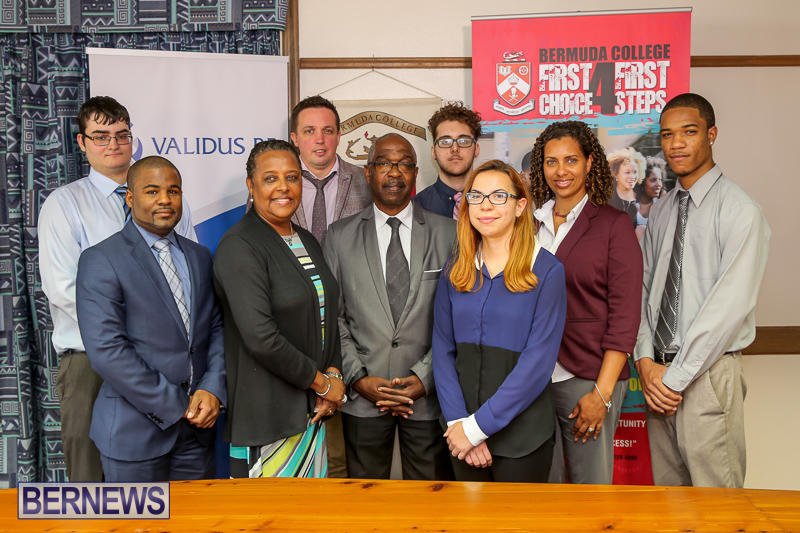 "These students have been exposed to the rigorous IT environment that is needed to support a reinsurance company. They have been involved in various projects such as Windows 10 roll out, IT self-service portal, hardware refresh and equipment moves, as well as dealt with some of the day-to-day issues and been exposed to a diverse and lively user base."
"We also worked with the students to create S.T.E.M based projects to teach afterschool programs both here in Bermuda and in the U.S."
"Our current intern Diogo is also the teaching assistant for the Bermuda-based afterschool program," said Chelito-Desilva Ruddock, Assistant Vice President, Senior Application Support Analyst at Validus.
"Our local IT team also supports interns from the College and other student-focused initiatives, including a programming afterschool camp once a week at Prospect Primary School."
"This year, another unique opportunity arose: an eight week partnership with Prospect Primary School, which offers students a S.T.E.M afterschool program focused on technology.
"Our current intern Diogo is also my teaching assistant for the Prospect Primary afterschool program and supported by the Bermuda IT team."
"The students used Kano systems, all in one computer kits and coding tools designed for this ages 6 and up. These students learned about programming and created art, songs and games using code in a hands-on environment, gaining insights on valuable skillsets for the future," said Desilva Ruddock.
"We are honored to support this program and others in Bermuda that help improve our community," added Norma Trott, Senior Vice President and Director of Human Resources.
"Validus will always be committed to helping Bermuda's students achieve their educational and professional aspirations."
"Thank you all for being here today to learn more about our IT internship program and programming camp."
Dr. Trescot Wilson, Acting Vice President, said, "Bermuda College is very pleased to be a partner in yet another public-private partnership that represents a win-win situation for both entities, and, more importantly, puts Bermuda's students at the top for career prospects.
"Today marks the formalisation of a partnership with Validus Re that has been softly celebrated for approximately 2 years. Our friends at Validus Re will provide a glimpse of our brief, but fitting history in just a few moments…
"But let me say, that Bermuda College is very proud of its Computer Information Systems [CIS] programme, leading to the associates degree, that incorporates and reflects the prime components of the industry throughout its curriculum; and which prepares students to be immersed in cutting edge technology on a daily basis – from technical support, programming, computer networking [inclusive of trouble shooting and Tier 1 support], to desk side support, and more…
"This would not have been possible without the collaborative support of Validus Re.
"They have been invaluable in offering full internships to Bermuda College students and giving them the ability to hone their skills with real-life work experience and on-the-job training… with several ending up, as you will discover, with full-time employment.
"The success of this partnership is being formalised and celebrated today, along with an appeal for more businesses to follow the example of Validus Re. Quality instruction and real-world experience is the recipe for success for setting Bermuda's students on the paths to success."

Read More About