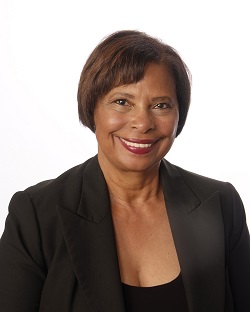 [Updated] OBA candidate Sheila Gomez has "made a complaint to the Bermuda Police Service" after an incident in which flyers were allegedly "ripped from her hands" while she was canvassing, OBA Chairperson Senator Lynne Woolridge said.
OBA Chairperson Senator Lynne Woolridge said, "We all have our convictions and should be ready to stand by them – without fear of reprisal or intimidation from those with different perspectives because that's what a democracy permits.
"While one of our female candidates was recently canvassing in her constituency, innocently handing out flyers, she was confronted by former PLP Chair Anthony Santucci who is assisting Col. David Burch.
"What she experienced was not the welcome Bermudians are famous for or even a professional nod of acknowledgement from one fellow politician to the other.
Senator Woolridge alleged that "the flyers were ripped from her hands and she was verbally threatened not to return or to leave any 'OBA propaganda there again."
"As is appropriate in that situation she has filed charges to send the message that bullying and intimidation cannot and will not be tolerated on any level – not in the school setting, or on social media, not because of your race, religion or gender and certainly not because of your political leanings – period," Senator Woolridge added.
"The Bermuda the OBA has been working so hard to restore is one of community, where despite our differences, there is a genuine respect for one another. How can we expect to move forward as a country and set examples for the generations behind us if this kind of behaviour is tolerated?
"It shouldn't matter whether you support the OBA or PLP, if you are male or female, young or old, from Somerset or St. George's, black or white – bullying and intimidation have no place in our Island. We may come from different backgrounds and have different stories to tell, but as Bermudians, I believe we have a common goal – a better Bermuda for all.
"As Chair of the One Bermuda Alliance, I challenge our political opponent to raise his game. As former First Lady Michelle Obama has said "When they go low, we go high" so I encourage all to take the high road."
We have asked the Police and PLP on comment on this alleged incident and will update if able.
Update 1.19pm: The OBA clarified that instead of "filed charges", it is "has made a complaint to the Bermuda Police Service."
Update 3.58pm: The PLP said, "The Bermuda Progressive Labour Party condemns any threats, acts of violence or antisocial activities directed against any Bermudian.
"The alleged incident occurred on private property after repeated requests were made to Mrs. Gomez to leave the property. No assault took place, no threats were made and Mrs. Gomez was handed back her campaign flyers. Several adult witnesses present can attest to this.
"Our canvassing teams in Warwick North Central, Constituency 27, have been over-whelmed by the jovial and supportive manner in which they have been received. With the OBA's history of leveling false charges against PLP representatives, we will await the findings of an investigation, if one even occurs, before commenting further.
"When the OBA cannot defend their record and are struggling to find election candidates, they attempt to change the narrative. They have utilized social media to mount vicious attacks against us. Now, they file charges to distract from the issues. We call upon the OBA to repudiate those responsible for the Facebook page, Island Research & Development.
"This page posted a serious allegation that OBA Candidate Sheila Gomez had been assaulted and seemed to go hand in hand with the OBA's press release today. This is nothing more than a cynical attempt to push outrageous and false criminal allegations into the public domain.
"This election is far too important for distractions. We will not allow false allegations divert our attention from representing the people of Bermuda and Putting Bermudians First.
Read More About