They are offering everything from Cuban cigars, to savoury pies to candles and bringing a new shopping experience to the Royal Naval Dockyard.
Six Bermudian vendors have been chosen by the West End Development Corporation and have set up shop between the Gazebos next to the ferry stop in the heart of Dockyard.
The Bermuda Pie Company Ltd, Sunkissed Hair & Henna, Duch Pops, Churchill's Ltd, Positive Energy and Top Dog were chosen after WEDCO issued an RFP in January this year.
Joanna Cranfield, WEDCO's Business Development Manager, said: "They offer a really wide range of products and we think they will all be a perfect fit for Dockyard. I'm looking forward to shopping with them myself."
Lucinda Worrell-Stowe, 61, who works for the Ministry of Education, started Positive Energy sixteen years ago and said: "I never thought these candles would turn into a business venture."
Her candles have Bermuda sand at the bottom of the glass with shells placed in a decorative manner on top, with a wick in the middle. She then pours a translucent wax made of mineral oil and co-polymers.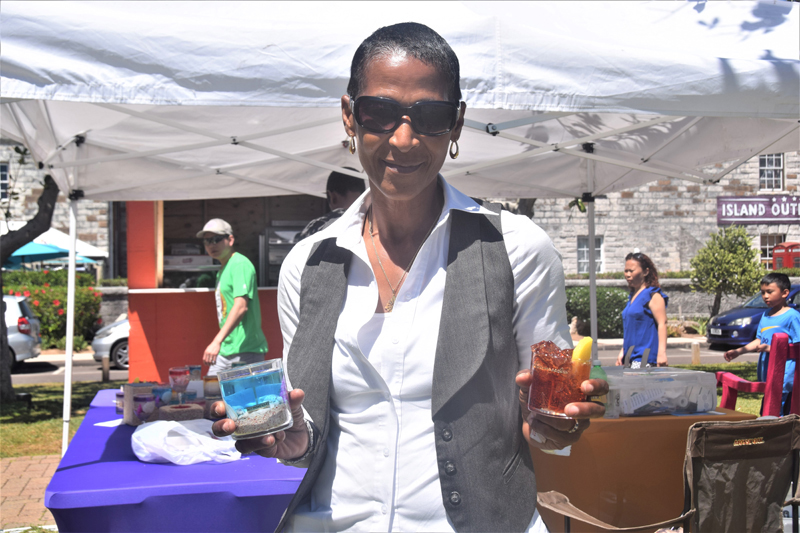 "Many people told me that tourists would appreciate the candles as souvenirs. I then began selling them at Harbour Nights and realized many tourists were interested and purchased my candles in abundance.
"I then approached A.S. Coopers and Carole Holding Ltd. to see if they were interested in selling them in their stores. When they all accepted my candles I became very serious about my craft.
"My candle business began at this point. Here I am now in Dockyard not only selling my candles, but being able to share the history about my beautiful Island."
Kris Furbert, of the Bermuda Pie Company Ltd., said that strategically, Dockyard was a great location and fit. The Bermuda Pie Co. Ltd., a Bermudian owned business that crafts and delivers savoury Bermuda pies, was also chosen to have a stand in the America's Cup Event Village.
"My parents started making and delivering pies 35 years ago. Since then they have sold pies under various names. Bermuda pies are an iconic local food product that we specialise in.
"As a St. George's based company, having a food stall in Dockyard will allow us to be able to offer our product to those in the western end of the Island."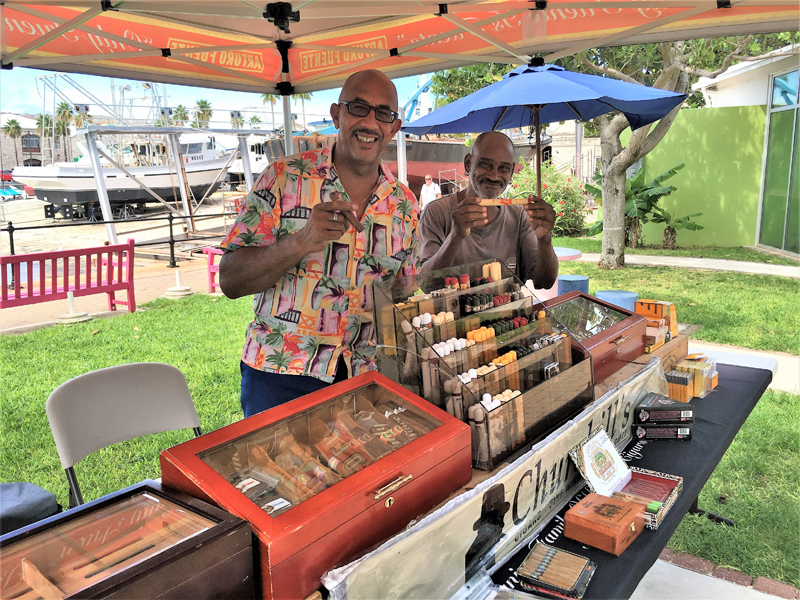 When it comes to cigars, Alfonso Harris knows a thing or two and his aptly named stall, Churchill's, is selling a range of products.
Like the Bermuda Pie Company, Mr Harris also has a shop in St. George's and said: "I wanted a place in Dockyard because of the open air environment which lends itself to my product, premium hand rolled Bermuda, Cuban, and Dominican Cigars."
Rickeisha Burgess, who runs Duch Pops, Bermuda's "first and only handcrafted popsicle venture", said: "Dockyard is one of the main hubs for Bermuda tourism and one of the top places visitors visit to experience Bermudian culture.
"It also is a great area to showcase your hand-crafted or locally made products to visitors and locals."
According to Ms Burgess, Duch Pops are handcrafted with natural and locally sourced fruits when in season, agave is added for a bit of sweetness and each recipe is "uniquely created and given a name to represent the Bermudian culture".
Jasmine Tull runs Sunkissed Hair & Henna which provides hair braiding and henna body art and said: "I wanted a place in Dockyard because I knew the services I provide would cater to visitors and locals.
"I wanted to be able to interact with the visitors, tell them the about the best parts of Bermuda, its culture and people as well as history and present day events and all at the same time providing the hair braiding and henna experience."
And Tracey Smith, of Top Dogs, said: "Top Dog has been in Dockyard for the last six years working and we love it!"
Read More About