The Bermuda Tourism Authority released statistics covering the time span the island hosted the America's Cup, saying the average hotel rate for June was 30% higher [increase of $133.38 per night] when compared to June 2016, and June hotel occupancy was 79.4%, which was on "par with the performance seen in 2016."
There were 100 superyachts into Bermuda between May 1st and June 30th, up from 43 vessels in 2016, and from May 26th to June 30th, more than 7,000 air visitors came to Bermuda to stay with friends and relatives, a surge of 54% when compared to the same period in 2016
The BTA said, "New statistical data from the Bermuda Tourism Authority reveals the five-week long 35th America's Cup in May and June 2017 had a positive impact on the island's tourism economy.
"An analysis of that time period shows air arrivals, cruise arrivals and superyacht arrivals all up sharply when compared to the same period one year ago.
The BTA said:
Air travellers visiting for leisure up 9 percent
Air travellers visiting friends and relatives up 54 percent
First time air visitors up 17 percent
Cruise arrivals up 18 percent
Superyacht arrivals up 133 percent
Superyachts
"There were 100 superyachts into Bermuda between May 1st and June 30th, up from 43 vessels in 2016. Relaxed maritime legislation permitted superyachts to charter while in Bermuda before, during and after the America's Cup.
"Their presence stimulated a positive economic impact across the tourism economy and the Bermuda Tourism Authority is working with government to create new legislation that will incentivise superyacht owners to return.
Infographic released by the BTA: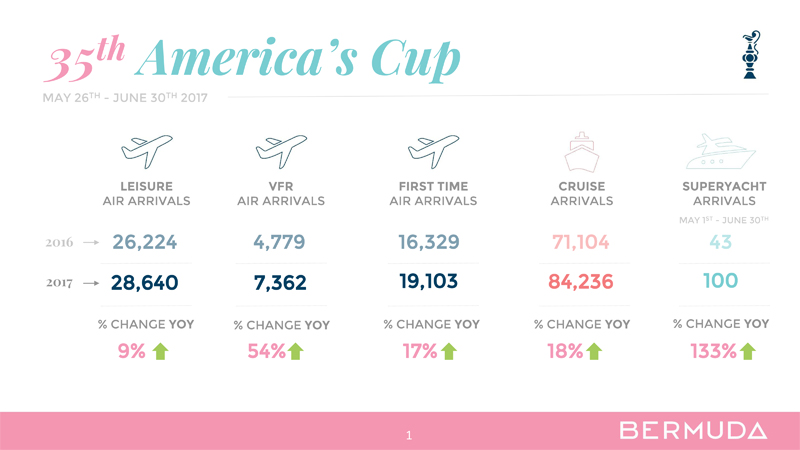 "Our feedback sessions with superyacht captains tell us this unique category of visitor – many of which were first time visitors because of the America's Cup – thoroughly enjoyed Bermuda," said Pat Phillip- Fairn, chief product and experiences development officer at the Bermuda Tourism Authority.
"We've begun discussions with government and other stakeholders about how we adjust our regulatory environment so that a broad cross-section of business owners benefit from superyacht tourism going forward."
"Through June 30th, 2017, superyacht arrivals are up 107 percent year-over-year. Air visitor numbers are also up sharply, including a 16 percent jump in leisure air arrivals in the first six months of the year," the BTA added.
Accommodation
"Air visitors kept hotels and vacation rental owners busy with both showing strong numbers in June, during the height of the America's Cup and Bermuda Heroes' Weekend. The number of visitors choosing vacation rentals in June was up 42 percent.
"Meantime, the average daily rate for a June hotel room was 30 percent higher [or an increase of $133.38 per night] when compared to June 2016. June hotel occupancy across the island was at 79.4 percent, on par with the performance seen in 2016.
Bermuda Tourism Authority CEO Kevin Dallas said: "The June hotel performance is satisfying because hoteliers maintained strong occupancy while growing their room rate number by 30 percent and their key revenue figure by 29 percent.
"That's significantly important to hotel profitability and the ability of hoteliers to re-invest in property improvements. While at the same time, Bermudian homeowners saw more visitor spending flow directly into their pockets as an increasing number of them use their homes and their hospitality to become a part of a growing tourism economy."
June Hotel Accommodation Statistics

Air Visitor Types
"Not every America's Cup or Bermuda Heroes Weekend visitor stayed in a hotel or vacation rental in June. In the period between May 26th and June 30th, 2017, more than 7,000 air visitors came to Bermuda to stay with friends and relatives.
"That's a surge of 54 percent when compared to the same period in 2016. Meantime, more than 19,000 said they were here visiting Bermuda for the first time in June 2017, that's an increase of 17 percent on the previous year."
Mr Dallas said: "While the initial hard data post-America's Cup is positive and gratifying, the Bermuda Tourism Authority has always seen the true value of the America's Cup to be the exposure it brought to our destination over many months and particularly during the event in June. We look forward to building on that platform of exposure to grow tourism sustainably into the future."
The BTA said a comprehensive economic impact study to quantify what the 35th America's Cup meant for Bermuda is expected to be completed by PwC in the coming months and shared publicly.

Read More About