Reigning ITU World Champion Flora Duffy has been announced as a tourism ambassador through a new partnership with the Bermuda Tourism Authority.
"The agreement positions Flora to showcase her home country as host of the International Triathlon Union's World Series events in 2018, 2019 and 2020 – and builds upon Bermuda's reputation as a world-class training and events destination," the BTA said.
"It's always been my dream to race at home, and thrilled it's now going to be a reality. Bermuda is my home, and I invite triathletes around the world to join me out here to compete and play on our island set apart by its location and way of life," Ms Duffy said.
"To swim in our crystal blue waters, bike our winding roads and run our picturesque streets lined with Bermudians and visitors will prove to be a bucket list experience for any athlete – particularly me! I'm excited to help promote my Bermuda."
Flora Duffy on the beach in Bermuda, photo by Nhuri Bashir for Bermuda Tourism Authority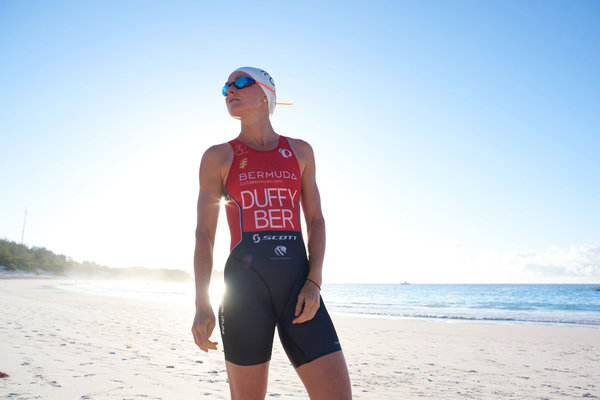 The BTA added, "Flora stars in a dazzling new video released on Facebook and Twitter today that shows off Bermuda's strengths as a destination for triathlon racing and training.
"She's also behind the Triathlete's Guide to Bermuda on the gotobermuda.com website.
"Flora Duffy is currently number one in the 2017 ITU World Triathlon Series Rankings, after being crowned champion last year for finishing at the top of the 2016 list. She has three first place finishes and one second place finish in the last four World Series races.
"During her more recent competitions, fans and participants of the sport around the world have seen Bermuda tourism branding and the gotobermuda.com website address on the star athlete's race suit.
BTA promo video featuring Flora Duffy:
Join ITU World Champion @FloraDuffy for the #WTSBermuda. Don't miss this first time, bucket list @WorldTriathlon event.#TriBermuda pic.twitter.com/DFvrdaZwSg

— Bermuda (@Bermuda) August 8, 2017
"Flora is a rock star in her sport and a genuine ambassador to entice triathletes and fans out here to Bermuda over the next three years," said Victoria Isley, chief sales and marketing officer for the Bermuda Tourism Authority. "We are eager to work with Flora and her other brand partners to tell Bermuda's stories."
The first of three ITU World Series events will take place in Bermuda on April 28th, 2018. Registration for the event is now open online.

Read More About