Bermuda Cancer and Health Centre has become the first facility in Bermuda to provide 3-D mammography or digital breast tomosynthesis.
"3-D mammography technology makes breast cancers easier to see in dense breast tissue. The procedure is very similarly to a conventional digital screening mammogram," the Centre explained.
"Tomosynthesis creates multiple images or 'slices' that step through the breast tissue. This enables the radiologist to see more clearly and helps reduce the impact of overlapping breast tissue.
"The process is performed at the same time as a traditional 2-D mammogram, on the same scanner with no noticeable difference in the experience or time expended for the patient."
"3-D mammography is an optional service for the patient, which supplements the traditional mammographic images. While 2-D digital mammography remains the gold standard for early detection, 3-D images can offer better visualisation for radiologists who are helping certain groups of patients, particularly those with dense breasts [breast density determined by a prior mammogram]."
Diagnostic Imaging team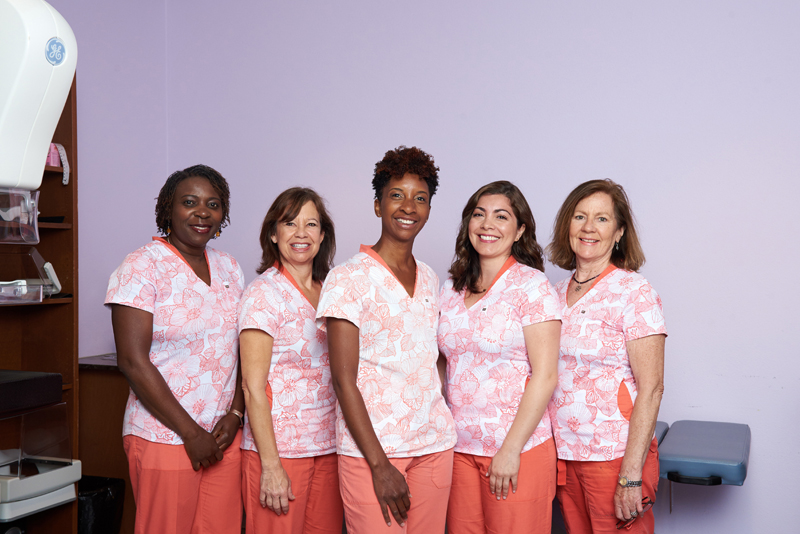 "If you have a family history of breast cancer in which you may benefit from screening before the age of 40 years or have dense breast tissue, 3-D mammography represents the greatest advancement in early breast cancer detection in the past 10 years," says Tara E. Curtis, Executive Director of Bermuda Cancer and Health Centre.
"There is an increased benefit to women with dense breast tissue because dense breast tissue may look similar to cancer tissue. 2-D mammography can't always differentiate between cancer and dense breast tissue" says Rona Donawa, Chief Technologist of Diagnostic Imaging at Bermuda Cancer and Health Centre.
"For example, if a 2-D mammogram detects an area of concern, the radiologists may want to further investigate with a diagnostic mammogram, ultrasound or biopsy. Looking at the same breast tissue in 3-D, the radiologist may now see that the tissue is, in fact, normal breast tissue. In this scenario, the patient will likely avoid a callback for an additional mammogram."
The Centre added, "The minimal radiation dose is approximately the same for 3-D mammography as it is for traditional 2-D mammography. According to the Society of Breast Imagers and the American College of Radiology. To schedule a 3-D mammogram, call Bermuda Cancer and Health Centre at 236-1001."

Read More About
Category: All, News, technology