The Bermuda Sand Castle Competition was held on Saturday [Sept 2] at Horseshoe Bay Beach, with the best overall prize being awarded to the team from the Fairmont Southampton with their 'Gombey on a Break' sculpture.
A spokesperson said, "Saturday morning started early with bright sunshine to welcome contestants to Horseshoe Bay Beach. Organizers had laid out over 40 plots the night before and Parks Dept was kind enough to fill each with a huge payload of sand! Barritts had come and delivered drinks for the day and check in started with a rush.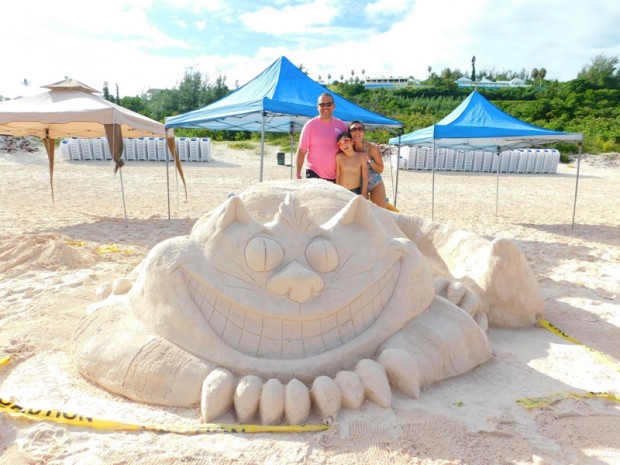 "After two successful workshops the nights before, entrants arrived on the beach early and excited to start building. A total of 46 plots were full of busy people hauling and shaping sand as check in closed at noon and the clouds rolled in to give us some welcome cooler temperatures.
"Teams of up to six people were grouped according to their categories starting with five in Children's, 11 entries in Family, eight in Teenager and a very full and competitive category of 21 Adults. Many of the Adult teams joining from such groups as the St. Georges Rotary Club, three teams from BIOS work study students, and five teams from the Bermuda College Arts program headed by teacher Michael Walsh.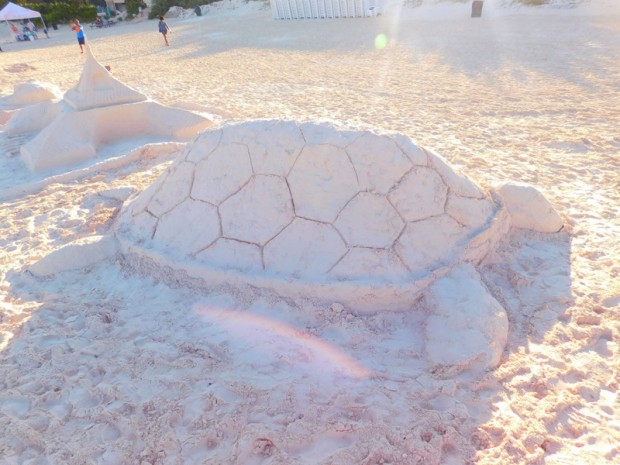 "Showers at 4pm did nothing to dampen the mood; it just helped dampen the sand as our judges arrived on the beach to start the hardest part of their day, picking winners from so many beautiful pieces. Our celebrity judges for the day were Jamal Hart who works for Youth Sport and Recreation and had been an organizer in previous years and so knows just what goes into each build.
"N'Zingha Min,g the curator from the BSOA gallery in Hamilton put in her artistic expertise to work. And finally we were honoured to have the media support of the BTA this year and Glenn Jones graciously agreed to be our third celebrity judge.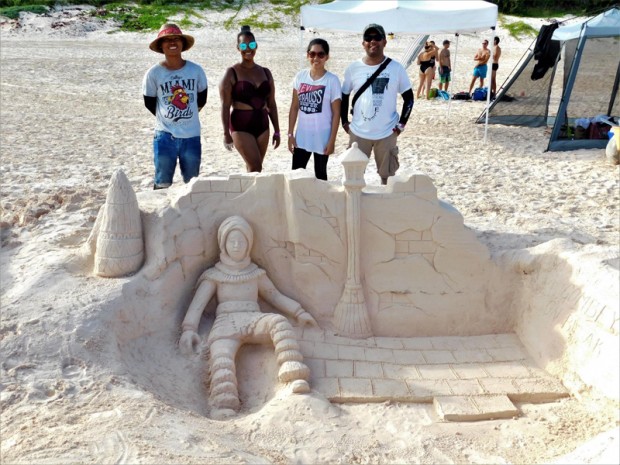 "Plots were judged based on concept/story, use of full space, and execution/technical skill. Prizes made possible by the generous contributions of our sponsors. Huge thank you to the Green family care of the Hamilton Princess Hotel, and Alexandra Mosher Studio Jewelry who was on hand to give out the prizes. Hard choices were made and the results were as follows.
"The team from the Fairmont Southampton led by kitchen artist Ernie Ogalesco took the top prize with their 'Gombey on a Break."
.
Prizes were awarded as follows:
Adult:
First prize: Man in ring by Jay Oconnor!
Second prize : Lizard by Team Golden Girls,Nastassia Moses, Viera Lopes, Mary santos and Avie!
Third prize: Godzilla on Front St. By team L'AAA, Lindsey Cubbon, Adrienne Smatt, Abigail Kempe and Alex Smatt.
Teenager Category:
First prize : Beached. By Camille Chin-Gurret – 17 , and Adrianna Anfossi -19
Second prize : Haileys Heroes from the Bermuda College with a beautiful mermaids kiss. Hailey Barbosa -17, Mariah Cordeiro -19, Celine Morton -19, Jordon Phillips -19.
Third prize: Proud Berkeley Students looking forward to their last year and graduation. Sakari Famous – 17, Zahra Wilson 17, Daelynn Richards -16, and Robert Edwards -17.
Family:
First Prize; Hastings family defend their first place in family category again this year. Congratulations Cheryl, Patrick, and Monty! Getting all the refresher tips from the workshop they were ready.
Second Prize: Time to Pray BDA! Congratulations to Freeman Smith, Kama Smith, Danny Simmons, Daniel Simmons 14, Deitrich Simmons 11, Gabriel Burgess. They had a great time at the workshop and created this beautiful inspirational piece and really enjoyed their time bonding together as a family.
Third Prize; Eiffel Tower! Congratulations to the Dupuch Family who brought a little home land pride to our beach. Regis, Celine, Zoe, and Gasparo.
Children:
First prize; In memory of Chama, created by Ava Gabi-Maiato -11, Jasmin Hasselkuss- 11, Zoe Hasselkuss- 12
Second Prize ; Lets play pool! By Mia Calko -9, pictured with her dad. With help from her friend Gabby Smith -9
Third prize; SUPER TURTLE, created by Avani -9 Snya – 9, Ajana – 7, Rajan – 12, Vishan – 14, and Amar – 11
Honourable mention : Mermaid, Created by Eden Smith .
"A great time was had by all in the beach and well attended despite the late afternoon showers. Big thank you to all the participants, judges, sponsors, the Parks Department, Horseshoe Bay Beach staff, and everyone who helped organize this wonderful and successful event."
Click to enlarge photos:

Read More About
Category: All, Entertainment, News, Photos