YouthVision Promotions in association with Crawl Gospel Hall Church Family is getting set to present the "Peace in Hamilton Parish" anti-violence Youth Development Forum on Saturday, October 21st from 7.00pm to 9.00pm.
Desmond Crockwell said, "On behalf of YouthVision Promotions and Visionz Magazine, I would like to invite the public to this weekend's anti-violence Youth Development Forum, taking place at Crawl Gospel Hall.
"The event will be named 'Peace in Hamilton Parish'. This event will focus on the support organizations, persons and programs that support our at-risk young people.
"We encourage everyone to come out and join the anti-violence network!! We are making a difference..
"Our event will feature the following guest speaker; newly appointed Coordinator of Anti-Violence Pastor Leroy Bean. We will also feature the following speakers:
Mother of murder victim Rico Furbert – Nicky Furbert
Former convict Andre Minors
Boxing coach Robert Somner
Pastor Jahkimo Smith
Berkeley Institute Counsellor Tyrone McHardy
Former Prison Officer and young political candidate Robyn Swan
"Live Performances by:
Corvin Melody
Jsilva
Amori "Marvo" Browne
And others..
"Food and refreshments will be on sale.. The event is scheduled to be held from 7:00 p.m.- 9:00 p.m."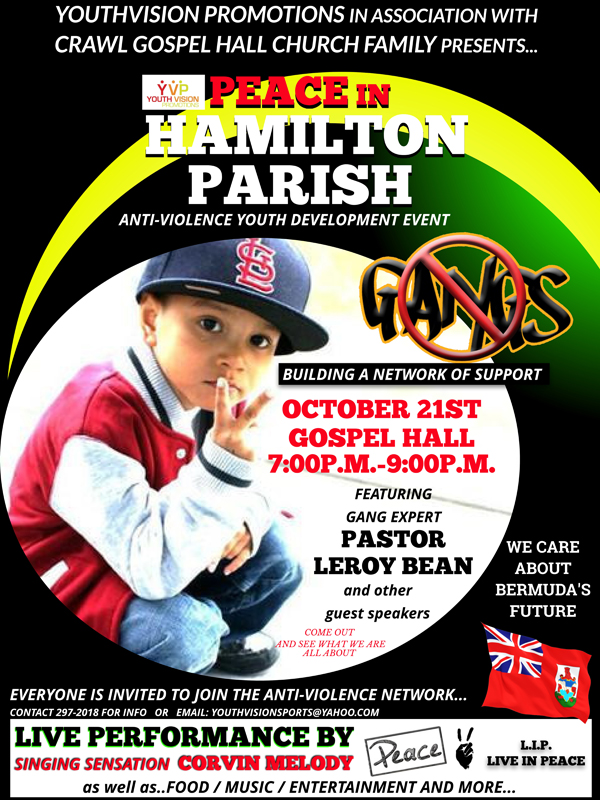 Read More About
Category: All