Head Chef Paulo Izaguirre from the The Village Pantry will be working alongside culinary arts student Anthony Sousa at the upcoming Plates of Passion event run by Bermuda Hospitality Institute, which sees local Culinary Arts students paired up with some of the Island's top chefs.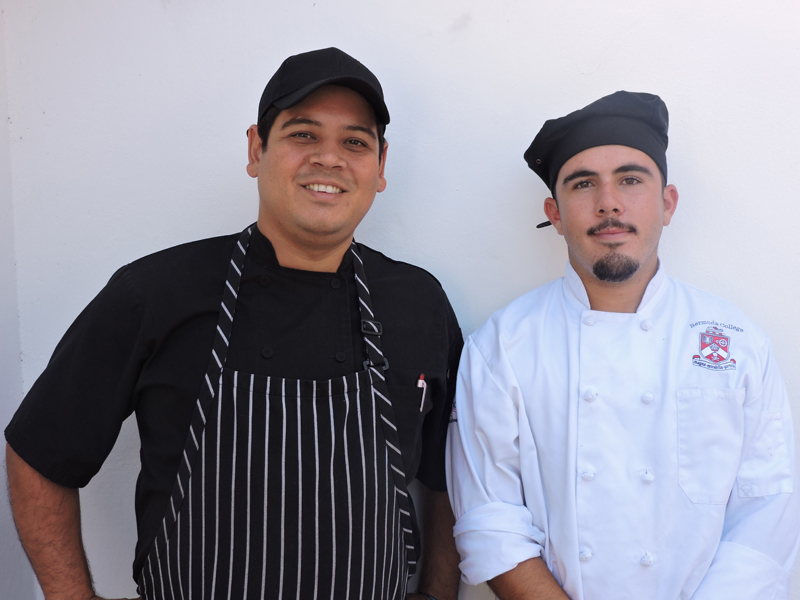 Head Chef Paulo Izaguirre
How long have you been a professional chef? What inspired that choice?
I have been a chef now for over 14 years. I was introduced to the kitchen when I was little because my dad was a chef. I wanted to follow in the same path. I had a big desire to travel and get to know different cultures and what better way to do it through the gastronomy [the study of the relationship between food and culture]?
What is your culinary arts specialty/ favorite dish to make?
I specialize in making Latin foods. My favorite dish to make is Ceviche.
Why did you agree to take part in this year's Plates of Passion event?
I like to work with young chefs to introduce them into this beautiful career so that they can discover the passion of the kitchen. This is my first time taking part in this event.
What is the biggest reward for you in doing this?
For me the reward is the satisfaction of being able to share my experiences in the kitchen with others, just as my mentors did with me at the beginning of my career.
What is the biggest challenge in an event like this?
The biggest challenge of this event is to create a menu together with Anthony that meets everyone's expectations, especially since it's the first time that I am participating I don't really know what to expect.
What's your plan when it comes to preparing for the night? How will you try to stand out above the other teams?
We want to have practiced enough so that the menu created by us on the night is a spectacular one.
What do you hope to impart on your student teammate? What lessons do you hope they'll learn?
I hope that he learns that this is not an easy career. It requires a lot of passion and dedication and at the end of the day this brings much joy and satisfaction.
Culinary Arts Student Anthony Sousa, 20
How long have you been cooking? What inspired you to want to become a chef?
I've been officially cooking for about one year. I've always had a passion for food when I was young and was always willing to help my mother or my godmother put in the kitchen whenever I could. However, it wasn't until last year I had thoughts about choosing cooking as a career. Ever since I started the culinary programme up the college I've fallen in love with it and know that this is the career path I want to take.
What's your ultimate goal and where you hope to end up in this profession?
My ultimate goal is to travel the world and learn the different styles of cooking and to come back to Bermuda and run a restaurant of my own one day.
Why did you decide to take part in Plates of Passion?
I decided to take part in Plates of Passion because I feel like it's a great experience and I want to learn as much as I can. It's also a great opportunity being paired with a great chef, so I can learn as much as possible while I'm working with him.
How are you feeling about the event and being paired with Chef Paulo?
I am feeling confident and also a little bit nervous because it's my first time doing an event like Plates of Passion, but the chef that I have been paired with is a great chef and teacher. He is open to all my opinions and helps me out when I'm having trouble with anything. I work well with him, which is also a plus.
What will be the biggest challenge for you?
I feel like the biggest challenge for me will be the day of the event and dealing with the nerves, so that I can produce quality food for people to enjoy.
What do you hope to get out of the experience overall?
I hope to learn a new style in cooking with my chef and how to handle making a menu on my own.
This is the last in a series of profiles of the teams behind the 2017 Plates of Passion event, a one-of-a-kind dining and fundraising event run by Bermuda Hospitality Institute, which sees local Culinary Arts students paired up with some of the Island's top chefs.
This year's sold-out event takes place on Wednesday, November 1; leading up to the event students will have an opportunity to shadow their mentor chef, collaborate to create recipes and then assist with meal preparation on the night.

Read More About
Category: All, Entertainment, News