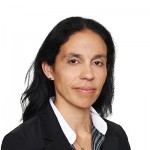 Estera, a global provider of fiduciary and administration services, announced the appointment of Alison Dyer-Fagundo as managing director of its Bermuda office.
Ms Dyer-Fagundo will lead Estera's Bermuda business, playing a key role in meeting the company's ambitious growth goals, as well as building on the outstanding reputation the team has built in Bermuda for client service delivery, the company said.
Previously a client director at Estera and a corporate partner at the law firm Appleby, she has extensive experience in private equity transactions, derivatives, public and private company M&A activity, equity and debt markets, and the formation of partnerships.
"It is a privilege to be able to lead an office with deep roots in Bermuda amid an exciting time of growth for Estera globally," Ms Dyer-Fagundo said.
"Our talented team in Bermuda has earned a reputation for providing market-leading corporate and trust services. I look forward to building upon the success of this office, while working toward the strategic vision and growth goals of the Estera group."
Ms Dyer-Fagundo is a member of the Bermuda Bar Association and was previously an elected member of the Bermuda Bar Council and the Professional Conduct Committee of the Bermuda Bar Council. She is also a member of the UK Institute of Directors.

Read More About