Inspire eBusiness is getting ready to launch its series of free workshops for existing and new entrepreneurs interested in starting online businesses with its first seminar entitled Set Up to Start Up – understanding how to get your online business started.
The series kicks-off in October and will run monthly through to March 21st, 2018, tackling the issues that relate to establishing an online presence in Bermuda.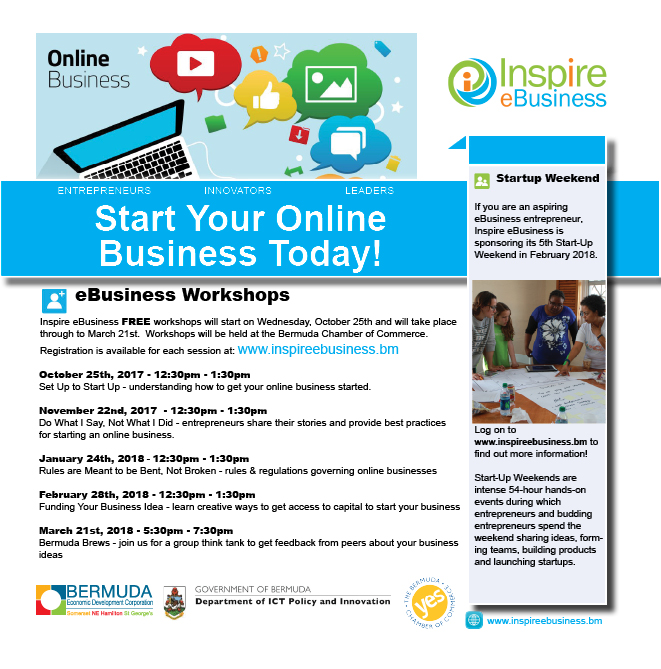 Jamillah Lodge, BEDC Information Education & Communications Officer and Project Manager for the Inspire eBusiness initiative stated, "For the past 5 years through Inspire eBusiness we have been working towards encouraging the establishment of online business in Bermuda.
"These seminars educate existing and potential entrepreneurs on the requirements for starting an online business. We utilise industry experts as well as local eBusiness entrepreneurs to help guide entrepreneurs through the process of establishing their businesses."
The 5 workshop series will cover topics that include: what is required to start an online business, tips from local entrepreneurs who have started their businesses, information on the local rules and regulations that govern online business and identifying the right sources of funding for your online business.
The final workshop in the series entitled, Bermuda Brews – share your idea and get feedback from industry experts and peers, will be a format that will encourage open dialogue and discussion amongst peers.
This workshop was created based on feedback from participants in previous workshops.
Dr. Marisa Stones, Director of ICT Policy & Innovation and sponsor of Inspire eBusiness stated, "Each year that we hold Inspire eBusiness becomes an opportunity for us to learn what we can do to support local online business.
"The feedback we receive is extremely important so we can ensure that the programs and seminars we offer are what entrepreneurs need. We are looking forward to this year and to continuing to support the use of technology in business creation and growth."
Those interested in attending the free Inspire eBusiness workshops can log on to the newly updated website www.inspireebusiness.bm to register for seminars that will be scheduled for the upcoming 2017/18 season.

Read More About
Category: All, Business, technology