The 36-year-old woman and 33-year-old man that were shot on Friday night in Southampton have been treated at hospital and released, and the police are appealing for witnesses, saying that until this point they "have had very limited success in speaking to individuals."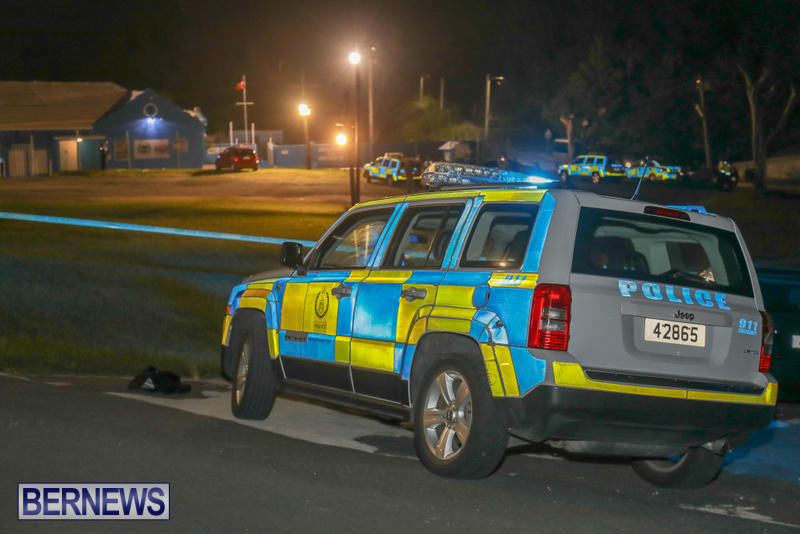 Police Statement
A police spokesperson said, "The Bermuda Police Service is still appealing for witnesses to a firearms incident that took place outside of the Southampton Rangers Sports Club at 8:32pm on Friday night.
"It appears that two men dressed in dark clothing and travelling on a light-colored motorcycle drove into the Rangers parking lot and opened fire.
"As a result, a 36-year-old female and a 33-year-old man were shot, both were conveyed to hospital and treated for non-life-threatening injuries and released.
"The suspects then made good their escape travelling east on Horseshoe Road.
"Police up until this point have had very limited success in speaking to individuals around this incident and we would like to communicate with anyone who may have seen the incident or who may have any information on the planning or execution of the shooting.
"Anyone with any information, no matter how insignificant, should contact Detective Inspector Redfern on 295-0011 or emailmredfern@bps.bm . The confidential Crimestoppers hotline is also an option, the number is 800-8477."
Rangers Statement
The Southampton Rangers Club sent their best wishes and prayers to the two people injured on Friday evening, and said they are doing their utmost to ensure their premises are safe, and acts such as this shooting will 'strengthen their resolve to make positive changes within our community.'
"The Executive would like to let the public know that we are doing our utmost to ensure that our premises are safe for all patrons and members," the Club said.
"After consultation with police months back, the club invested in new lighting systems for our parking lot along with a new camera operated buzzer door for entry into the building. More security cameras have been implemented as well, all prior to Friday's incident.
"The Executive will be meeting with all relevant officials and police again in the near future to reassess the suggestions that were put forth and implement any new suggestions," the Club added, saying they "reaffirm our commitment to providing a safe community club for all to enjoy."
Read More About