The Southampton Rangers Club sent their best wishes and prayers to the two people injured on Friday evening, and said they are doing their utmost to ensure their premises are safe, and acts such as Friday's shooting will 'strengthen their resolve to make positive changes within our community.'
Their statement follows after two people, a male and female, were injured in a shooting on Friday evening when two men on a motorcycle rode into the parking area of the club and discharged a firearm.
As a result, a 36-year-old female and a 33-year-old man were shot, both were conveyed to hospital and treated for non-life-threatening injuries and released.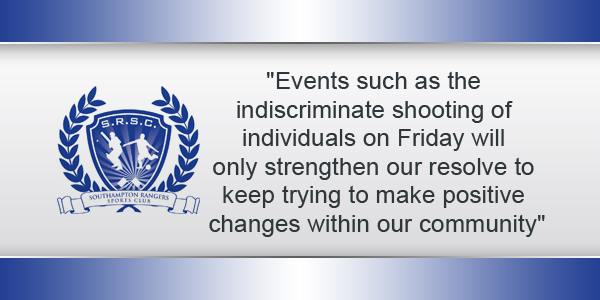 A statement from the Southampton Rangers Sports Club Executive said, "On behalf of the entire Southampton Rangers Executive and Members we would like to send our best wishes and prayers out to the two members of the community that were injured on Friday evening.
"We are indeed thankful that no serious injuries occurred as a result of this unprovoked and disturbing incident.
"The Southampton Rangers Sports Club Executive and Members have worked tirelessly over the past year to instill a community atmosphere around the club inclusive to all.
"Events such as the indiscriminate shooting of individuals on Friday October 6th will only strengthen our resolve to keep trying to make positive changes within our community.
"Although we understand that the individuals involved in conducting this act do not come from our Southampton Rangers community directly, Bermuda as a whole must face this issue head on as an island community.
"Within the past year Southampton Rangers Sports Club have managed to revive both our youth cricket and football programs with the help and support from its dedicated members.
"Regular community fun days and work rallies have been held to restore and revive our club and community.
"Such examples as the Re-Painting of the Clubhouse work rally held on April 8th, 2017; Senior's Tea sponsored by Fairmont Southampton on June 22nd, 2017 which saw over 50 seniors enjoy the sounds of Mr. Shine Hayward; the Back to School Haircut Giveaway in collaboration with the Southampton Seven Day Adventist Church on September 10th, 2017 along with Southampton Rangers Senior Football Team Potluck held most recently on September 22nd, 2017 which sold over 250 plates to the community.
"In addition to these events, the Club sponsors community barbecue's on Fridays along with our senior's raffle and dinner night every Thursday and will continue to be held.
"The Executive would like to let the public know that we are doing our utmost to ensure that our premises are safe for all patrons and members.
"After consultation with police months back, the club invested in new lighting systems for our parking lot along with a new camera operated buzzer door for entry into the building. More security cameras have been implemented as well, all prior to Friday's incident.
"The Executive will be meeting with all relevant officials and police again in the near future to reassess the suggestions that were put forth and implement any new suggestions.
"Again, we would like to extend our prayers and best wishes to the individuals injured in Friday's incident and reaffirm our commitment to providing a safe community club for all to enjoy."
Read More About