The Bermuda Fashion Festival held its official press conference today [Oct 17] announcing all of the events as well as the international and local designers.
Mayor Charles Gosling opened the press conference saying, "The Festival had its inception during my first term as Mayor back in 2010 and over the last 7 years I have only seen it grow from strength to strength.
"This has become an event of international standards and a much anticipated event on Bermuda's social calendar. It has helped to launch the careers of not only budding fashion designers but also that of local models."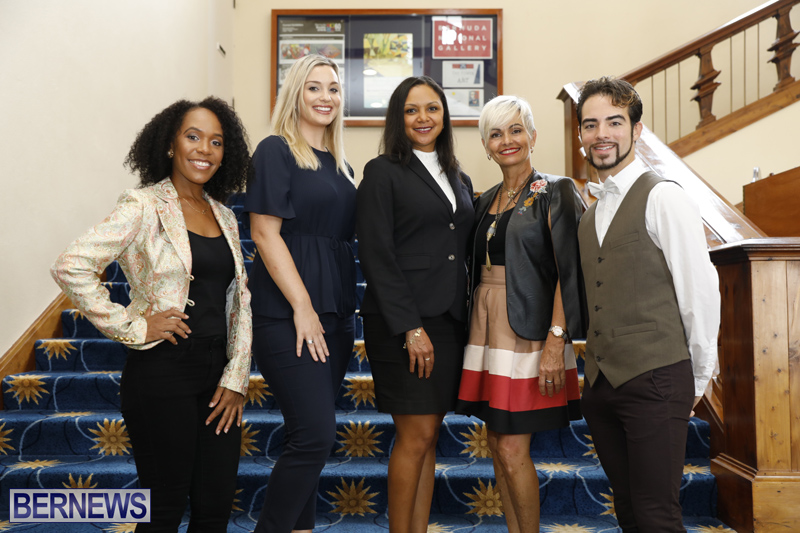 Executive Producer of the Festival, Danilee Trott, welcomed Annilee McBeath representing Maybelline and L'Oréal, sponsors of the EVOLUTION Retail Show and the International Designer Show, respectively. General Manager of The Loren Hotel, Anna Gaffney, expressed her excitement at hosting the highly anticipated MASK'D ball on October 28th.
Also in attendance were local designers Mo'Nique Stevens and James Lee. Mo'Nique will be debuting her brand, ieShunS while James is returning to the Festival to show off his XoeTiqu collection.
The 10-minute live video replay is below
Local Designers and Mentors
Each Local Designer was paired with an international mentor for a 4-month mentorship program under the direction of Shiona Turini, sponsored by Clarien Bank.
Mo'Nique Stevens – paired with Nicole Chapoteau, Fashion Director at Allure Magazine
James Lee – paired with Ronald Burton III, Senior Fashion Editor at Document Journal
Channice Thompson – paired with Julia Gall, Senior Fashion and Accessories Editor, Interview Magazine
Cary Butterfield & Patricia Borland – paired with Hannah Bibb, Assistant Fashion Director, Barneys New York
Chaela Perinchief – paired with Nikki Ogunnaike, Senior Fashion Editor at Elle.com
Carla Faye-Hardtman – paired with Danielle Prescod, Lifestyle Editor, BET.com
International Designers
Alexandra Outerbridge and Ana Ochoa – AXIL Swim
Evelyn Lambert
Karen De Freitas – SOKA
Michael Costello –
Stephanie Costello – Stello
Additional sponsors and partners of the Bermuda Fashion Festival are the JaKoma Group, Clarien Bank [title sponsor of the Local Designer Show], One Communications, iHope Global, Great Sound, Evian, Jet Blue Airlines and Grotto Bay Hotel.
The Festival will be raffling off a JetBlue travel certificate for travel to anywhere that JetBlue travels and all those who purchase a ticket via www.ptix.bm will be eligible to win.
Two different Passports to Fashion are also available on PTIX, enabling people to attend multiple events throughout the week. The Passport to Fashion – VIP Experience – this one pass will give you exclusive access to all Bermuda Fashion Festival events including VIP entry to all shows, and mingling with international guests at the exclusive Float Fashion Cruise. MASK'D Ball not included.
The Passport to Fashion – Runway Tour lets you experience all three runway shows for one low price! VIP at the Evolution Retail Show, and general admission entry to the International and Local Designer Shows.
The City said, "Those fashion enthusiasts interested in volunteering at the various Festival events are urged to contact events@cityhall.bm. We are looking for volunteers to help with backstage [dressers/rackers], hostesses, ushers, administration, ticketing and more."

Read More About
Category: All, Entertainment, News, Style & Beauty, Videos