[Updated] Premier and Minister of Finance David Burt is holding a press conference this afternoon [Jan 31], and we will have additional coverage later on, and in the meantime the live video of Premier Burt's press conference is below.
Update 3.17pm: The press conference was held to launch the "It's Just Good Business" public awareness campaign.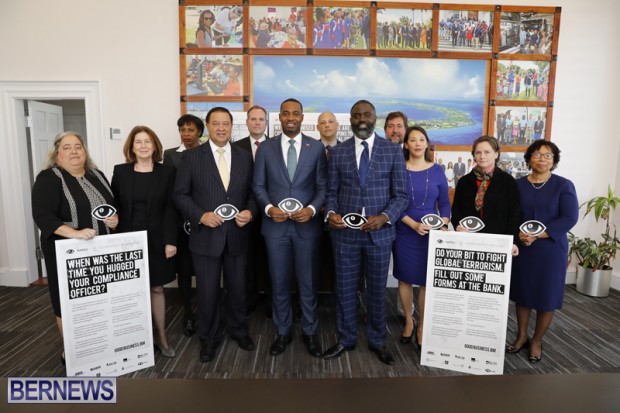 Their website states, "Learn how Bermuda is helping to fight global financial crime. Our government, responsible authorities and industry groups are working together to ensure the island meets top standards for anti-money laundering [AML] and anti-terrorist financing [ATF]. Join the effort to keep Bermuda's reputation world-class."
The press conference has concluded, the live video replay is below
The Premier's full statement follows below:
Good afternoon ladies and gentlemen of the media. Thank you for being here today. Before I get started I want to acknowledge everyone with me today. We have:

The Minister of National Security, the Hon. Wayne Caines, JP, MP
The Junior Minister of Finance, the Hon. Wayne Furbert, JP, MP
Ms. Cheryl-Ann Lister, Chair of the National Anti-Money Laundering Committee
Mr. Ross Webber from the Bermuda Business Development Agency BDA
Ms. Grainne Richmond, Bermuda Insurance Management Association [BIMA]
Ms. Sylvia Oliveira, Bermuda International Long Term Insurers & Reinsurers [BILTIR]
Ms. Leila Madeiros, Association of Bermuda Insurers & Reinsurers [ABIR]
Mr. Michael Collins, Bermuda Bankers Association [BBA]
Amanda Outerbridge, Bermuda Monetary Authority [BMA]
Richard Winchell, Association of Bermuda International Companies [ABIC]
Ms. Kendaree Burgess, Bermuda Chamber of Commerce

We are all here today to launch a public awareness campaign calling on everyone in Bermuda to join the continuing national efforts to combat global financial crime.

This awareness campaign is called It's Just Good Business – because it really is all about our ability to continue to be a robust and credible jurisdiction in which to do good business. It highlights efforts underway by government, the responsible authorities, and Bermuda-based businesses to ensure Bermuda meets the highest standards for anti-money-laundering and antiterrorist-financing and is effective in its work to fight these unacceptable crimes.

This means having a strong framework to combat money laundering and terrorist financing and ensuring that we enforce the rules.

In addition to educating the public, the campaign is designed to emphasise the importance of businesses and individuals to complete and submit documents required by financial entities such as local banks to satisfy key international standards.

We all dislike filling in forms, but it's essential that we do it. In this context I'd like to thank all those working to ensure we do comply with the rules. Compliance officers, don't often get shown much appreciation, but we really do value you!

The third aspect of the campaign is a call to action: individuals and organizations, you need to understand your obligations to report suspicious financial activity you encounter and then follow-through by appropriately providing such reports.

These are known as Suspicious Activity Reports or SARs and the authorities depend on all of us to play our part to draw attention to these behaviours.

To file a confidential Suspicious Activity Report, contact the Financial Intelligence Agency at 292-3422 or visit their website at www.fia.bm. The team there will be pleased to guide you on what is required.

This wide-ranging campaign, which has been developed and funded jointly by the public and private sector is a genuine public-private partnership. It should be highlighted that a big part of Bermuda's success as an international financial centre can be attributed to the strong commitment at all levels of the public and private sectors to ensure our jurisdiction's quality reputation is protected. This campaign is indicative of that partnership.

The ads will run for the remainder of this year to highlight Bermuda's strong commitment to the prevention and detection of these crimes. We launched a website today www.goodbusiness.bm. It contains a great deal of useful and important information on these matters.

Over the next few months, you will see this campaign in many places – on the back of buses, posters, newspaper and radio ads, social media channels, pens and stickers, and a video to reinforce the message. Bermudian musician Mr. John Woolridge is the voice of the campaign and you will hear him on the motion graphic video and radio commercials.

The campaign aims to raise public awareness about AML/ATF during a year when Bermuda will be assessed by the Caribbean Financial Action Task Force [CFATF] for its effectiveness in preventing and enforcing measures to combat financial crime. A team of CFATF assessors will visit the island to meet with government agencies and the private sector.

Bermuda is focused on strengthening its effectiveness in combatting Money Laundering, because it's vital for maintaining our sterling international reputation. In order to keep this reputation, we must be in compliance with global standards.

I thank everyone for coming together to create this awareness campaign and for being in attendance today to launch this important Bermuda initiative.

We are especially grateful to the teams at the BDA, the BMA and ABIC for driving this initiative, to international business associations and the corporate sector for supporting it. You are working to demonstrate that the way we do business in Bermuda is through transparency, compliance and cooperation.

As I have stated on many occasions, this not a jurisdiction in which to hide money and we are determined to play our part in this critical and global fight.

I therefore encourage you to also do what you can to ensure that Bermuda remains a good place to do good business.

Thank you. I will now take questions from members of the media.
Read More About