Age Concern Bermuda officially launched its Health Check program over a year ago in partnership with host the Chubb Charitable Foundation.
A spokesperson said, "Health Check participants, aged 50 and older have been guided by health professionals through a series of health screening conducted throughout the island, that include an initial assessment/history; weights; pressure readings; dental screenings; eye health screenings; and dietary screenings.
"The Health Check Initiative was designed specifically to address access to screening services for persons aged 50 years and older who are currently diagnosed or at high risk of being diagnosed with the chronic conditions of hypertension and obesity."
Executive Director Dr. Claudette Fleming said, "The Health Check initiative was well-received by older adults, with all three events last year being over-subscribed. Key data collection and demographic findings of all events indicated that 250 older adults attended in total, an average of 83 persons per event.
"For the most part, respondents presented as being very proactive about the maintenance of their health, despite the fact that most respondents also reported being on modest to low incomes.
"On average in last year's events, 63% of respondents were female and 37% were male. 81% percent of respondents identified themselves as Black, while 14% identified as White and 5% as 'Other'. While more than 50% of respondents indicated that they were in good or very good health, an average of 45% reported having being diagnosed with high cholesterol and 68% having been diagnosed with high blood pressure.
"Yet, despite having been diagnosed with these conditions by a healthcare provider, most respondents, [an average of 60%] indicated that they had not received lifestyle change recommendations to address their conditions in the last 12 months."
"We are deeply concerned about these findings as according to the World Health Organization's [WHO], Dr. Margaret Chan, in the organization's brief on Hypertension [2013], "Hypertension is a silent, invisible killer that rarely causes symptoms. Increasing public awareness is key, as is access to early detection.
"Raised blood pressure is a serious warning sign that significant lifestyle changes are urgently needed. People need to know why raised blood pressure is dangerous, and how to take steps to control it. They need to know that raised blood pressure and other risk factors such as diabetes often appear together."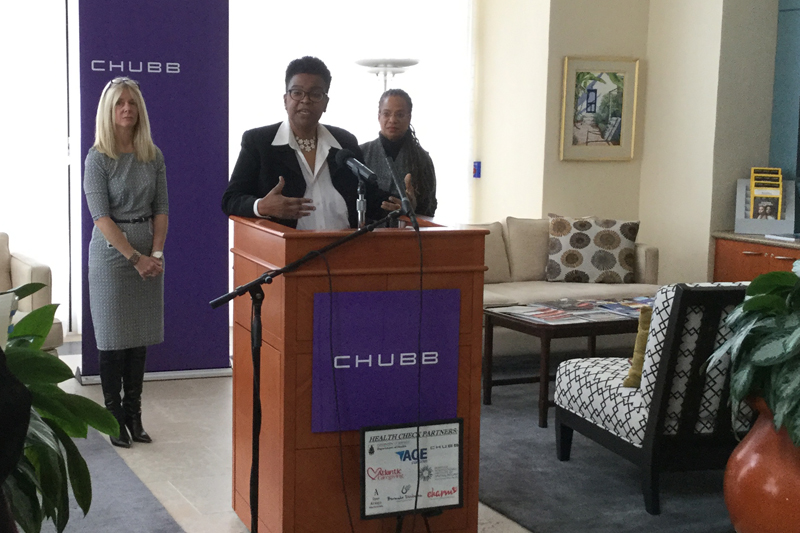 "High-income countries have begun to reduce hypertension in their populations through strong public health policies such as reduction of salt in processed food and widely available diagnosis and treatment that tackle hypertension and other risk factors together. Many can point to examples of joint action – across sectors – that is effectively addressing risk factors for raised blood pressure."
"Age Concern is very pleased to be among partners from multiple sectors in Bermuda, who are contributing to being a part of the solutions to help older adults prevent, detect and/or manage their chronic health conditions. What makes Age Concern's Health Checks unique is that we offer follow-up maintenance checks for participants who are interested in further support and monitoring in the weeks and months after the Health Check event has occurred.
"Our approach to the Health Checks initiative has been holistic and includes not just sugar, weight and blood screenings, but also nutrition, eye and dental screenings, as we recognize that chronic conditions often impact many areas of the body and may in turn require multiple interventions. This year we have added asthma screenings as well."
"The second annual Health Check that is occurring at Chubb today is the first of three for the year, with Chubb being the central venue and the remaining Health Checks taking place later this year in the Eastern and Western parishes.
"One of the key outcomes in 2017 of the Chubb Health Check was that it attracted the highest percentage of uninsured seniors [17%] of all other Health Checks conducted in 2017, demonstrating the value of the event in providing access to those most in need of support and the value of the location. The opportunity to host the event in this spectacular location is beyond what we ever could have imagined.
"We are very pleased to have the financial and manpower support of Chubb and its employees. We could not undertake this project without their outstanding support. Our special thanks to Ms. Lori Dunstan, Chairperson of the Chubb Charitable Foundation and her team, for their tireless commitment to this effort and their genuine interest in ensuring Health Checks meets its goal in impacting the lives of seniors.
"We also owe our gratitude to our healthcare partners: The Bermuda Institute of Ophthalmology, Atlantic Caregiving; Open Airways; the recently formed healthcare charity, CHARMS; the Department of Health's, Community Nursing, Dental and Nutrition teams and; the Bermuda Health Council. In addition, special thanks to the Age Concern team supporting this event, spearheaded by our Education Officer, Anita Furbert RN.
"Kim Wilson, Minister of Health, we are very pleased that you could join us today to witness a small part of what the community can do when we are united in our quest for a better Bermuda. We want to encourage you in your responsibilities to achieve the goals and objectives of the current Bermuda Health Plan, particularly as it relates to chronic disease.
"We stand willing to do our part in partnership with the Bermuda Government and community stakeholders to promote healthy and active ageing. We, like you, want to see significant declines in the rates of chronic diseases. We look forward to persevering together in the pursuit of optimal health for Bermudians of all ages."

Read More About
Category: All