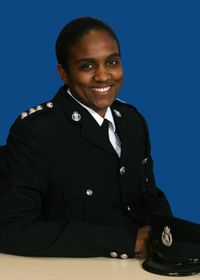 [Part of Women's History Month Series | Written by Nadia Laws]
For their first 82 years, the Bermuda Police Service was all male, and it was only in 1961 that the first women joined; now Chief Inspector Na'imah Astwood is the highest ranking woman in the BPS.
While she loves her job now, she recalls having some negative interactions with the police when growing up.
Those early experiences shaped her life in more ways than one – and when she decided to enter the Bermuda Police Service full time in her late teens, she made it her mission to show the public another side to the profession.
"My biggest thing is I really do love my job," said the Chief Inspector, currently the highest ranking female officer with BPS.
"I love my job because my history is – and I don't shy away from telling it – I grew up where I had negative interactions with the police. And though I'm 41 now I still remember how that made me feel.
"I try my best to make sure that every interaction I have with someone leaves them feeling important and valued – no matter what it is. I tell people they can call me anytime, 'If you are feeling sad call me. I will be here for you.'"
Chief Inspector Astwood was actually still in high school at The Berkeley Institute, when she and a close friend made a decision to join the cadets together. They had a few friends who joined the scheme previously – and it piqued their interest in trying out.
"As life would have it, I got into a serious bike accident in my last year at Berkeley and broke my leg," she explained. "I was in a cast for almost a year so I wasn't able to join when my friend did, but I insisted on becoming a cadet, so once I got off my crutches I began training in Somerset, which is where I lived.
"I eventually joined the cadets when I was 17, a year after high school. At that time the cadets paired people up with different departments in the police force and I was attached to the traffic unit back then. From the first time I went there I was in love.
"We were in the police cars, moving fast and going to different incidents around the Island. I remember saying to myself 'I'm going to be a police office and work in traffic'. That was when I was around 17."
She started off working at the Hamilton Police Station, but tried to take on as many traffic cases as possible to show her skill and dedication. A few years later, she was selected to undertake a driver's course – and was fortunate enough to become a member of Traffic and then she transferred to work in The Cycle Squad.
That was a "huge achievement" for her, but also posed some big physical challenges. Part of her training involved being able to lift one of the 750CC bikes – and by sheer will she succeeded.
"When I was in the Cycle Squad I started to look at promotions and doing an upward trajectory rather than lateral movements," Chief Inspector Astwood said. "While I was there, I applied to take the Sergeant's exam and passed."
One of the biggest rewards of her career has been the people she's connected with through the job. While serving as a Silver Commander for the 35th America's Cup, Chief Inspector Astwood was tasked with assisting in the Joint Agency Command Centre and making sure operations were going well on land and sea.
It involved long hours, required a lot of planning and some stress, but the amazing friendships she formed with people from places like Scotland, New Zealand, Africa and even Bermuda, made it all worthwhile. The experience turned out to be one of the highlights of her career, she said.
"I know it sounds cliché, but you can't make it through much of policing without really good friendships and people who support you," she said.
Chief Inspector Astwood first learned that lesson when she first became a mother 16-years-ago. Trying to balance motherhood with shift work within the BPS was a tremendous challenge, but other officers , friends and family offered their advice and guidance.
Her mom, Rosalie Williams, also instilled in her the belief that she was talented and capable. Eventually she discovered that out for herself and was able to thrive in her own right.
"So many times we look at other people, but the best thing you can do is know what your style and strengths are," Chief Inspector Astwood said.
"Know your leadership style and working style and just keep honing those skills because that's what makes you who you are."Too often we are always looking to emulate other people, but I've realized the importance of accepting and championing the fact that I am who I am and I am a police officer who is a woman."
According to the police website, Chief Inspector Astwood has worked in Central Uniform, Central CID, Roads Policing Unit, Task Force, Service Delivery Improvement Unit, Professional Conduct Unit and Special Branch.
She has received Merit Awards, Letters of Good Work, Commissioner's Commendations and was the recipient of the 2008 Senior Officer of the Year Award, and Chief Inspector Astwood is currently in charge of the Public Protection Department.
In celebration of Women's History Month and International Women's Day, Bernews is featuring a series of profiles of exceptional Bermudian women throughout the month of March, you can click here to view the ones published so far, and look for additional features throughout the month.

Read More About