[Part of Women's History Month Series | Written by Nadia Laws]
Russann Francis was looking for a challenge when she joined the Bermuda Fire and Rescue Service at age 28.
She applied not sure of what it entailed to join the organization, but quickly realised she had the determination and right mindset to succeed.
Today, Lieutenant Francis is the highest ranking female officer in the BFRS.
There were two females in the service when she started; and another two women involved in her recruit course. Currently there are three women in total serving on the BFRS team.
Lieutenant Francis said they encourage people of both genders to apply to become firefighters, however whether they are successful or not, is dependent on various factors.
"All of our testing is designed to identify the most suitable candidates regardless of gender," she said. "In fact prior to its implementation, we verified that it was something that a female could achieve. We actually utilized a 50-year-old female firefighter to ensure the test was achievable.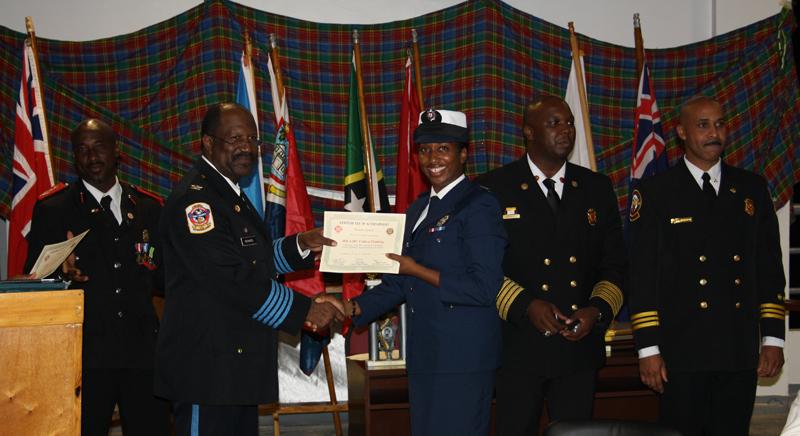 "The physical tests mimic the physical requirements of a firefighter that does not require special training to complete. We are always open to any person who meets the requirements."
Lieutenant Francis admits she's both an outdoor lover and very competitive. The most challenging part of the job for her has been constantly proving she can be as good as her male counterparts.
"As the tasks are constantly evolving this remains a daily challenge for me," she explained. "But that's also something I consider rewarding. The constant challenging of my abilities has helped me to achieve the results that I have to date."
Lieutenant Francis, who spoke with Bernews as part of a series highlighting successful women on the Island in honour of Women's History Month, admits she's had a handful of people along the way who inspired her to reach new heights in her career.
For example, on completion of her recruit course, Lieutenant Francis was attached to a crew with only one other female to work alongside. Seeing her colleague's work ethic and determination to be one of the team – and not looked at as a female – encouraged her to perform at her absolute best.
"In the team every person has a role and there is no room for one member to fail," she explained. "I've learned that you have to let your performance speak for itself, as it is by this you will gain respect of your colleagues."
Her advice to other women considering joining the firefighter profession? Don't underestimate what you can achieve and don't allow gender to be a barrier in your life. "Every person has an attribute that they can bring to enhance the team," she added.
Minister of National Security Wayne Caines said, "Lieutenant Russann Francis is a true credit to her profession. She is admired and respected by her colleagues for her integrity and courage, and she has served the Bermuda Fire & Rescue Service with pride. The Ministry of National Security is grateful for her service to the BF&RS and people of Bermuda."
In celebration of Women's History Month and International Women's Day, Bernews is featuring a series of profiles of exceptional Bermudian women throughout the month of March, you can click here to view the ones published so far, and look for additional features throughout the month.

Read More About
Category: Accidents and fires, All, News