[Written by CedarBridge S2 student Ariana Walters,]
The Annual Agriculture Show, otherwise famously known as the 'Ag Show', has been hosted for several years. Many generations have come to enjoy the event and its activities that usually spans over three days.
Activities such school exhibitions, floral shows, animal exhibits and equestrian programs are enjoyed by many every year. Other elements of the day include local entertainment and competitions.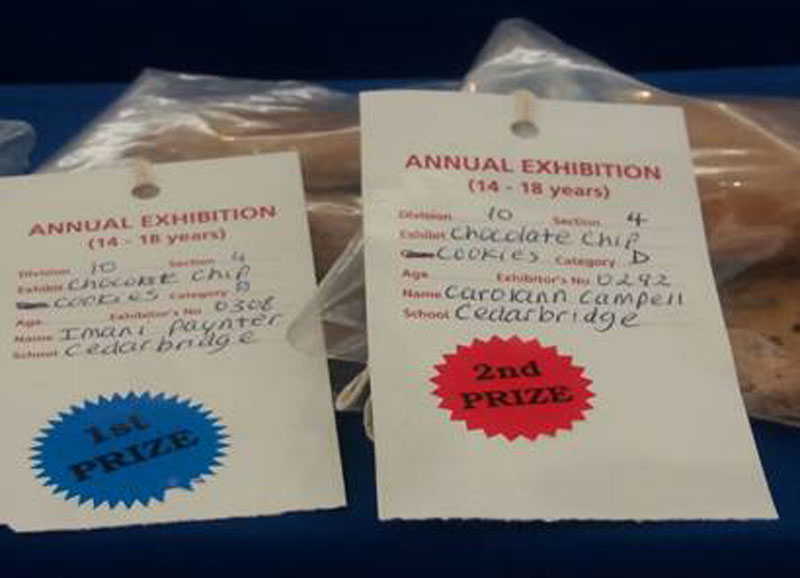 The CedarBridge Academy has entered the Ag Show for twenty years and the students are usually given two days to prepare items during class, lunch, after school and some at home.
This year sixty students and eight teachers entered with a variety of goods such as dinner rolls, cupcakes, and cookies, breads like banana and ginger bread and candies like glass candy. A rainbow of colours was placed in vegetable and box gardens.
The students look forward to this event because allows them to showcase their skills in cooking, baking and food preparation. It is important for the students to get involved and participate and enjoy community events.
For the past two years the CedarBridge Academy has won a financial award for participation. This award goes toward getting new equipment for the family studies department and for the functional skill courses.
Awards were given this year for not only participation but as well as ten first places, seventeen second places and six third places. Also awarded, were five 'highly commended'.
The teachers that played a big part in making this success possible were: Ms. Trott, Mrs. Mason, Ms. Lynch, Ms. DeMattose, Ms. Smith, Ms. Freeman, Ms. Kipps, Ms. Allen, Ms. Wilson, Ms. Coddrington Ford and Ms. Anderson.
The school hopes to participate in more activities such as woodcraft and science projects and enter more products and food.

Read More About