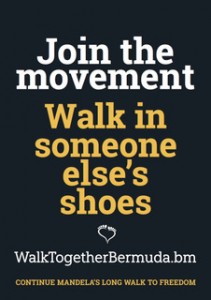 [Update: This event has been postponed until next Sunday, April 15th]
On April 8, a community walk dubbed #WalkTogetherBermuda and dedicated to "harmony and understanding" will commence at 2.00pm from Victoria Park and take participants around North Hamilton.
Founder Helen Orchard said, "I was inspired by Nelson Mandela's Long Walk to Freedom and the organization he created known as The Elders, a group of global leaders who are supporting peace building, addressing human suffering and promoting the shared interests of humanity: supporting issues of peace, health, justice & equality.
"I have always been interested in the way people talk to, and treat one other, and feel it's important to find ways to develop compassion, understanding and collaboration. I'm curious about how we create peace and equality between people on our beautiful island.
"We have many positive and engaged organizations in Bermuda that are doing important work for our community and #WalkTogetherBermuda is another way each one of us can make a difference.
"I believe that when we walk in each other's shoes, we connect in a deeper way – allowing true compassion & solidarity to grow.
"#WalkTogetherBermuda is a dynamic team of individuals who are passionate about creating a connected & flourishing Bermuda. We all agree that no one single individual can solve our challenges – that it's up to each of us to engage our friends and community to create powerful change. The walk is an opportunity to have conversations that can break down barriers.
"We need to not only talk-the-talk, but to walk-the-walk and take actions that will uplift and unite us."
"Everyone in our community is familiar with the way this island comes together after a hurricane; we help each other out with no consideration of a person's colour, the school they went to or where they work – that's the spirit of this walk. Let's have more of that – everyday!"

"The goal of #WalkTogetherBermuda is for participants to walk alongside people they don't know, to share and listen and learn.
"To be courageous and talk about things that are important, that matter in your life, things that challenge or concern you. The intention is to be open and listen, to support and empathize. Maybe by listening we can begin to create connection, cross divides and build bridges. "
"#WalkTogetherBermuda will be an annual experience and encourages all organizations to collaborate with this event. There is no cost to have a group's name, bio and web link or Facebook page posted on the #WalkTogetherBermuda website.
"The community collaborators are growing daily and #WalkTogetherBermuda will have an event to honor and celebrate Nelson Mandela's 100th birthday, which is July 18, 2018.
"For more information, or if there is inclement weather on April 8, see WalkTogetherBermuda.bm or email walktogetherbermuda@gmail.com."
Read More About
Category: All