In celebration of the school's 120th anniversary, the Berkeley Institute Anniversary Celebration Committee is shining a spotlight on its alumni, with the thirteenth profile highlighting Dr. Nadia Wade, Class of 1995, Green House, Nasir Rico Wade, Class of 2000, Green House, and Nadir Wade, Class of 2000, Green House.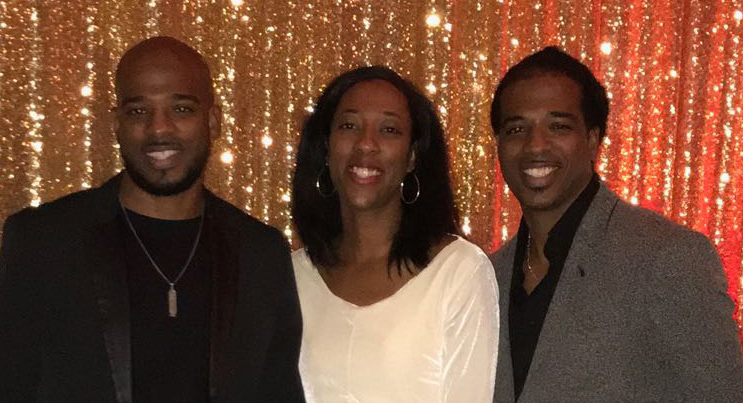 What does it mean to you to be a Berkeleyite?
Nadia – It means to have attended and graduated from the "top" high school in Bermuda with a willingness to use the foundation provided to become successful adults who cherish community values and work towards improving our communities for future generations.
Nasir -To me, being a Berkeleyite means being competent and confident enough to lead but also willing and humble enough to follow.
Nadir – To be a Berkeleyite means to have been amongst some of the best and brightest in Bermuda. It means a sense of pride and tradition, and a connection to many of those in my community.
What is your fondest memory of your time at The Berkeley Institute?
Nadia – I remember the "we will, we will, rock you!" chants in assembly after Green House would win sports. I remember the dedication of Mrs. Joan Blades and Mrs. Marva Allan, spending their lunch hour with me and a few classmates going over chemistry and math respectively in preparation for GCSE, while we learned a bit of life lessons as well. I remember the discipline and alterations in student's behavior that Mrs. Sandra Smith's [Burrows now] name alone could achieve.
Nasir – My fondest memories seemed to center around sporting events. I played almost every sport that the school offered. If I had to pinpoint a specific memory it would be breaking the 400M record in 1998. The record still holds today and is cemented in history. I always loved sports days and interschool sports.
Nadir – What made and continues to make Berkeley a special place to me is the intelligence, talent and brilliance of many of the students. I was constantly surrounded by brilliant people from across the island and that is something pretty special.
How have you applied the motto Respice Finem to your life?
Nadia – Achieving my goals has not been without obstacles and it is the motto which has helped to keep me focused and striving towards achieving my endeavors. Hence, I use it daily.
Nasir – The Berkeley motto has always been something that played a major role in my life. It has always reminded me that it's not about how you start the race but about how you finish. The choices that I have made have always been with the end in view!!
Nadir – Every day I apply the motto Respice Finem to my life. To me it means having foresight to know the end game…. a final result of where I want to be and what I want to see from a situation. I also apply it in my actions, knowing that the "view's end" goes beyond myself and passes on to those yet to be born.
How did your time at Berkeley aid in your decision for your career path?
Nadia – It introduced me to a world of experimental and life sciences. Hence, at the time I knew I would pursue something in the field.
Nasir – At Berkeley I had the opportunity of exposure to academics and some hands-on elements of learning. I knew from the age of nine that I wanted to be an engineer. Berkeley presented me with a foundation in Math, Science, Design and Technology. This exposure solidified my will to strive towards completing my Engineering studies.
Nadir – While at Berkeley, I excelled in my core subjects, Mathematics, Science and English. This laid a strong foundation for critical thinking skills that would push me towards Physics and Design and Technology. From exposure to these courses, I'd say that Engineering ultimately chose me.
What advice would you give to current Berkeley students and other young people?
Nadia – Cherish your moments at Berkeley as time goes by faster than you think. Take advantage of any educational, sports, or artistic opportunities that you may have, as you will not always know at the time what positive impact the opportunities may have on you.
Nasir -The choices you make today impact the path you will take tomorrow. Don't be afraid to stand out amongst the crowd and always strive for excellence. Your character and actions will do all the talking for you.
Nadir – I'd give the current Berkeley students the same advice I give all young people. Play Now…Pay Later or Pay Now…Play Later. I would advise that they Pay Now….as it's so much easier to pay when you're young, have the support and simply have to do well in school. It's also much more fun to play when you're older, have the financial means and the time to create your own freedom.
What factors played a role in your decision to attend Berkeley?
Nadia – I think Berkeley chose me. As I don't have any memories of wanting to go anywhere else. I had an innate desire to go to Berkeley, and I honestly don't know what factors influenced me at the time. However, high school selection caused many debates between my mother and me. She insisted that I would be attending Warwick Academy. After taking a tour of both schools, she finally gave in and realized that I was a Berkeleyite at heart.
Nasir – My sister was already attending Berkeley and a few of my cousins attended previously. Berkeley was my first and second school of choice. It was no secret that Berkeley was one of the top academic schools as well as sporting schools on the island. I wanted to be a part of that legacy and to be honest I would have been devastated if I was not accepted.
Nadir – The biggest factor would be family lineage as my sister and cousins were already at The Berkeley. I was also lucky enough to pass the entrance exam. The fact that my mother made it my first choice also played a big factor. All these factors steered me to where I needed to be.
Who was your favorite teacher and why?
Nadia – Mrs. Joan Blades, she encouraged independent thinking and was always willing to give up her personal time during lunch or after school to ensure that we understood what she taught.
Nasir – My favorite teacher would have to be Ms.Tammy Richardson who is now the Dean of Arts and Science at Bermuda College. I had a passion for mathematics and she had a way of making math fun through real life application. I always remembered her simplistic approach to teaching difficult concepts. Ms. Richardson was also an athlete herself and she understood the balance of academics and sports life.
Nadir – I learned a lot from many of my teachers at Berkeley but Ms. Tammy Richardson was my favorite as she taught my favorite subject, Mathematics. Ms.Richardson really put the course material across in such a way that made everyone interested in learning.
How has/in what ways have Berkeley alumni helped to shape Bermuda?
Nadia – Berkeley alumni shape Bermuda communities daily, just by performing everyday duties. They are MP's, permanent secretaries, CEO's of businesses, pastors, bus drivers, dance teachers, school teachers, physicians, entrepreneurs etc.
Nasir – When you look at the Bermuda landscape, Berkeley has played a significant role in shaping many of the positive facets of our culture. In my biased but fair opinion, Berkeley has created a wealth of leaders that have helped to sustain this island and continue to propel us into the future.
Nadir – Berkley alumni have shaped Bermuda in every way. The Berkeley Founders created a school that has reached every facet of our Bermuda community and now out into the global world. Berkeleyites are everywhere and Bermuda has evolved for the better because of us and those that worked tirelessly to see the school prosper.
What advice would you share with a student pursuing a career in your field?
Nadia – Make sure you love it! Obtaining a medical degree will have you consistently questioning whether or not you can get through it. Loving it, makes the journey worthwhile.
Nasir – Engineering is quite a challenging field of study. Bermuda is a few steps behind in preparing students for this field of study so it is important that you buckle down and put in the extra effort that may be necessary. Success comes with sacrifice. If you are not willing to sacrifice, you may want to pick another field.
Nadir – I would tell any student pursuing a career in Engineering that Engineering can take you anywhere around the world, you rarely have to fear not having a job, but it requires hard work and focus. I'd also follow this up by saying that what you do is not who you are and never be afraid to evolve into something else…but ultimately know thyself.

"From the onset Berkeley has been a beacon for the minds of tomorrow," Berkeley's 120th Anniversary Celebration Committee noted.
"The green and gold family is steeped in tradition and culture in academic excellence, Berkeleyites have made and continue to make profound and valuable contributions to Bermuda and the world.
"The Berkeley Institute wants to recognize the exciting and innovative things our alumni are doing, here in Bermuda and around the globe.
"Berkeleyites compromise all walks of life and careers from academia and athletes, to banker and business owners, educators and engineers, politicians and preachers, dancers and doctors to homemakers and hoteliers.
"We are recreational athletes to athletes on the world stage. Classroom debaters to barristers, boardroom strategies to Cabinet Ministers."
And as part of the celebration of Berkeley's 120th anniversary, alumni of the school are being featured on Bernews, and you can read a profile on Thomas Christopher Famous here, Margaret Edwena Smith here, Dominique Richardson here, Patricia Gordon-Pamplin here, Juan Philip Wolffe here, Florenz Webbe Maxwell here, Garon Wilkinson here, Candace Furbert here, Shernette Wolffe here, Scott Wade here, Mustafa Manders Ingham here, and Kristin White here.

Read More About