Docksiders kicked sand all over the Beach Bums in a 15-3 softball triumph. Terence Corday led the way for Docksiders by going 4-4 with a homer while teammate Mike Sakata aided the winning effort with a home run of his own in batting 3-4. Reid Henderson was 3-3 for Beach Bums.
The win keeps Docksiders' record unblemished at the top of the A Division at 5-0. The club now has a three-game lead over Paraquet Flyers and Blue Wahoos.
Beach Bums did manage to balance its books last week as the side downed winless Corporation of Hamilton 17-11 in a B Division fete. Ed DeSilva was 4-4 with a homer and five RBI while teammate Dylan DeSilva was 3-4. He also homered and drove in six runs. Matthew Hayward and Jacoby Darrell were both 3-4 for the Corporation with Hayward mashing two homers.
Paraquet rebounded from a loss last week to pick up a 13-3 victory against Platano Power.
Pitcher Danny Cook hustles off the mound to catch a pop fly in Sea Venture Mini Me's 12 to 6 victory over KPMG at Bernard Park.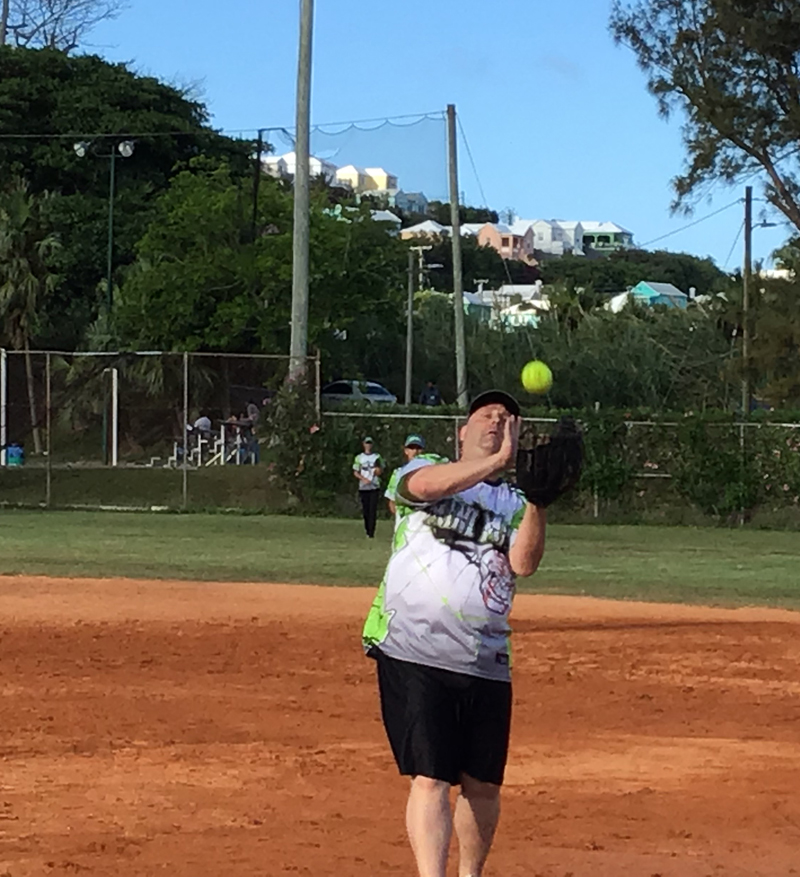 X-Bats moved to the top of the B Division with an 11-6 triumph over Chubb Kings. X-Bats also piled up the runs in a 28-18 success against Sunglass & Watch Shop. The wins coupled with the Beach Bums loss moved X-Bats two points clear atop of the league.
Elsewhere in the division, the Sunglass & Watch Shop cooled off Team Smokey 19-12. Both teams are 2-3.
Deloitte will have to wait at least one more week before finding the win column after Raggamuffins defeated them 19-12 in a C Division contest. Raggamuffins are now 3-1 while Deloitte is 0-4. The other C Division game was a close affair, but Buffaloes stampeded their way to a 9-6 triumph.
In the Women's Division, Angels had a 24-1 laugher against Outback Skylights. Both Terry Ewart and Nikita Trott were 2-3 for Angels. Ewart knocked in three runs with her hits.
Hardknockz took the stripes off of PHC Zebras 28-8. Both Angels and Hardknockz top the division with 4-1 records while Zebras are 2-3 and the Skylights are hoping the future is brighter after a 0-5 start.
Sea Venture Mini Me's remain one of Softball Bermuda's three unbeaten teams with a 12-6 double up off KPMG in the Corporate League. Sea Venture is 5-0 and has a one-game lead over Athene Warriors who downed the Butterfield & Vallis Sliders 16-18.
There will be only three nights of games this week with the Bermuda Day holiday happening. Games start at 6 pm at Michael Preece Stadium at Bernard Park and will play Monday, Tuesday and Wednesday.

Read More About