[Updated] According to his LinkedIn profile, Jeff Baron – who announced late last month that he was quitting politics – has landed a new job with HSBC in Bermuda.
His recently updatde LinkedIn account states that Mr Baron has started a new position as "Country Head of Financial Crime Threat Mitigation – Bermuda at HSBC Private Banking".
Screenshot of Mr Baron's LinkedIn account: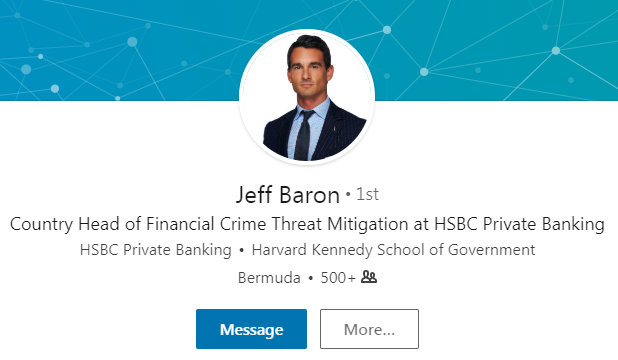 Mr Baron was elected as the OBA MP for Constituency #25 Warwick North East at the last General Election defeating the PLPs Kathy Lynn Simmons 493 votes to 428. Before that he served in the Senate, and was the National Security Minister under the OBA.
When he decided to quit politics he tweeted: "Dear Bermuda: Thank you. It's been a privilege to serve you for the last 5+ years of my life. I am stepping away from politics – effective today, and am stepping towards new opportunities."
No date has yet been set for the by-election.
Update 4.22pm: An HSBC spokesperson told Bernews, "HSBC continues to step up its efforts to keep financial crime out of banking and is pleased to confirm the hiring of Jeff Baron as the bank's Head of Financial Crime Threat Mitigation.
"In this new role he will supplement our existing capability by leading work to proactively identify emergent financial crime risk."
Read More About