[Updated with video] Justin Mathias will be the new OBA Party Chair and will stand down as a Senator where he will be replaced by Victoria Cunningham, while Robyn Swan will also take up a seat in the Senate, replacing Andrew Simons, the OBA has confirmed.
The OBA said, "Justin Mathias has been confirmed as the new Party Chair and in line with OBA practice, he will stand down as a Senator towards the end of the current legislative session to concentrate on his new role and will be replaced by Victoria Cunningham. Robyn Swan will also take up a seat in the Senate after she is appointed by the Governor and sworn in."
OBA Leader, Jeanne Atherden, said: "The rise through the ranks of Justin, Robyn and Victoria demonstrates that the Party's base is strong and vibrant. They all work tirelessly and have great skills, enthusiasm and political knowledge. Their appointments will bring a new freshness as well as youthfulness to the Party.
"When I was elected Party Leader, I promised to establish a mentorship plan that would support the development of our future leaders to support their promotions to key roles within our Party. This is one of several steps that we will implement in order to carry out our critical role of being the Opposition, so that we may keep this government accountable to the people of Bermuda."
Mr Mathias said it was an honour to have been elected as Chair, saying: "There is a lot to be done and it is important that we work towards getting the Party into a position to be a government in waiting while at the same time holding this current Government to account.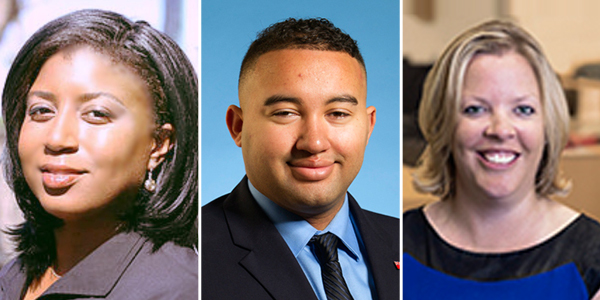 "The problems we face today can all be traced back to policies carried out by consecutive PLP administrations. I believe sometimes the PLP forget that they have led this country for 15 out of the last 20 years and their reckless financial policies were beginning to turnaround under the former OBA government," he said.
The OBA said, "Mr. Mathias has moved up the party ranks – he was appointed Chair of the Future Bermuda Alliance [future leaders of the One Bermuda Alliance] and then was elected to Deputy Chair of the OBA.
"He was appointed to the Senate in November 2017 and will step down in order to focus on the role of OBA Party Chair, where he will play a crucial role in strengthening the party's framework and coordinating initiatives."
Ms Swan is the current OBA Caucus Chair. She was a prison officer for eight years, and currently works at Rosewood Tucker's Point.
"She believes passionately in helping the Island's seniors, encouraging local artists, supporting the youth, and advocating for comprehensive drug reform. She also is an active volunteer for Mirrors and Youth Visions Promotions, a partner of Visions Magazine. Like Mr. Mathias, she is a former Chair of the Future Bermuda Alliance [FBA]," the OBA said.
"When I was asked to serve in the Senate, I had no hesitation in accepting. It is a honour to serve your country and I will do my utmost to ensure that Bermudians are put first and foremost," said Ms Swan.
Ms Cunningham is an underwriter with Tokio Millennium Re [TMR] and won the Bermuda Insurance Institute's [BII] Young Industry Leader award in 2015.
"She has also been involved with the OBA since its formation as a member of the FBA and is passionate about youth mentoring and has been involved with Bermuda Foundation for Insurance Studies since 2010 giving advice and coaching to young students and graduates in the community," the OBA said.
Update 6.05pm: Extract from our interview with Ms Atherden discussing these appointments
"I had no hesitation in accepting when Mrs Atherden approached me. It is a chance to represent my country and fight for the things that I think Bermudians need, like a good education and affordable health care," she said.
Ms Swan will replace Andrew Simons in the Senate and Ms Atherden paid tribute to the work he has done in the Senate and for the Party.
"Andrew has done sterling work for the Party and I thank him sincerely for everything that he has contributed and hope that he will continue to offer his sage advice and contribute to the future success of the OBA."
Read More About