Earlier today [Sept 13], the Department of Corrections welcomed 21 new Corrections Officers to their ranks with an official Passing Out Parade at the Westgate Correctional Facility.
Officials, family and friends acknowledged the successful graduation of:
Officer Anthony Brangman Jr.
Officer Shaylene Brangman
Officer RoChaé Browne
Officer Keysha Burgess
Officer Gikai Clarke
Officer Andrew Cousins
Officer Joshua Davis
Officer Khabir Dill
Officer Rahim Dill
Officer Kijuan Franks
Officer Kashintae Fox
Officer Raffiné Hodgson
Officer Jean-Nickson Jean Baptiste
Officer David Lawes
Officer Daniéll Raynor
Officer Dekhari Scott
Officer Michael Smith
Officer Sinclair Vickers
Officer Jaret Walker
Officer David T. Wilson
Officer Tamesha Wolfe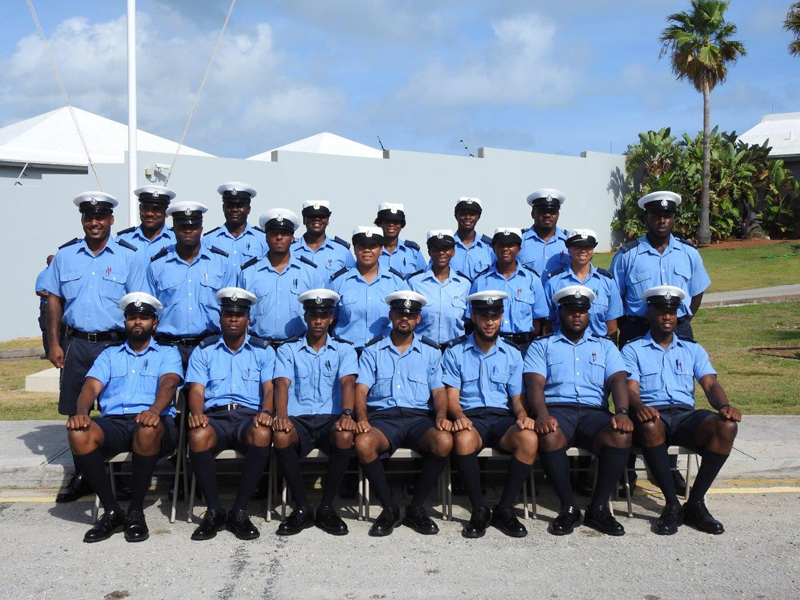 National Security Minister Wayne Caines took the opportunity to commend all Corrections Officers for "consistently applying their knowledge and skills effectively" and doing the job to the best of their abilities, at times in the face of adversity.
In recognizing the newest officers, Minister Caines said, "I wish to formally congratulate the 21 newest Corrections Officers who will be joining the already established ranks of the Department of Corrections. I know this is a proud day for you and your families.
"I've been told that the general definition of a Corrections Officer is 'a person who is responsible for the supervision, safety and security of persons in prison'. I think though that the definition of today's Corrections Officer is a bit broader than that."
He noted, "The true definition of today's Corrections Officer – are individuals who conduct themselves with pride, honesty, integrity, impartiality and high ethical standards.
"Your core beliefs and a core mission are supported by this Government, and we support you in your efforts to not only safeguard our community but to empower inmates to be responsible and productive citizens. And it is to the ranks of the Department of Corrections that I am pleased to welcome these 21 individuals.
"As Minister, I extend my appreciation for all that our Corrections Officers do in service of Bermuda and pledge the Government's continued support of the Department of Corrections. On behalf of the Government and people of Bermuda, thank you all for answering the call to service and I wish you every success in this new and rewarding career."
Shadow Minister of National Security Michael Dunkley said, "Congratulations and thank-you to the men and women who have stepped up to serve our community- two cohorts from 2017 and 2018.
"You have committed to a significant responsibility in dealing first-hand with problems in our community that others have not been able to resolve.
"I have said it before but it bears repeating now more than ever…our community relies on the Department of Corrections to fulfill a core portion of its mission "to empower inmates to be responsible and productive citizens."
"This means that you, as you have chosen to wear the uniform, are called to a unique and important kind of service.
"You have a significant position in the criminal justice system with measures you have at your disposal designed to stamp out challenges in our society as the Minister has mentioned, like the gang lifestyle, violent behavior and drug abuse.
"The security, prison walls and cell doors of Westgate are a physical requirement of your work. However, having an open mind, a willing spirit and a desire to always to see inmates progress and learn are fundamental and key for your work to be rewarding and successful for you and our community.
"The strength of Corrections is your dedication to the task at hand and the integrity by which you do your work.
"Your training has provided the foundation for your success as a Corrections Officer. Now it is up to you to put what you have learned to work, to continue to learn from your experienced colleagues and to work as a team.
"I challenge you to get involved, don't shy away from any challenge and support the Prison Officers Association as they support you and work on your behalf.
"At times you will be tested, at times you will question your choice of a career and at times you will wonder if your hard work and dedication is having a positive impact.
"I ask you to always remember that our community needs you, the inmates need you and countless family and friends need you and appreciate you.
"Never give up and never give in. Congratulations on passing out today- the Opposition leader, my colleagues and I look forward to, and are grateful for your professional service. May God Bless and Guide You."
Read More About