The Bermuda Boxing Federation [BBF] has joined forces with Heart of A Lion Productions and Pulse Entertainment to promote the upcoming IBA International Welterweight Title "Redemption Fight Night", with the main event set to take place on Saturday, 24 November at the Fairmont Southampton, featuring professional Bermudian boxer Nikki Bascome, taking on David "Popeye" Martinez of Mexico.
BBF President Nathan Dill said, "The Redemption Team would first like to thank the faithful boxing community that truly provided support when it was needed.
"The planning for this event has opened our eyes to the real impact that world events can have on the sport, with politics, travel and immigration regulations posing a real threat to opportunities and exposure for athletes around the world."
The BBF explained that Bascome was scheduled to face Jamaican Opponent Kevin "Busboy" Hylton, however, visa complications did lead to a last minute change of opponent.
A spokesperson for event Promoter Pulse Entertainment adds, "The island has shown tremendous support for the sport of boxing, through the highs and lows that come naturally. Pulse has had the opportunity to grow along with the Federation Executive, member gyms, coaches, athletes and fellow fight promoters and it is our pleasure to co-host this event and set the stage for one of our greatest athletes to re-enter the ring.
"Following a few losses, 2017-2018 has proven to be a tough year for many in the boxing community, but moments like these are what define athletes and fans alike.
"The title of this fight is not simply about Nikki. Many things have happened, been said, not said, and we all need to dig deep and show these athletes that we are in their corner, win, lose or draw.
"We invite and encourage the entire island to rally behind Nikki and the athletes that look up to him and fight beside him, both physically and spiritually. "
A spokesperson continues, "We are constantly seeking feedback and have heavily weighed the suggestions made by loyal fight fans and only hope to improve the final product for the entire community. This will be an exciting end to the 2018 year and we hope it will set the tone for the growth we are working towards in 2019."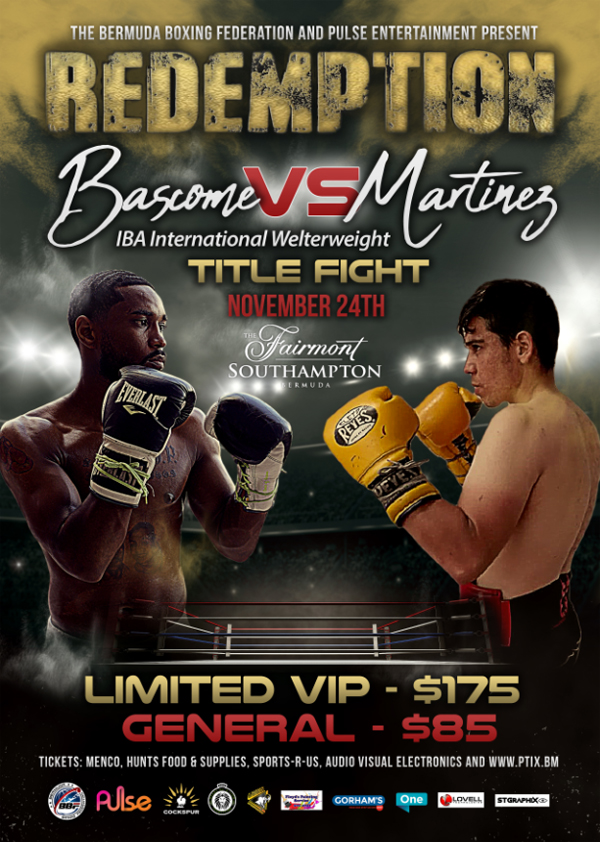 "Following his emotional loss against against Fabio Costa of Portugal and a year of transition, Bascome aims to silence the critics and mark the road to redemption and a new chapter in both his personal and professional lives," the BBF said.
"Bascome will be joined by an army of Bermuda Elite Boxers, including the anticipated rematch of Coleman Mills and Shannon Ford and appearances by Michael Parsons, Shane Basden, George Cook and National Team Athletes, Tyler Christopher and Andre Lambe.
"The full fight card [to be formally announced on November 5th] will also feature rising stars N'gai Franklin, Otero Smith, Josef Ferreira and Khalil Smythe."
Tickets for Redemption are on sale now and can be purchased at Menco, Gorhams, Sports R Us, Audiovisual Somerset and www.ptix.bm. Limited VIP Tickets are $175 and General Admission $85.

Read More About