Two more proud local tourism industry businesses have completed their National Service Standards Certification, formalising their commitments to raise the bar on customer service.
& Partners, a boutique gift shop, and Rosedon Hotel, a boutique property in Hamilton, are the newest additions to the list of certified businesses, bringing the total number to complete the programme to 18.
Bermuda Tourism Authority COO Karla Lacey and Standards & Training Manager Rasheeda Burgess flank Jecoa Tucker [l] of Rosedon Hotel and Andrea Sundt [r] of & Partners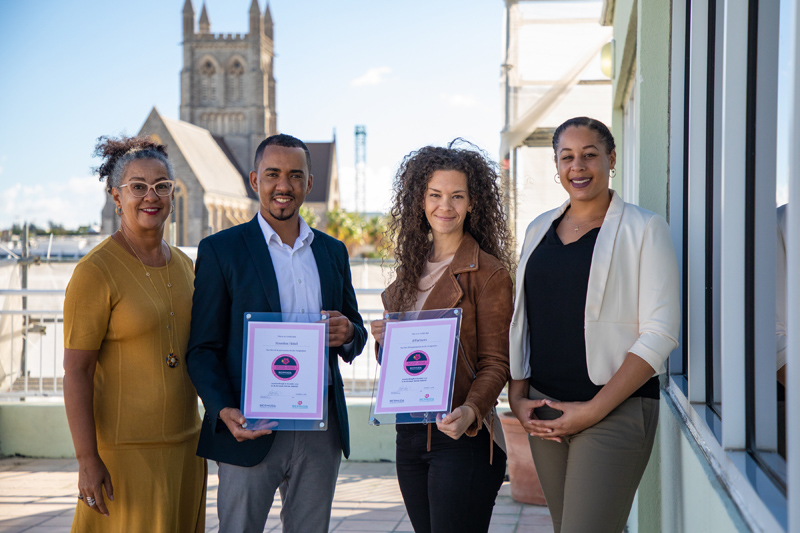 Certified businesses that commit to raising the bar on service enjoy a collection of marketing benefits including:
Inclusion in Bermuda Tourism Authority social media and marketing content
Returned at the top of the list on web searches at GoToBermuda.com
Editorial coverage in visitor publications.
Certification seal in the storefront and online to let visitors know they provide superior customer service
"As a relatively new business & Partners decided to apply for the National Certification as a way of getting feedback on how we could provide the best customer service and products," said Andrea Sundt of & Partners.
"As a small business we also wanted to engage with the Bermuda Tourism Authority and Bermuda's wider retail community to foster support and new relationships. We are thrilled to have been awarded the certification and look forward to continuing to provide great customer service whilst providing unique Bermudian and international gift and design options."
Jecoa Tucker of Rosedon said: "Rosedon participated in receiving the National Service Standards Certification because we wanted to highlight the great service our entire team have been enhancing. Rosedon becoming certified means a lot to our staff and shows our guests and the Bermuda community how much pride we take in providing great hospitality."
"The National Service Standards Programme is helping Bermuda improve the value proposition for all consumers – whether they're residents or visitors. High quality customer service helps to differentiate Bermuda from her competitors; the more businesses making the commitment, the better off we are as a tourism destination," said Bermuda Tourism Authority COO Karla Lacey.
People interested in learning more about National Service Standards can attend the Bermuda Tourism Summit on October 24. The National Service Standards Programme will be on-hand at the summit's Brilliant Bar throughout the day to answer questions.

Read More About