The latest edition of Visionz Magazine was recently released with the theme 'Street Life – Leaving the Streets Behind,' following a launch party and speakers forum at The Centre in Hamilton.
A spokesperson said, "The glossy magazine features several personal and true stories of individual and gang life on the streets of Bermuda. It explores the common rise and fall of persons involving themselves in the dealing only to succumb to the perils of the occupation through abuse of their own product and problems with the law.
"It also addresses the cause and effect of these life choices relative to the individual as well as the collateral damage that may befall the person's family, community, career, sense of morality, self- worth and life components.
"This new edition marks the third produced by the company of anti-violence activist Mr. Desmond Crockwell, with the magazine currently produced twice yearly and the next volume due early next year to coincide with the new school term."
"The violence going on in Bermuda is no joke and we have to have courage and be fearless in our mission as we move forward in continuance of the mission of many forerunners to us," said Mr. Crockwell, who was the MC for the night, offering numerous funny yet intriguing interludes between speakers.
"This is a movement and that involves action and so activity in continuing the pursuit of setting forth a mindset of confidence and a sure hope of lasting achievement and contribution in positivity that is not intimidated, nor feels the need to succumb to peer pressure and obviously contrary activities.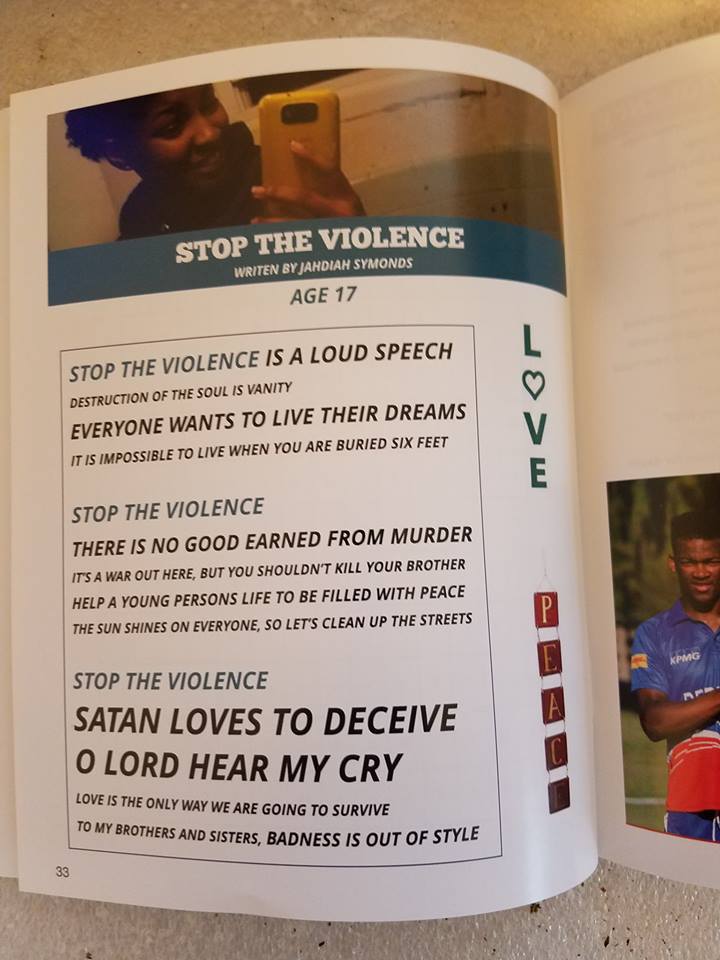 "However, it should not be confused as an us against them situation because it's a we situation incorporating all of us with interest in a sustainable and peaceful mode of existence in Bermuda absent much of the at risk potential for significant portions of our youth."
Visionz has been readily noted by government officials as a real interpretation of the risks associated with the streets, while the parent company YouthVision Promotions continues its lobby to have the publication endorsed in that it find direct distribution into the the Island's schools as an informational learning tool.
"One of our goals with Visionz is to committedly promote and produce the positive mindset that counters the ailments of low self-esteem, low senses of belonging and achievement and bleak outlook with a real picture of today's reality and that needed aid in the pursuit of the dreams of young minds.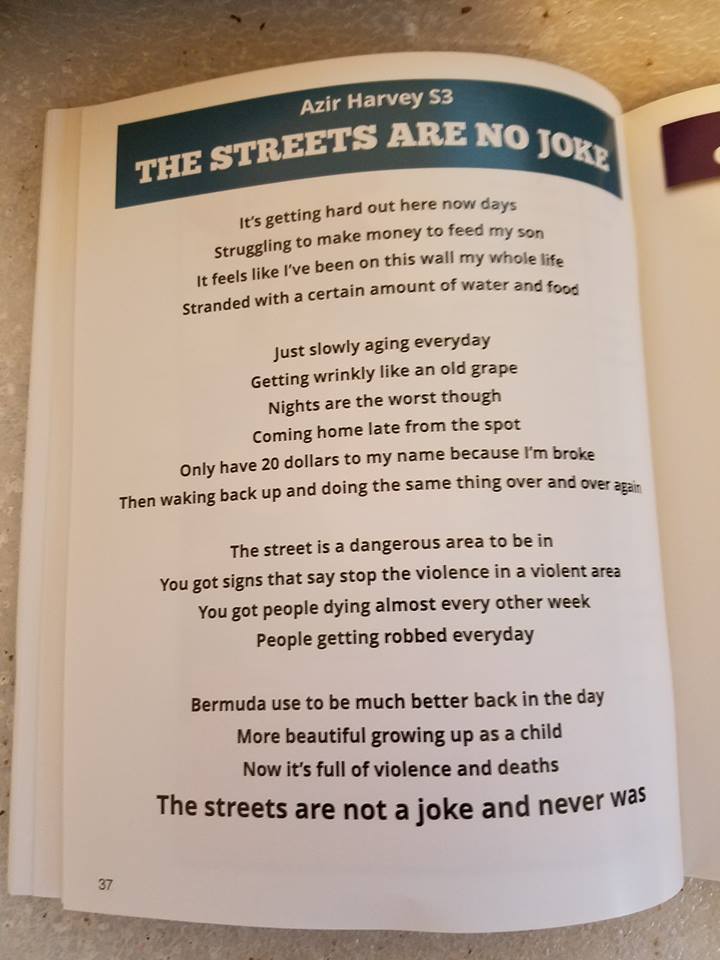 "Saturday's speaker's forum that accompanied the book release featured several speakers among a mixed age crowd that included educators Dale Butler and Earnest Peets.
"Minister of Youth and Sport Michael Weeks was among the speakers despite still grieving the temporary loss of two sons to an English prison following their poor choices. He offered comments on the importance of the "resetting" of the mindset that appears to afflict too many of, particularly young black men who were often fooled or deliberately accepted into member among the various parish groups engaging in anti-social behaviour and other matters relevant to Bermuda's action toward eradicating gun violence and its associated colleagues.
"Other speakers included Mikal Crockwell, president of St. David's Cricket Club who explained the role of his club and what it was actively carrying out with regard to providing safe haven, activities and other helping programs associated with raising and entertaining young people in a rapidly evolving macrocosm.
"Patrick Bean was introduced as the new Managing Editor of the publication. Mr. Bean having been a journalist and writer for 25 years, having worked at all of the local print portals – Royal Gazette, Mid Ocean News and Bermuda Sun – as well as being a regular guest/contributor on Sports Zone radio sports talk show on local station MAGIC 102.7."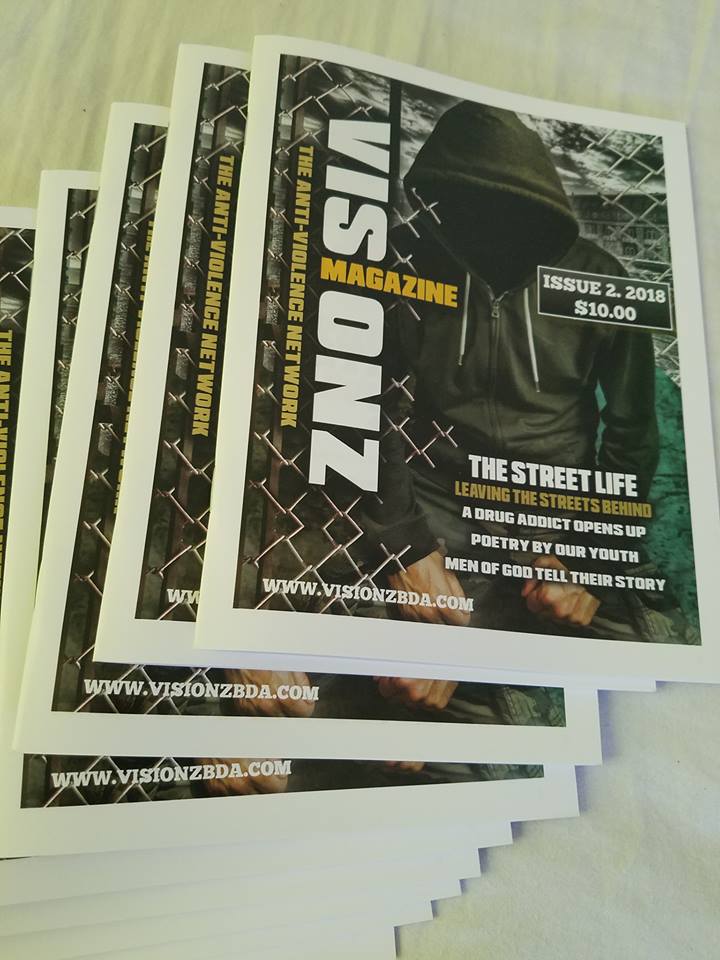 "Videos were interspersed between vibrant and powerful presentations from Andre Minors, a mentor of young males who operates a place of refuge and teaching activity at St. Luke's Church in St. David's.
"Ronald Butterfield, a one time Middletown drug dealer and heroin addict, told of his conversion to Christian Ministry and Outreach while abroad getting treatment for his heroin use, and his return to Bermuda where he continues in outreach ministry.
"The curtain closed with St. George's businessman and one-time Member of Parliament, Kenneth Bascome, offering humourous but pointed words of reference to the power associated with violence on then streets, of which he was a fixture many years ago before he found means to turn his own violent manner to that of a helpful one, where he has mentored, coached and otherwise assisted many young men of the east end of Bermuda over the years and into today.
"For more information on Visionz and YouthVision Promotions and for purchasing information, contact Patrick Bean at 732-6276 or Desmond Crockwell at 337-7786, via email at youthvisionsports@yahoo.com, or visit the website."

Read More About
Category: All