Students and parents at Saltus were given insights into how to deal with school pressures during a two-day visit by renowned child psychologist Dr. Michael G. Thompson.
Last week, Dr Thompson addressed Saltus staff, followed by a talk to parents on 'The Pressured Child' and then gave a series of talks to students on 'Best friends, worst enemies', 'Dealing with stress', and 'College admission – College admissions in perspective'.
In the interactive session with parents, Dr. Thompson, the supervising psychologist for the Belmont Hill School, in Boston, talked about the different pressures facing children said that parental college ambition for their children was contributing to a rise in anxiety levels among students. "Keep an eye on the resilience of your child," he said.
Dr. Thompson also told a story about a child he spoke to, who was deemed to be under-achieving, who said one of his main stress issues was that there appeared to be no end to a school day due to homework.
"Dedicate a time period at home, set an egg-timer, stay there as a parent so you can help if asked, and then when the time is over, it is over. Parents are often so worried about homework, it can become an evening-long fight."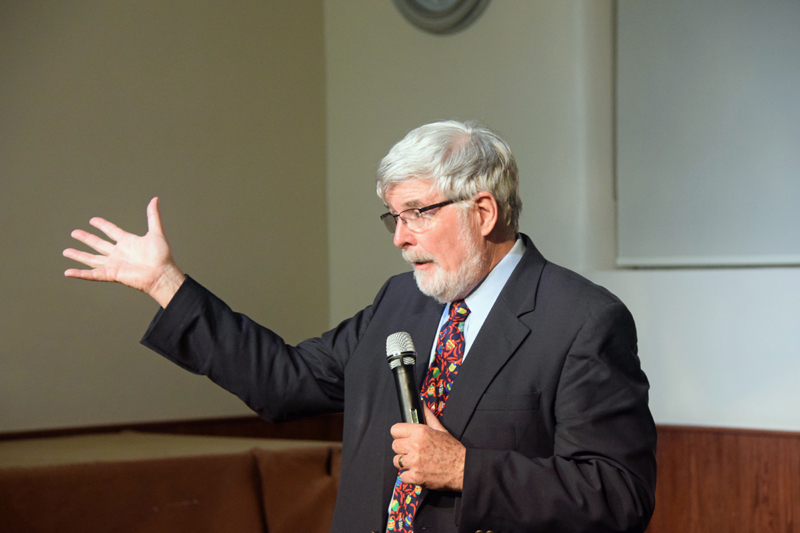 It was the second visit to Saltus by Dr. Thompson, who has worked in more than seven hundred schools across the United States, as well as in international schools in Central America, Europe, Africa and Asia, and Head of School Deryn Lavell, said: "The push for students to excel at school and get into the best colleges has never been more intense.
"Bridging the worlds of the growing and the grown-up, Michael was able to advise us on how to listen for the truth of our children's experience – and how to trust, love, and ultimately let go of a child. It is a crucial message for our stressful age."

Read More About
Category: All