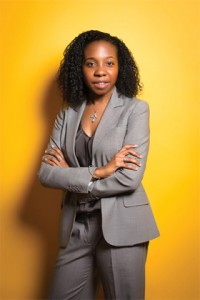 Kimberley Caines-Best has been appointed to serve on the Bermuda Airport Authority's Board.
The announcement said, "Minister of Tourism and Transport Zane DeSilva has appointed Barrister and Attorney Kimberley D. Caines-Best to serve on the Bermuda Airport Authority's Board. She has also been appointed to the Board's Governance and Strategic Initiatives Committee.
"Called to the Bar of England and Wales in 2010 and the Bermuda Bar in 2011, Mrs. Caines-Best is a member of the Bermuda Bar Association and the Honourable Society of Lincoln's Inn. She is a Notary Public and a Blackstone Fellow.
"Mrs. Caines-Best began her legal career in civil litigation with a local firm where she worked for seven years before transitioning to a financial institution as Legal Counsel. She has been in her present position for approximately two years.
"Mrs. Caines-Best completed her education at the University of Western Ontario, where she obtained a B.A. [Hons] in Women's Studies and Spanish Language and Literature. She obtained her LL.B. [Hons] and completed the Bar Vocational Course at the City Law School.
"A former chairperson of the Devonshire Parish Council, and a former member of the Bermuda Road Safety Council, Mrs. Caines-Best presently serves as a Board Member on the Bermuda High School for Girls Board of Trustees.
"She serves on the school's Governance Committee and chairs the Inclusion Committee. Mrs. Caines-Best is also the co-founder of the Women's Legal Network and a member of the Bermuda Toastmasters Club."

Read More About