Next month the Bermuda Professional Golfers Association will be hosting a golf tournament to honour the late Rogers Outerbridge, an iconic figure in local golf history.
A spokesperson said, "The name Rogers Outerbridge will finally be honoured by the Bermuda PGA during a Pro Am scheduled to be held in April 2019.
"The late Rogers Outerbridge is among the iconic figures of Bermuda's golf development. In the late 1960's and 1970's Rogers, together with his late first wife Lillian, held numerous monthly golf tournaments with an organization named Pro Am & Juniors which attracted golfers from all over Bermuda and visitors from the USA.
"Most notable was Golf Pro Bill Bishop from Philadelphia PGA Section, Mr. Lambeth from Gainesville, Florida, retired US Colonel Robert Faught and others.
"However, it was his annual Rogers Outerbridge Grand Slam that was the local golf tournament with the largest participation, featuring Bermudian golfers of all races, genders and ages. In 1971, with the availability of Port Royal Golf Course, the tournament was over subscribed, and attracted more than 200 golfers on both Saturday and Sunday in January.
"Rogers Outerbridge was a personable man with a bubbly personality and with his wife Lillian, an astute administrator, the pair made the ideal golf team.
"It is important to appreciate the time context of Rogers Outerbridge's contribution to golf in Bermuda. Pre 1967, golf was rigidly segregated in Bermuda. Rogers was among the golfers who played out of Ocean View Golf Course, the only golf course where a black person could golf.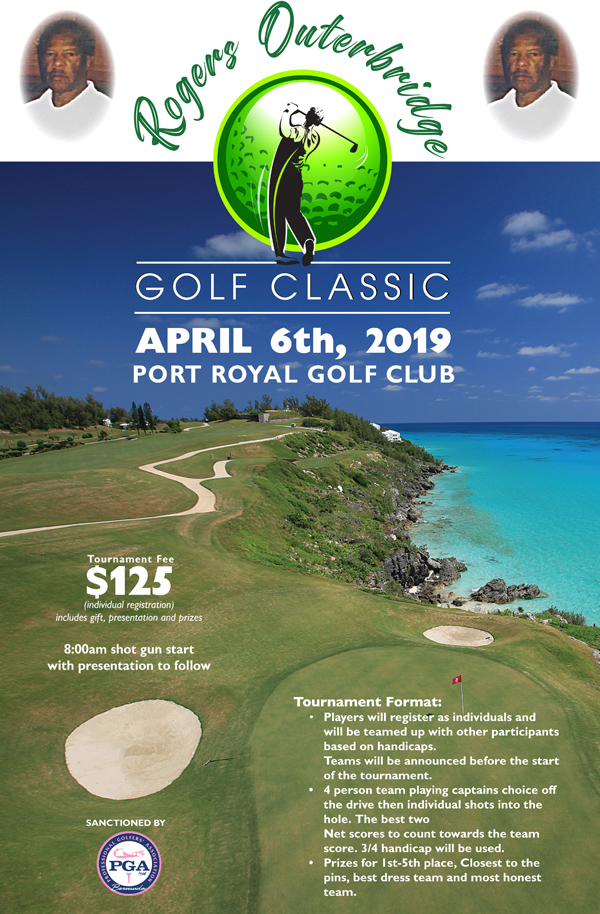 "In addition, Rogers Outerbridge earned a living as a Mid Ocean Club caddy before, during, and after the era of the legendary Golf Professional Archie Compton. Rogers was an accomplished player but like many in his era, he was denied the opportunity to compete equally among his professional peers locally and internationally.
"Pre 1973 there was no Bermuda PGA golf. Golf in Bermuda was controlled solely by the Bermuda Golf Association and anybody who caddied for a living was deemed a professional golfer and rendered ineligible to participate in amateur events.
"The formation of the Bermuda PGA still left Rogers Outerbridge on the outside looking in and without Membership. The Bermuda PGA established a tournament players division and offered an annual qualifying. Keith Smith, Winslow Wales, Herbie Minors, Norman Minors, Gilbert "Butch" Lindo and later Phillip Smith, Cleve Tucker and others would gain membership in the Bermuda PGA in the tournament players' division.
"At the time of the formation of the Bermuda PGA in the 1970's, Rogers Outerbridge's tournament playing days were behind him but he had developed a formidable client base as a teaching professional at Ocean View Golf Course and Rose Hill Golf Course in St. George's.
"Rogers was a force to be reckoned with in the game of golf in Bermuda but unable to become a member of the Bermuda PGA because he was not formally in the employ at the golf clubs he taught and provided considerable business."
The application form follows below [PDF here]:

Read More About