After adjusting for the retail sales rate of inflation – measured at 2.0% in December – the overall volume of retail sales declined 5.3%, according to the recently released Retail Sales Index.
"All retail sectors recorded declines in sales volume with building material stores recording the largest volume decrease of 16.3% followed by apparel stores which recorded a 15.2% decline in sales volume," the report said.
"In value terms, retail sales decreased 3.4% to an estimated $108.0 million. Excluding Sundays, there were 24 full shopping days, the same as in December 2017."
Chart extracted from the report: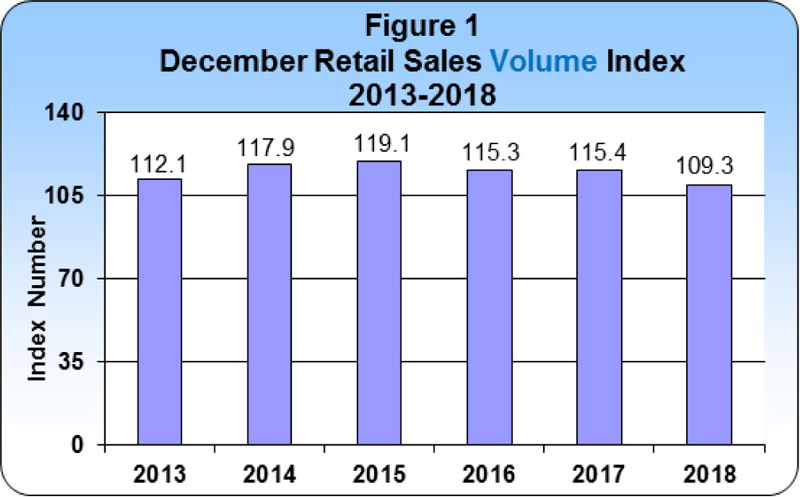 Minister for the Cabinet Office Walton Brown noted that the December 2018 RSI now shows categories of selected overseas declarations that represent a combination of goods purchased directly from overseas, such as online shopping.
The Minister explained, "After adjusting for the retail sales rate of inflation, measured at 2.0 per cent in December, the overall volume of local retail sales fell 5.3 per cent."
"The December 2018 Retail Sales Index publication now shows categories of selected overseas declarations that represent a combination of goods purchased directly from overseas, online shopping, gifts, etc."
"Declarations by returning residents via the airport declined 4.1 per cent million to $7.0 million. However, imports by households via sea more than doubled to $2.2 million. Imports via courier and via the post office remained unchanged at $10.6 million and $0.6 million, respectively."
The full 2018 December Retail Sales Index is below [PDF here]:
Read More About