[Updated with video] In order to celebrate the accomplishments of Bermuda's Special Olympians — who won an impressive 19 medals at the World Games in Abu Dhabi — a motorcade will be held today [March 25] starting at 12 noon.
On Friday night the Minister of Labour, Community Affairs and Sports Lovitta Foggo was on hand at the airport to welcome home Bermuda's Special Olympics athletes joining friends and family who cheered and applauded as the medal winners walked out.
They took part in track & field, tennis, bowling and equestrian events, joining thousands of other athletes from 200 nations around the world.
"I am so proud of our Special Olympics athletes," said  Minister Foggo. "The Bermuda contingent finished strong, with a total of 19 Medals; 3 Silver, 5 Bronze, 7 Fourth Place, 2 Fifth Place, a Sixth and a 8th Place Medal – a very impressive collection of medals!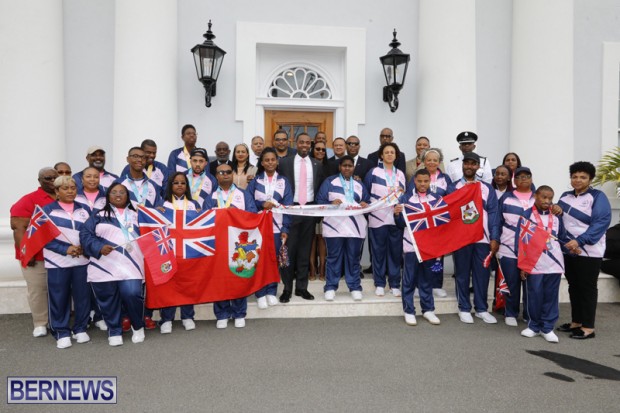 "Because they have done so incredibly well, we have organized for a motorcade to be held in their honor on Monday afternoon. I am asking everyone who can to line the streets to cheer on our athletes for a job well done. They have represented Bermuda incredibly well and we are all so proud of them."
Special Olympics Motorcade Celebration Itinerary 
12pm Motorcade Commences from Arboretum Park, Devonshire
Route: From Arboretum – Along Middle Road to the north end of Reid Street – Up Queen Street, turning onto Church Street – Brief pause at City Hall – Continue along Church Street turning [south] onto Court Street – turning into the grounds of Cabinet for 1pm
1pm Arrival to Cabinet for reception
3pm Return to the Arboretum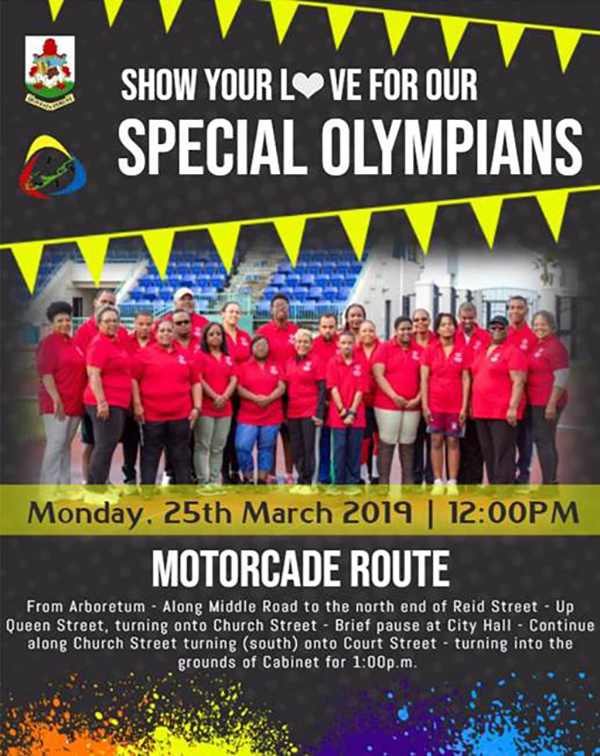 The breakdown of medals won by Bermuda's Special Olympics athletes is as follows:
Tennis
Bridget Marshall – 4th Place – Singles Level 4 Division
Micah Lambert – 4th – Singles Level 5 Division
Athletics
Kirk Dill – Bronze Medal 100 Meter & 4th – 200m
Damon Emery – Bronze Medal 100 Meter & 8th – 200m
Kris Trott – Bronze Medal 100 Meter & 4th – 200m
Danielle Gibbons – 6th – 200m and 4th – 100m
Del-Che Landy – 5th – 400m
Solay Thomas – Silver Medal Softball Throw
Bowling
Carlton Thompson – Bronze Medal
Tiannai Lowe – 4th
Wayne Smith – 5th
Equestrian
Eden Woollery – Silver Medal Level CS – English Equitation & Silver Medal Level CS – English Working Trails
Update 5.00pm: Speaking today, Premier David Burt said, "Welcome everyone. Let me start by saying thank you Team Bermuda. Well done and welcome home.
"What an amazing caliber of athletes we have. Today we celebrate your achievements at the Special Olympics World Games Abu Dhabi 2019 – you have all made Bermuda extremely proud.
"You are true ambassadors and performed brilliantly, with determination and great courage. We are here today, with immense pride, to show our support and appreciation for these outstanding athletes.
"Our dynamic 13-strong team competed in a variety of events along with more than 7,500 athletes from almost 200 nations – and you won 19 medals – 3 silver, 5 bronze, 7 fourth place, 2 fifth place, a sixth place, and an eighth place.
"You all earned your place with the world's best and you excelled, proving that a tiny island in the middle of the Atlantic, can produce world class athletes of the highest caliber.
"I know that attending the Special Olympics was a major goal, and you worked very hard to meet all of the necessary requirements to get there.
"You should all be extremely proud of your success – as all of Bermuda is. I would like to also extend our thanks to the organisers, coaches, volunteers and family who supported and assisted Team Bermuda. Your commitment and participation furthers the mission of the Special Olympics.
"On behalf of the Government and people of Bermuda I extend heartfelt congratulations these determined athletes, our champions – you exhibited great skill and talent and again I will say, well done Team Bermuda. Thank you."

Read More About