[Written by Mikaela Ian Pearman]
Imagine this – an event in Bermuda with three stages, playing different genres of music all while enjoying a beautiful night under the stars. This was Flag Invasion on Saturday night at Fort St. Catherine.
The event was organized by DJ Rusty G and was such a great way to kick off the summer. Having never been to Flag Invasion, I wasn't sure what to expect but figured it would be a good night out. The basic premise of the event is to bring your country's flag with you to represent where you're from.
I arrived with my hubby just after 11pm to make sure we could get good parking. As we walked up to the venue, I heard reggae blasting loudly and wondered how the three stage concept was going to work. I would soon find out.
Once we cleared security and entered the fort, it all started to make sense. Upon arrival, there was a bar for those who had signed up for bottle service and if you didn't, you could purchase on the spot. I thought that was a great touch and elevated the customer experience.
The first floor was soca music and entertainment was provided by DJ Chubb, DJ Mystro, Rusty G, Jus Jay and Lord Hype. The reggae and hip hop floor was on the second level of the fort featuring Noah Powa, DJ Polish, Ricky Platinum, Mista Genius and Fresh Kid. Finally, on the third level, there was a silent party with afro beats and latin music played by DJ Flava, DJ Derek and Mori Minors.
I checked out all three floors and had a good time in each. I thought the silent party idea was really cool for those who like afro beats and latin music. But the best floor for me was the soca floor.
If you've read any of my reviews, you'll know I'm a soca junkie and I typically only go out when there's a soca event. So needless to say, I was right in my element.
Being that it was all soca, it gave the DJs an opportunity to dive into the archives and play older music that isn't often played at parties. But it really turned up when Jus Jay came to the stage. He was full of energy and really got the crowd waving flags and dancing.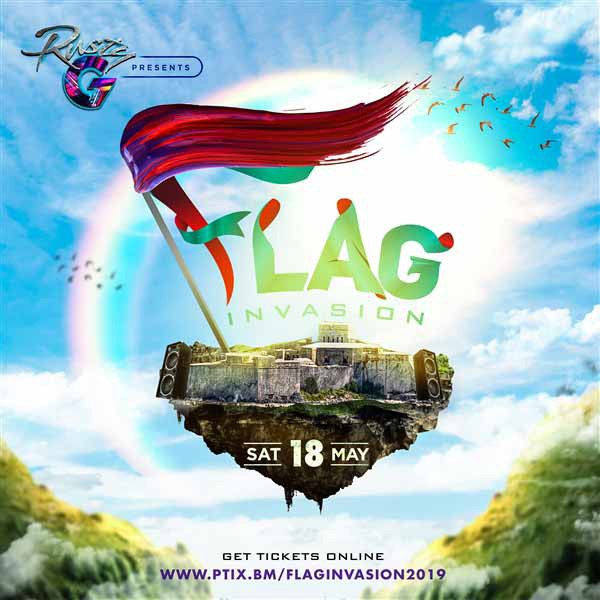 I went back up to the reggae floor for a bit, but because I don't enjoy hardcore dancehall, I went right back to dance to soca. I will say, those who enjoy hardcore dancehall looked to be enjoying themselves.
One of the best parts of the night was when Noah Powa and DJ Polish came to the soca floor. They were advertised as playing on the reggae floor but came an injected some serious energy to the soca floor. I appreciated Noah Powa's whole vibe and DJ Polish was insane with his mixes. I enjoyed their dancehall/soca set the most out of the night.
Another great moment was seeing Bermudian artists Ponaflex and J3 perform on the soca stage. I can't imagine how terrifying it must be to perform for a Bermudian crowd, so I applaud them.
Overall, I enjoyed Flag Invasion. I rarely get out these days except for BHW and Cup Match so this was a treat. Rusty G truly put a lot of thought into this event and it was evident by how much people enjoyed it. I can't wait to see what he does next.

Read More About
Category: All, Entertainment, Music, News