The Bermuda Athletic Association has partnered with Andrew Bascome and his management company in order to provide a "highly focused football program that caters to every player and every age group."
BAA President Mike McGrath said, "Bermuda Athletic Association are delighted to welcome Andrew Bascome and his football management company into the BAA family as partner to provide BAA with a highly focused football program that caters to every player and every age group, from grassroots to senior players, allowing each player an age appropriate development path to maximize their individual potential.
"Through this partnership we now possess the coaches, facilities, structures, administrative and financial capabilities and international relationships to allow a player to fulfill his or her dreams and desires.
"This is a true team effort from both organizations, with everyone involved focusing on the most important part of the game, the players and their individual technical and mental development through the use of high quality facilities, qualified coaching, structures and curriculum, while making sure the enjoyment of football is not lost. After all it is a game."
Andrew Bascome, Mike McGrath, Dashun Cooper, Arron Lugo, Karl Roberts & Cameron Fox: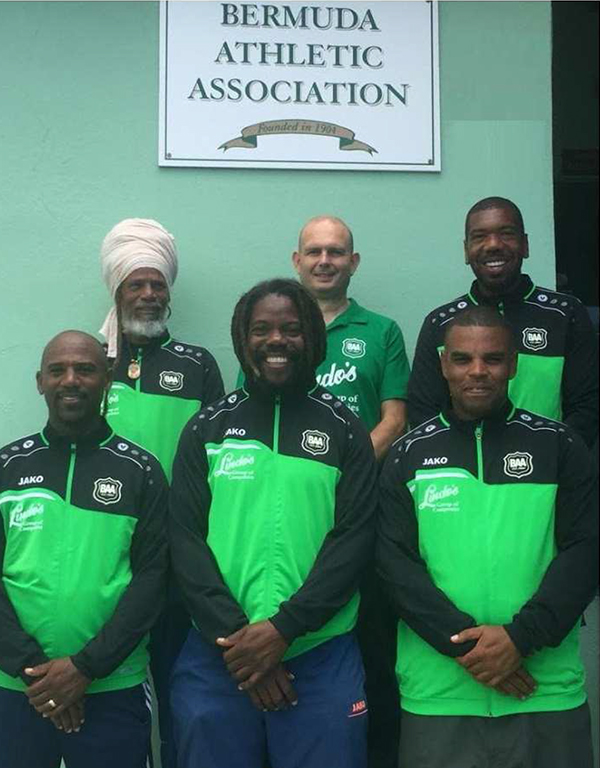 "I am very pleased to welcome Dashun Cooper in the role of Technical Director of the BAA youth program. Under the mentorship of and collaboration with Andrew Bascome and other UEFA B licensed coaches: Karl Roberts and Aaron Lugo, Coach Cooper will take BAA's youth program to the next level.
"We have the best facilities for football in Bermuda with the specialist playing surface and lighting, an indoor gym, and now we get to add licensed coaches who have a real passion for the players enjoyment and development taking reward from their successes and not their own."
Coach Cooper said, "I am very excited to be announced Technical Director for BAA. Through playing and coaching football, I've realized that the most important resource to world football is the player. With this, our priority is to not only improve players technically, but to use football to improve the quality of life for the player.
"People may think that the objective of a sporting program should be to develop top players and achieve top results, but the emphasis must also be placed on the complete individual.
"We must look at the social and psychological benefits of sport and apply it to our younger people, as they are our future leaders.
"I'd like to thank God, my mentors, colleagues and family for their support and encouragement leading up to the appointment. I love football and I'm grateful for the life that I've been able to create for myself through it."
Mr. McGrath said, "We have always wanted to offer the best and speaking to the parents and players over the years we have identified what has been missing, and I truly believe that these changes make for a program that is second-to-none on the island, with among other things improved communication through apps and email and use of visualization tools for teaching, as well as senior and head coaches on the field during practice to support, mentor and refine.
"I am also pleased that Coach Bascome will remain as the manager for our Premiership team, a role that he has had for the last two seasons achieving our premier league status in his first year and securing our top flight status finishing 6th last season last season.
"This season he brings even more to the table with specialist coaches for various positions, including goalkeeping, and Dashun Cooper, current goalkeeper of the year, to give us a rock to build on from the back."
Coach Bascome said, "We are happy to assume this role for BAA, and as we have discussed over the last year, our focus must first and foremost be on the players, who give so much for the game but generally get so little in return, as the crowds today are more or less non existent at the senior games."
"Coach Cooper is a study of what passion and dedication to football can bring to our young players, both sports wise and career wise. He is part of a movement toward professionalizing both the teaching and the playing of football, like in almost all aspect of life today."
Coach Bascome said, "To support the senior team development, my colleagues Aaron Lugo, Karl Roberts and Kameron Fox will take on different roles, just like you see at all major football clubs around the world, to make the players and the team the best that they can be.
"Further, as we have mutually agreed, in order to put real substance behind our ambitions, we have defined the overall objective for our senior team; players, coaches and administrators alike, to deliver us a Concacaf Cup place in three years which will mean a league title or Cup triumph for BAA within two seasons.
"To support us in this effort, we are now seeking players in primarily the 17-23 year age category, who together with our existing players, wish to partake in this challenge.
"Knowing the demands ahead we have already started the planning of overseas pre- or post-seasons activities, so the players can further their experience in football, as well as great life experiences."
Mr. McGrath said, "BAA strives to provide the Bermuda community the best opportunities for all to enjoy as many sports as possible and this new relationship goes a long way to insure this will continue and BAA will continue to be a big part in the community and in sport."

Read More About